In recent months, crossings of two planetary boundaries have been announced in the media following scientific publications. That of chemical pollutants, last January, then that of fresh water cycle, in May. As disturbing as they are, these announcements did not hit the headlines. Perhaps in part because this notion remains unknown: what do we mean by planetary limit?
The concept, defined by an international team of 26 researchers and published in 2009 in scientific journals Nature et Ecology and Society, intends to set thresholds on a global scale that humanity should not exceed in order to continue to live in favorable conditions and preserve a safe ecosystem, in other words a certain stability of the planet. The Holocene is often used as a point of comparison because this period, which dates back 11 years, appears to be rather stable from a climatic point of view.
Exceeding planetary limits could lead to abrupt, non-linear and difficult to predict changes in humans and their environment, thus compromising the capacity of our planet to remain under Holocene-like conditions.
Boundaries already crossed
At present, certain limits appear to have already been crossed: namely climate change, the integrity of the biosphere (biodiversity), the disruption of the biochemical cycles of nitrogen and phosphorus, changes in land use and the introduction of new entities into the environment.
Some phenomena have not yet reached this alarming threshold – which does not prevent the processes from being underway: this is the case with the acidification of the oceans, the depletion of the stratospheric ozone layer, and the increase in aerosols in the atmosphere.
The ninth and final limit, the water cycle, was the subject from a recent study which sheds new light by dividing fresh water into green water and blue water.
All these notions relating to the environment are linked, interconnected, the regulatory processes interact and the disturbance of one affects the regulation and/or the resilience of the others. A very interactive and accessible way to perceive these notions is to participate in a workshop of the Fresque du Climat, a game created by Cédric Ringenbach.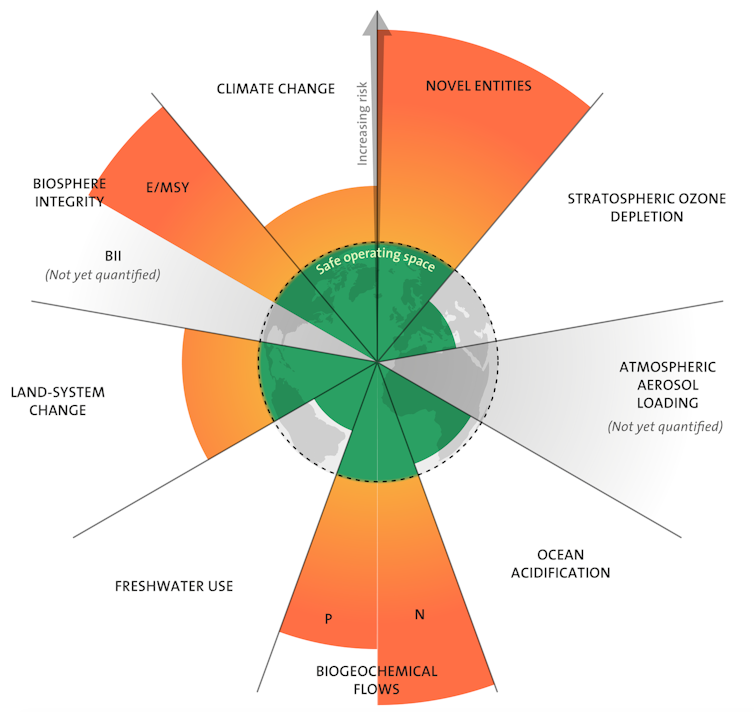 New data on chemical pollution
The first study, published on January 18 in the scientific journal Environmental Science and Technology, comes from scientists at the Stockholm Resilience Center (SRC) and presents data on chemical pollution. The latter designates any entity emitted during discharges of chemical products of industrial and/or domestic origin. It can result, for example, from the use of pesticides, detergents or even heavy metals. Sometimes, it is also generated during occasional accidents (industrial, oil spill, etc.). These pollutants, by accumulating in the environment and/or forming degradation by-products, can pose a risk to human health and the environment.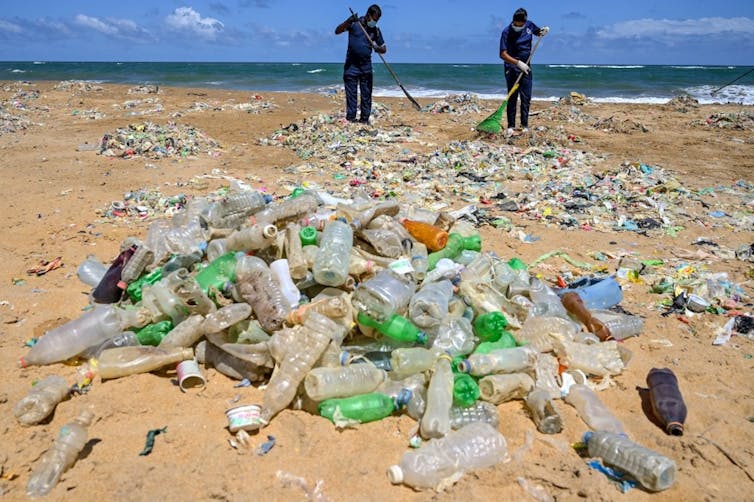 Plastics of course, the use of which exploded before relatively recent awareness, generate pollution for fauna and flora when they are released into the environment (micro plastic and formation of the "7ᵉ continent"
This study is the first published assessment of planetary boundaries related to "new entities". The researchers conclude that the boundary has now been breached, increasing the risks to the stability of the Earth system. Better risk management, reduced production and release of pollutants are needed, and quickly, to get back into the safe zone.
The crucial role of green water
The second study published in Nature Reviews Earth & Environment last April 26, focuses on a new assessment made by researchers from the Stockholm Resilience Center together with other scientists from around the world about green water.
They highlight that the fresh water evaluated until then essentially concerned blue water, i.e. water in rivers, lakes and groundwater (40% of the total mass of precipitation).
Green water is stored in soil and biomass, evaporated or absorbed and evapotranspired by plants. It returns directly to the atmosphere and represents 60% of total precipitation mass.
However, the researchers believe that the role of green water has not been sufficiently taken into account in previous studies, despite its capital importance: it contributes to ensuring the resilience of the biosphere, preserving carbon sinks and regulating circulation. atmospheric.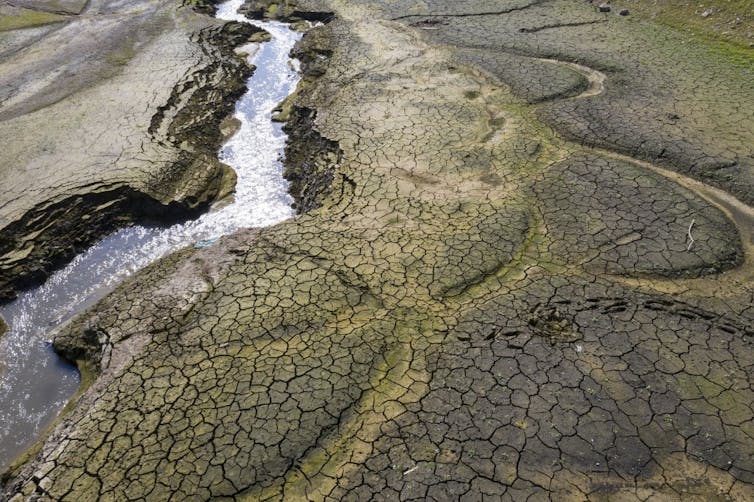 Thus, if we stick to the current definition of planetary boundaries, deforestation that deteriorates the functioning of green water in favor of an increased availability of blue water does not participate in the transgression of borders - currently based on blue water. This contribution of green water should actually be taken into account.
Concrete examples include the forest losing its moisture due to climate change and deforestation – it is increasingly common to discover abnormally wet or dry soils.
Building another economic model
To maintain a chance of remaining in conditions favorable to life as we know it today, it is urgent to act on the increasing use of water, deforestation, land degradation, soil erosion, atmospheric pollution and more generally, climate change. Crossing these limits gradually compromises the Earth's resilience.
Hope and above all concrete actions are gradually emerging: a collective consciousness that is taking shape and education in respect for the environment from an early age to curb the trend. In France, collectives such as the Shift Project seek to shed light on and influence the debate on the energy transition.
They produce reports, lead conferences and workshops, in order to support climate issues and force action, to build another economic model, decarbonized and to scientifically prove that alternatives exist, if we open up to change.
Melanie Mignot, Teacher and researcher in chemistry in the COBRA laboratory, INSA Rouen Normandy
This article is republished from The Conversation under Creative Commons license. Read theoriginal article.
Image credit: Shutterstock.com / PARALAXIS
© Info Chrétienne - Short partial reproduction authorized followed by a link "Read more" to this page.
SUPPORT CHRISTIAN INFO
Info Chrétienne being an online press service recognized by the Ministry of Culture, your donation is tax deductible up to 66%.