Fish and other aquatic foods are an integral part of the diet. over a billion people around the world, the majority of whom live in low- and middle-income countries in Africa, Asia or the Pacific, near the ocean, lake or river.
In these regions, the local cuisine consists mainly of of fresh or dried fish, often cheaper and easier to find than eggs, dairy products and fruit. These " aquatic superfoods Are highly effective sources of micronutrients essential for human health and cognitive development.
---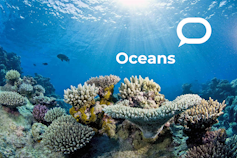 This article is part of our "Oceans 21" series
This series opened with five long analyzes devoted to the different oceanic areas of the globe. Don't miss our new articles on the state of the oceans in the run-up to the next United Nations climate conference (COP26). All of this content is brought to you through The Conversation's international network.
---
However, they often stay at the margin agricultural research, nutritional policies and traditional development strategies. Traditionally, global development has always been viewed from the perspective of food crops and livestock to solve the problem of hunger.
On May 11, 2021, the World Food Prize Foundation announced its new winner, Shakuntala Haraksingh Thilsted, a nutrition scientist who, to me, has worked like no one else to draw attention to the fundamental, but often overlooked, role of aquatic foods in a healthy and sustainable diet.
This $ 250 prize, considered the Nobel Prize for food and agriculture, was created by Norman Borlaug, winner of the Nobel Prize in 1970 for his work on world agriculture.
This year, the award therefore recognizes Shakuntala for its four decades spent improving the nutrition and health of millions of malnourished children and their mothers in Asia and Africa.
For aquaculture researcher Like me, who works closely with Shakuntala, this award underscores the need to prioritize, nationally and globally, fish and aquatic foods in nutrition policies and actions.
Aquatic life
Born in Trinidad and Tobago, Shakuntala Thilsted began her revolutionary career as the only woman employed in the Ministry of Agriculture, Lands and Fisheries. After moving to Denmark, she obtained her doctorate at Royal Veterinary and Agricultural University, where she then headed the animal physiology department.
When she moved to Bangladesh in the late 1980s, she worked at theICDDRB, the former International Center for Diarrheal Disease Research, which treated over 600 malnourished children each year. As a young mother naturally concerned about children's health and nutrition, she began to imagine measures to prevent malnutrition using locally available and culturally acceptable foods.
The time spent in the field designing and implementing a nutritional rehabilitation program allowed her to understand what people ate, and how. Hearing women talk about the health and vision benefits of eating small fish, she looked at their nutritional value.
This discovery served as a catalyst for its research career for the next thirty years.
Back in Denmark, she began teaching graduate students at the University of Copenhagen to analyze micronutrients in Bangladeshi fish. This research revealed that many species of small fish are nutrient-rich important for health.
One fish in particular, the mola (Amblypharyngodon mola), contains extremely high levels of vitamin A, important for the eyesight, immune system and reproduction. On the strength of this body of increasingly consistent evidence, it set out to increase the consumption of small fish, especially for mothers and children.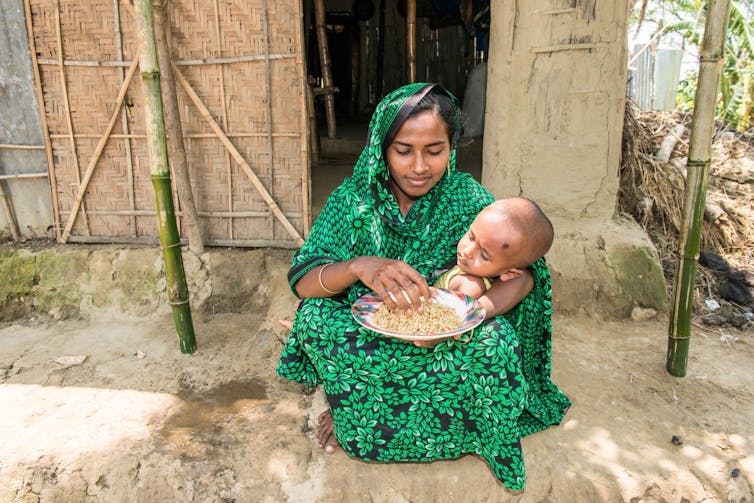 Apply innovations on a larger scale
Aquatic foods are especially important for children from conception to their second birthday. Insufficient intake of micronutrients, such as iron, zinc, vitamin A and vitamin B12, increase the risk of disease, maternal and child mortality, growth retardation and poor cognitive performance. Undernutrition accounts for up to 45% of preventable child deaths.
In 2010, Shakuntala joined the WorldFish International Research Institute (the World Fish Center). She returned to Bangladesh to work on strengthening " nutritional approaches »Of fish production based on the results of his previous research.
Said works have shown that a small fish like mola grows well in breeding ponds alongside larger fish such as carp. The simple fact of changing the way of fishing these fish, for example by using other kinds of nets, strengthened the role of women in their production. Raising small fish this way is a very cost effective way to alleviate the scourge of malnutrition.
Shakuntala has also been interested in fish products such as powders, chutneys et wafers, which are a culturally appropriate way to improve the diets of mothers and their children by providing them with micronutrients.
WorldFish has widely promoted these innovations in all countries including Cambodia, India, Myanmar, Nepal, Malawi, Sierra Leone and Zambia.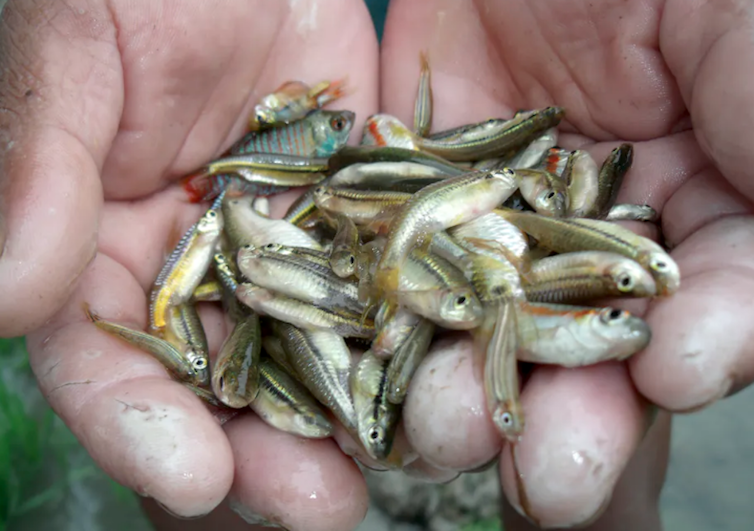 From research to policy
Shakuntala has worked tirelessly to put key points of his research into practice, including forging partnerships with governments, such as that of Odisha State, India, which recently began incorporating dried fish into food rations provided to the most vulnerable populations.
She has also advised a wide range of leading international organizations, including the Food and Agriculture Organization of the United Nations, US Agency for International Development, International Fund for Agricultural Development et Unicef. His efforts have led to an awareness of the importance of aquatic foods in healthy eating systems, and more ambitious commitments to support these discoveries.
Shakuntala has lived for many years in countries where she has sought to create positive change. She loves taking the time to observe carefully and ask the right questions.
This analytical mind and his direct experiences, combined with great rigor, are at the origin of several of his most important discoveries. This is how she noticed that fishing for wild species and fish farming can both contribute in a complementary way food and nutrition security.
As I have seen, Shakuntala also has a knack for bonding with people, regardless of their social status, whether they are peasant women in rural Bangladesh or senior government officials. UN.
Generations of young scientists, including myself, have flourished under his mentorship and have been inspired by his incredible foresight, perseverance, generosity and commitment to feeding people and the planet.
---
Translated from English by Catherine biros to Fast ForWord.
Ben belton, Associate Professor of International Development, Michigan State University
This article is republished from The Conversation under a Creative Commons license.
Read theoriginal article.
Image Credit: Jahangir Alam Onuchcha / Shutterstock.com
© Info Chrétienne - Short partial reproduction authorized followed by a link "Read more" to this page.
SUPPORT CHRISTIAN INFO
Info Chrétienne being an online press service recognized by the Ministry of Culture, your donation is tax deductible up to 66%.