Since the beginning of the Covid-19 epidemic, the exhortations to engage in daily physical exercise have been plentiful. They come from public institutions, but also local communities. From March 2020, the Ministry of Sports will make available to the general public a set of resources for "playing sports at home". In April, he took a new step by launching its own application: BougezChez VOUS.fr.
These incentives are also provided by the various players in the health and fitness market. "Coronavirus. Move at home despite confinement: the madness of sport at home ", can we read in West France March 21, 2020. The various media are not left out, moreover, whether they are specialized or not. Nutritional advice and physical exercise sessions, with supporting diagrams or videos, punctuate or close the articles devoted to the consequences of confinement.
On the websites of the media concerned, we are splitting this time with videos. To take up the case of West France, nearly 24 sessions are thus offered to the general public in a series entitled "Bougez chez vous" which runs during the months of April and May 2020. It is therefore difficult if not impossible to escape this groundswell of home sport that successive confinements have reinforced its momentum.
The INJEP survey published in February 2021 shows that the practice of sport at home has increased from 24 to 47% during the first confinement. Starting from there, we can wonder about the characteristics of this phenomenon and what it reveals about our society? Finally, what can the history of the body and sport teach us about this?
Sportivisation of everyday spaces
First observation, confinement reveals just as it accelerates a complex process already at work: the sportivisation of everyday spaces. "At home", "at home": this is the new place of practice that is essential. Gone are the days when sport was locked up in gymnasiums, stadiums, fitness rooms. Apparatus, muscular devices largely invest the home. For the year 2020, the brand Go sports saw so its sales of dumbbells increase by 160%, floor mats by 112% and fitness machines by 90%.
This phenomenon does not stop elsewhere the fact of dedicating a living room, or its garden, in physical training. Sport permeates every room, particularly in the case of small apartments. The living room, often with more comfortable dimensions, is a privileged location, but not restrictive. Kitchen and bedrooms are also colonized. The smallest space can ultimately prove to be conducive to a certain type of exercise, for example a staircase. It is just as instructive to observe how the furniture is diverted to serve as a support for physical training. Chairs, sofa, but also various and varied objects such as water packs, are transformed into reinforcement devices or apparatus.
Sports education 2.0
Sports coaching is part of this evolution, whether it takes place face-to-face or remotely. The confinement had the effect of democratizing it. In addition, a number of sports clubs have set up training sessions by videoconference during successive confinements. Digital giants such as Apple, with its "Fitness +" program or Amazon have seized on the phenomenon. Across the Atlantic, the application Peloton stands out as one of the market leaders in "connected sport".
Training, but also performances are deployed at home. On March 18, 2020, Elisha Nochomovitz thus achieves in 6 hours and 48 minutes a marathon on its balcony of seven meters long by one wide.
Sporting challenges and other physical challenges, individual or collective, accompany this development through mobile phones which widely advertise them. Sports clubs strive to play on this rope in order to maintain the motivation of their members while trying to involve their loved ones with "Family challenges".
As we have seen, social networks are fully involved in this phenomenon. Taking advantage of this context, they widely publicize fitness youtubers, such as Tibo InShape with its 1,6 million subscribers, which operate a real education in sport and health.
As a result of this mobilization, the neophyte discovers a whole vocabulary loaded with anglicisms (dips, burpee, moutain climber, jumping jack…), until then reserved for professionals, but also the physiology of exercise, biomechanics.
It also faces massive exposure from overtrained bodies, which further reinforces the standard of protruding musculature for both men and women, young and old alike. A phenomenon with an international dimension, the elderly also have their models like Wang Deshun, 80 year old athletic model, or Jim Arrington, referred to as "Oldest bodybuilder in the world".
A revealer of the rise of the individual and of appearance
Now that this picture has been drawn up, what lessons can we learn from it, particularly in the light of history? It thus seems to us that the Covid-19, with its inseparable confinements, comes if not catalyzing at least bringing to the fore trends which have only been gaining momentum for nearly two centuries. Generally speaking, the affirmation of sport at home, for oneself, underlines the "rise of the individual" (Gauchet, 1985). It illustrates, in particular, the process of personalization which is being deployed more and more quickly.
In fact, the individual revisits sports to adapt them to his living space just as he adapts this space to his desires, his needs. In doing so, it participates in the renewal and diversification of physical practices. In addition, confinement shines the spotlight on the growing importance given to the body and appearance. The quest for self and recognition, specific to the "Society of individuals", goes hand in hand with the growing investment of the private sphere, but also of the bodily sphere.
Home sport therefore becomes the pretext for a staging of oneself made possible by a home interconnected with the world and thought of as such. A mediatized sportswoman who publicizes the intimate space, illustrating the growing tendency to extimacy, understood as the desire that "Encourages us to show certain aspects of our intimate self to have them validated by others, so that they take on a greater value in our own eyes".
A precedent: "chamber gymnastics"
However, the idea of ​​practicing sport at home does not date from 2020. It takes its source in the XNUMXth century.e century, while sports and gymnastics spread massively and the first public health policies were emerging organized by the state. The health argument, already motivated by epidemics, indeed opens homes to new hygiene practices. A specialized literature was then deployed intended to introduce physical exercise into all homes. On this occasion, we plead in favor of "chamber gymnastics".
In France, one of the very first works on the subject appeared in 1856 from the pen of Dr. Schreber. At the turn of the XIXe century, bodybuilders and sports physicians stand out in this niche. But, faced with the ravages of tuberculosis and the health consequences of the 1914 war, the mainstream press also seized on the subject. The interwar period saw the increase in advice for organizing physical and sports practice at home. However, the time has come to back to nature.
If the practice in "room" is not neglected, far from it, the private garden becomes the privileged place of sports training.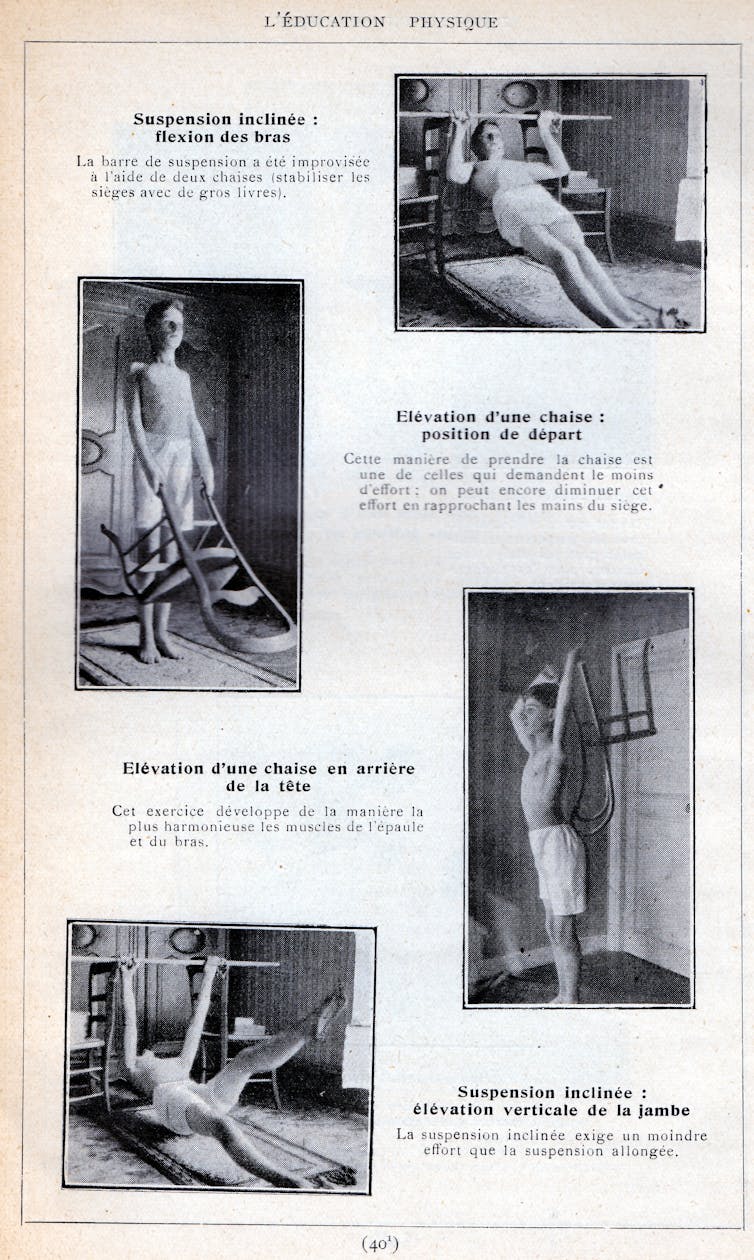 In 1931, Dr. Gaston Durville details the way to set up a 4m "home stadium" in his garden.2.
The radio is not to be outdone, broadcasting daily physical culture classes. Closer to us, thanks to a TV show like Gym Tonic, in September 1982, aerobics took over the salons every Sunday morning.
Home sport is therefore not the impromptu fruit of a meeting between confinements linked to Covid-19 and social networks. Its gradual rooting in the daily life of the French is closely linked to the rise of mass culture: press, radio, television, computer, telephone become catalysts over time.
If various motivations preside over the development of home sport, the health argument is permanent, carried by pandemics, as in the past tuberculosis or the Spanish flu, and today Covid-19. Strengthening one's immunities through physical and sporting exercise was already a central concern between the two wars. But we cannot also minimize the identity role attributed to this physical practice. at home, and this from the XIXe century. The home becomes a place of self-development and achievement. Moreover, with its interconnections, it functions more and more as a total space, protective and open at the same time. This can also be seen as one of the reasons for the urban exodus which is currently taking shape: that of being able to benefit from an appropriate space, in particular in terms of surface area, for such challenges.
Sylvain Villaret, Lecturer in the history of sport and physical education, Le Mans University
This article is republished from The Conversation under Creative Commons license. Read theoriginal article.
© Info Chrétienne - Short partial reproduction authorized followed by a link "Read more" to this page.
SUPPORT CHRISTIAN INFO
Info Chrétienne being an online press service recognized by the Ministry of Culture, your donation is tax deductible up to 66%.