"Ethical Variations: Towards another abundance" on Protestant Presence: what if our abundance was elsewhere?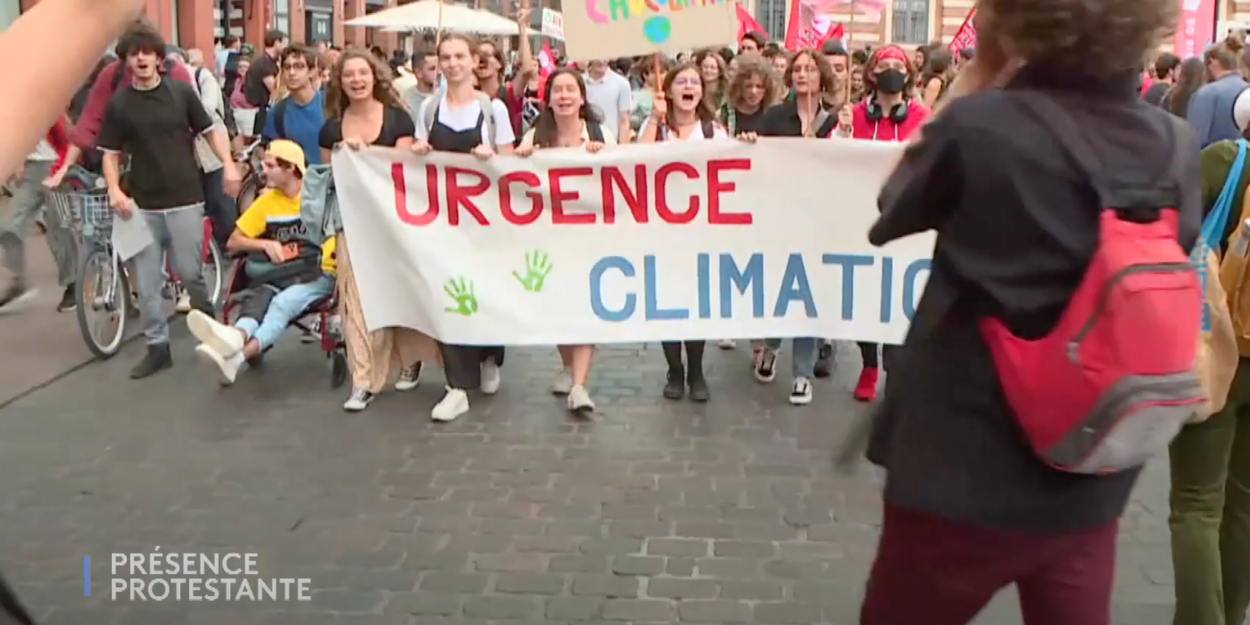 ---
While warnings about the urgency of global warming are increasing, Présence Protestante (France 2) is interested in this subject in a new issue of "Ethical Variations: Towards another abundance". The show broadcast last Sunday is available for replay until November 6.
"Do not lay up treasures on earth, where moth and rust destroy, and where thieves break through and steal, but lay up treasures in heaven, where moths and rust do not destroy and thieves do not can't pierce walls or fly! For where your treasure is, there your heart will be also. » Matthew 6.19-21
Those who follow this column know that I'm a fan of songs. If it's popular, like everyone else, chances are I'll like it.
At the end of the 1985th century, a young influencer (Jean-Jaques Goldman) sang: "I don't give a damn, about everything, about these chains that hang around my neck […] I'm rich from that, but it doesn't matter. don't buy". It was XNUMX. Rebels had punk green crests. They had succeeded rock jackets and hippie eph legs. Rap didn't exist yet, but anyway, the young singer with long hair didn't care: he didn't belong to any group. He fiercely sang his hymn to freedom, independence and life alone.
The clip that followed had made him a traveler, a sailor's backpack on his shoulder. At the time, the adventure was not yet lived naked and cheeky in unknown territory with Bear Grylls. She smelled good asphalt in the rain. Back then, cities were beautiful at night…
But the idea was already there, in germ: what if our abundance was elsewhere? What if we don't let things own us?
Who owns me, what owns me? What obsesses me? Have you ever asked yourself this question in your heart? What makes me walk, alone, in the city and its traps? What makes me get up, wake up? Stirs me up, arouses my desire, resurrects me?
What is the abundance that I cannot do without? Would it be material goods, wealth, beauty, bread, wine, drunkenness, the law, the comfort of home? Or even the pride of being able to do without all that?
Each of these things is vain, Jesus tells us. Don't rely on it.
And if, in our fear of lacking, we were worrying, in a way, "an abundance of worries", let us remember the continuation of this chapter 6 of the Gospel Matthew:
"And why do you worry about the clothes?" Observe how the flowers of the fields grow: they do not work, they do not make clothes. Yet I tell you, even Solomon, with all his wealth, had no garments so beautiful as one of these flowers. »
The new issue of "Ethical Variations: Towards another abundance" proposed by Présence Protestante (France 2), is precisely interested in the notion of sobriety, between ecological concerns and Christian values.
"Does the Gospel message call for frugality, even renunciation? Do all churches have the same cursor when it comes to ecology? Finally, at a time when saving the planet is on everyone's mind, where is Christian hope? »
Here are some of the questions addressed during this program which gives voice to several pastors as well as Christians committed to the climate.
A program prepared by Claire Bernole and directed by Emmanuel Duchemin available in replay on France TV until 6 November as well as on YouTube.
Christopher Zimmerlin, for Protestant Presence