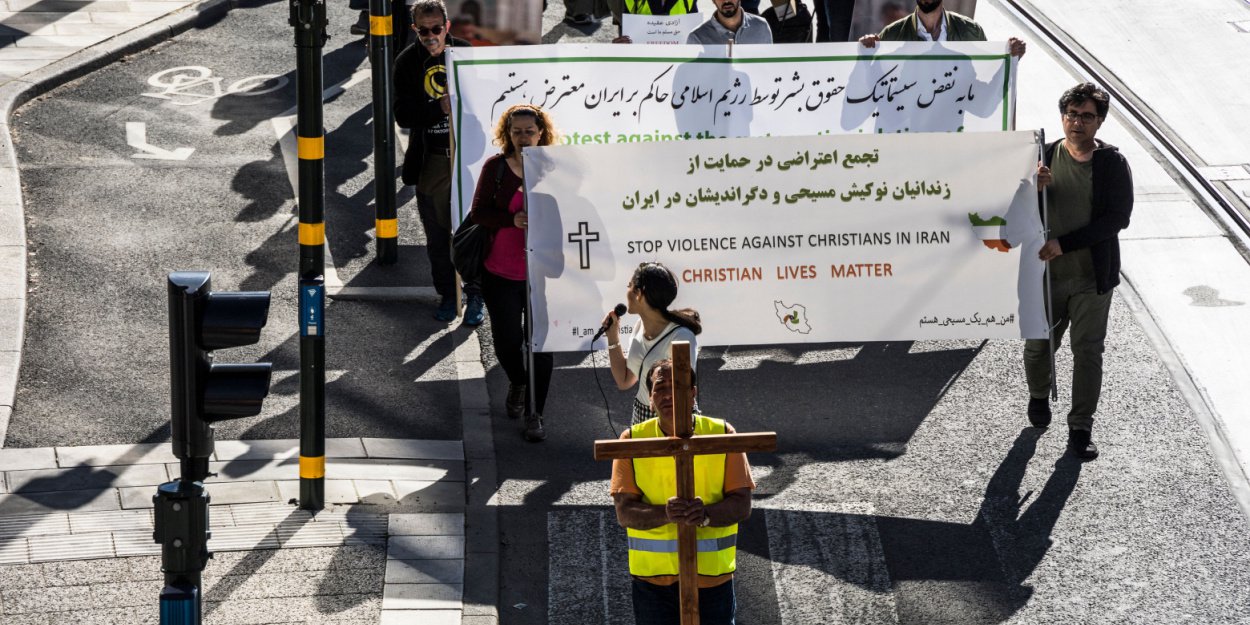 ---
"As our membership and house churches grew, we knew we were in danger of being arrested by the Ministry of Intelligence one day."
Vahid Hakani was born in Iran in 1982, into a Muslim family. For Article 18, an organization dedicated to the protection and promotion of religious freedom in Iran, he testifies to the persecution of Christians in Iran.
As a child, he grew up faithful to Islamic precepts, the death of his mother, when he was 13, and the absence of his father plunged him into difficult and exhausting living conditions.
"I was very lonely and I considered God to be the cause of my unhappy situation", he explains before adding, "over time, I felt that none of my religious practices were beneficial to me, and gradually I became discouraged with God. I became stubborn towards God and deliberately did bad things to get revenge on him."
At the age of 24, he met a member of his family who had become a Christian. This one makes him meet Christian friends.
"This person hadn't been a Christian for very long, but he still passed on everything he had learned to me, and I suddenly felt like I had known Jesus Christ for years. What I heard from my relative and his friend about Jesus made me decide to follow him. At that moment the light of hope shone in my heart and I felt a strange peace that stayed in my heart till today."
Vahid begins to read the Bible that a friend lent him, and to follow Christian teachings. He learns verses by heart and ends up getting his own Bible from street vendors, while the sale of Bibles is prohibited in Iran.
When he told his family about his faith, they rejected him. A former friend of his now considered him unfaithful and impure.
Vahid changed his surname and wanted to identify as a Christian, which the civil registry officials refused. He meets Christians in house churches.
"As our membership and house churches grew, we knew we were in danger of being arrested by the Ministry of Intelligence one day. At times, we felt like we were being followed or our phones were tapped, and later we discovered that our suspicions were correct."
In 2008, then in 2012, he ended up being arrested by the Ministry of Intelligence.
"Then on Wednesday, February 8, 2012, about 25 members of our house church were gathered at one of the other members' homes. We were praying when the doorbell rang. We assumed another member of the church had arrived late, so we opened the door without asking who it was. But then at least 15 Ministry of Intelligence agents immediately entered the house."
Vahid was arrested alongside Mojtaba Hosseini, Koroush Partovi, Homayoun Shekoohi, his wife Fariba and his son Nima.
"The officers forced the rest of the participants to fill in forms with their personal data. Later, they were called and summoned for questioning. They were threatened during these questionings and forced to pledge not to participate in any further another church meeting or no longer have contact with each other."
Vahid was brought home in handcuffs. His house was searched and items related to his Christian faith were confiscated. Then he was taken to the detention center of the Ministry of Intelligence.
"I had a strange feeling when they blindfolded me; I didn't know where they were taking me, or who was holding my hand," he explains, "everything was black and dark. was the first time I had to go somewhere blindfolded, and it was one of the hardest parts of my initial detention, and it caused me a lot of negative thoughts."
Accused of "forming illegal organizations", "undermining national security", "propaganda against the regime" and "apostasy", he was detained for 33 days in a 6 square meter cell with three fellow prisoners.
From his first night in detention, Vahid was interrogated.
"I refused to answer. Instead, I asked her several times what happened to one of the teenage girls in our group, Homayoun's daughter Helma, whom I loved as my younger sister. I I think she was 12 at the time. Since Helma's father, mother and brother were also among those arrested, I was worried about her."
"Every three or four days, I was allowed to go out for about 20 minutes to get some fresh air, and I prayed to see my friends or hear their voices, so that I knew they were okay," Vahid explained, "I I did not pray for myself; my only concern was the condition of my Christian friends (...) Later, when I saw them again, I realized that they had also been concerned about my condition and had prayed for me".
Then Vahid starts feeling guilty. "Our church membership had grown from four to 200, and I began to think to myself that maybe I shouldn't have insisted that we meet." After 12 days without questioning, the Christian is again taken away for questioning.
"The interrogators used different tactics to try to destroy my self-esteem," he explains, "my interrogations were long and tiring, hours full of stress and anxiety."
In his cell, a few books were at his disposal. Among them, Dante's Divine Comedy.
"I was very happy to have the opportunity to read this book, which is full of Bible verses" he rejoices, "the translator of the book, Mr. Shojauddin Shafa, had included all the sources, which made it possible to read verses from the Bible".
During his 33rd night in detention, Vahid was taken to a new interrogation. He is asked to write a text, sign it and put his fingerprint on it.
"In this text, it was written: 'I, Vahid Hakani, am a member of a deviant Christian sect. I repent and promise not to visit this group again. I will not communicate with any of the Christians and I will not form 'church'. I said, 'I don't accept that at all! We weren't a deviant sect! We're Christians'!"
The interrogator then lets him write whatever he wishes.
"I am Vahid Hakani, a Christian, and I did not know until today that gathering, worshiping and praying in the name of Christ is not legal in this country. I promise not to do this again from NOW."
"Later," Vahid continued in his testimony, "when I entered the prison headquarters, I could not sleep for several nights. One night I realized that I had a great resentment in my heart towards the interrogators, so I decided not to carry that resentment with me, and instead to forgive them and pray for them. Now whenever I think of those days in prison, I pray and I 'intercede for all my questioners'.
On the 34th day, he was taken to the central detention center at Adel Abad prison. He is accompanied by his friends whom he sees again for the first time since his arrest. Together they tell each other the last days and pray. But the director of the center ends up separating them. A new director ends up receiving it.
Vahid exposes his Christian faith to him, which angers him greatly.
"Are you evangelizing me? Are you advertising now? Starting today, I will send three people to watch you and let me know whenever you talk to anyone about Christianity! So I know what I'm going to do to you!"
Vahid will remain in detention for three years. He was finally released on bail on July 29, 2013 for surgery. He finds it very hard to be on the outside while his Christian friends are still in prison. He will return there after his treatment in December 2013.
Vahid also recounts the court hearings.
"When we sat in the court waiting room, next to the judge's desk, we prayed together and sang songs of worship. Our intention was not to provoke the government officials; we did it to our comfort and strength, and for the members of the family who had come to court."
Vahid was eventually sentenced to three years and eight months in prison for "acting against the security of the regime by forming propaganda groups and meetings for the purpose of promotion and propaganda" and "propaganda against the regime".
In prison, he begins a hunger strike following the refusal of parole by his friends.
"I was ready to take this action to obtain the release of my friends on parole, and on the 50th day of my hunger strike, Koroush was released," he explains.
"I was not in good physical or mental condition. I felt very disappointed and depressed; I thought no one would care even if I died. many churches in our situation, and in addition to praying for us in church, these Christians had regularly sent us postcards. It was almost the 18th day of my hunger strike when I received one of the postcards which were sent to me from America. And the American brother who wrote it had translated the meaning of my name, 'Vahid'", which means 'lonely', and he had written in English: 'Vahid, you are alone, but not alone; I have prayed for you today that our Heavenly Father will comfort you, give you peace, and heal you. I was very encouraged and happy to read this postcard."
Vahid will end his strike after 60 days, before starting a second on learning that the conditional release of Homayoun and Mojtaba had not finally taken place. It lasted 25 days.
After these two hunger strikes, Vahid lost 35 kilos. He still suffers today from the consequences of these strikes.
"But I don't regret doing it, because I really wanted to do something to help secure the freedom of my friends," he says. Vahid ends up asking in turn for parole. She was approved and he was released from prison on January 26, 2015.
When he left, he lost his house, his business. He has financial problems. He goes to Türkiye where he becomes a refugee. After months of depression and suicidal thoughts, her condition is improving. He is now involved in an association helping victims and refugees.
MC
Image credit: Shutterstock/Alexanderstock23