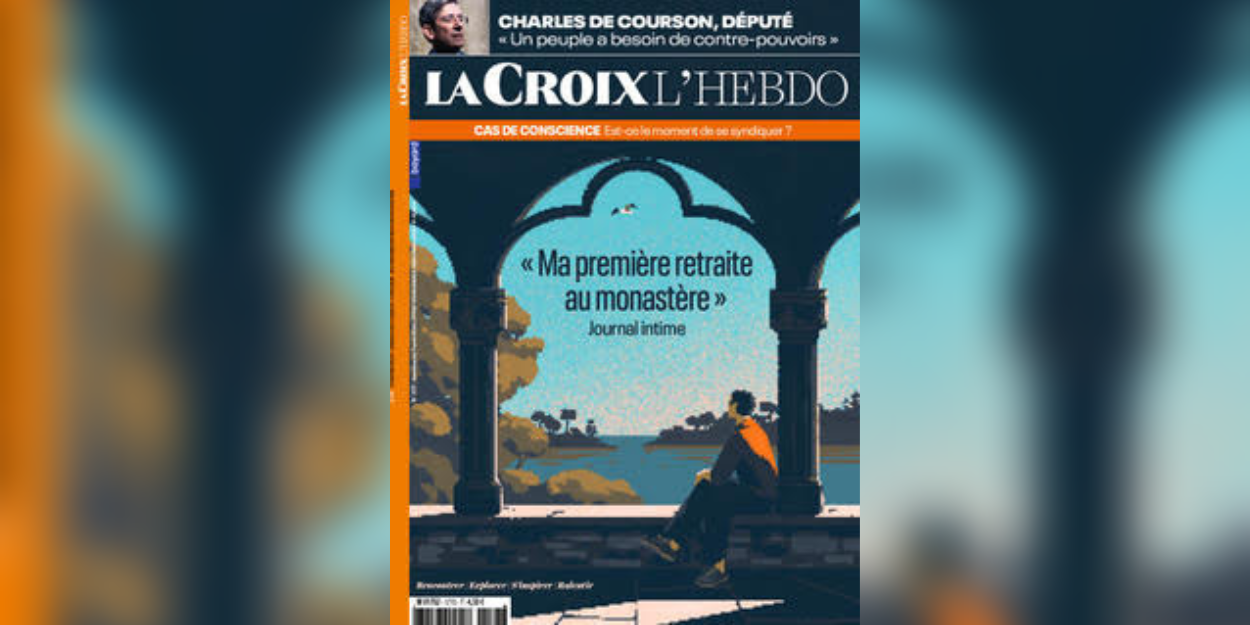 ---
Stéphane Bataillon, journalist and poet, publishes in the magazine La Croix Hebdo a personal and audacious story: that of the week of retreat he spent at the Catholic abbey of Landévennec. A first for this Protestant. Meeting with this seeker of eternity.
InfoChrétienne: Explain to us the genesis of this project. How did this idea come about?
Stephane Battalion: This project was born from the crossing of several desires and projects. First, that of the newspaper: we have always wanted to talk about sobriety and decline in a positive way, far from the idea of ​​deprivation. We exchanged a lot of ideas and I suggested going to a place where degrowth and sobriety are lived daily, like an abbey. Everyone has been a little lost since the Covid, everyone is looking for meaning in their life, sometimes cutting themselves off from the whirlwind of information, to find themselves a little. What better way to do this than to go to an abbey? To be frank, this idea was also a personal project that I had had for years. So this immersion project made it possible to kill two birds with one stone!
IC: Why a week? How did you establish this duration?
SB: A week is the time needed to cut and take a new rhythm. It is also a duration that allows to deepen the meetings by having the necessary availability and a little long exchanges.
IC: Before leaving, what were your inspirations? Your idea?
SB: I was very inspired by the pilgrimage of Charles Wright who left without money for a month on the roads of France. In fact, I am nourished by the radical experiences of this type and I have always had a small fantasy of life of monk. Before leaving, I had the naivety to think that in 7 days I could totally live like a monk. A dream that quickly came true! As soon as I arrived I discovered that the retreatants were in fact separated from the cloister.
IC: But then, how did you spend your days? Are you bored?
SB: It was one of my fears before leaving, I had also taken a lot of books… which I never opened! Finally, the days are well punctuated by the offices that fit our time. This fixed frame is a bit frightening at first, but in the end, we realize that this rhythm gives another flavor to our time. Another way of inhabiting the time given to us: it's a feeling that persists. This week has indeed allowed me to calm my relationships with my laptop and social networks. It's been two months and I see that I have changed in the way I use my phone.
I didn't read any of the books I had brought, but amazing things happened with the Word: the readings at meals that answered personal questions, winks or even the quality of the exchanges with other retreatants.
IC: Do you have any news from other retreatants who have shared this week with you?
SB: Yes ! Of course, I had them read the article again! These meetings were very important, I discovered a fraternity there, the sharing of something very deep.
IC: A lesson you take away from this week?
SB: I loved monastic life! The offices, the life of a saint read at length, all that pleased me. But it also showed me how attached I was to Protestantism, to its purity, to its simplicity!
A story to be found from Friday April 7 in La Croix L'hebdo, on newsstands or online by clicking here.
Herveline Urcun