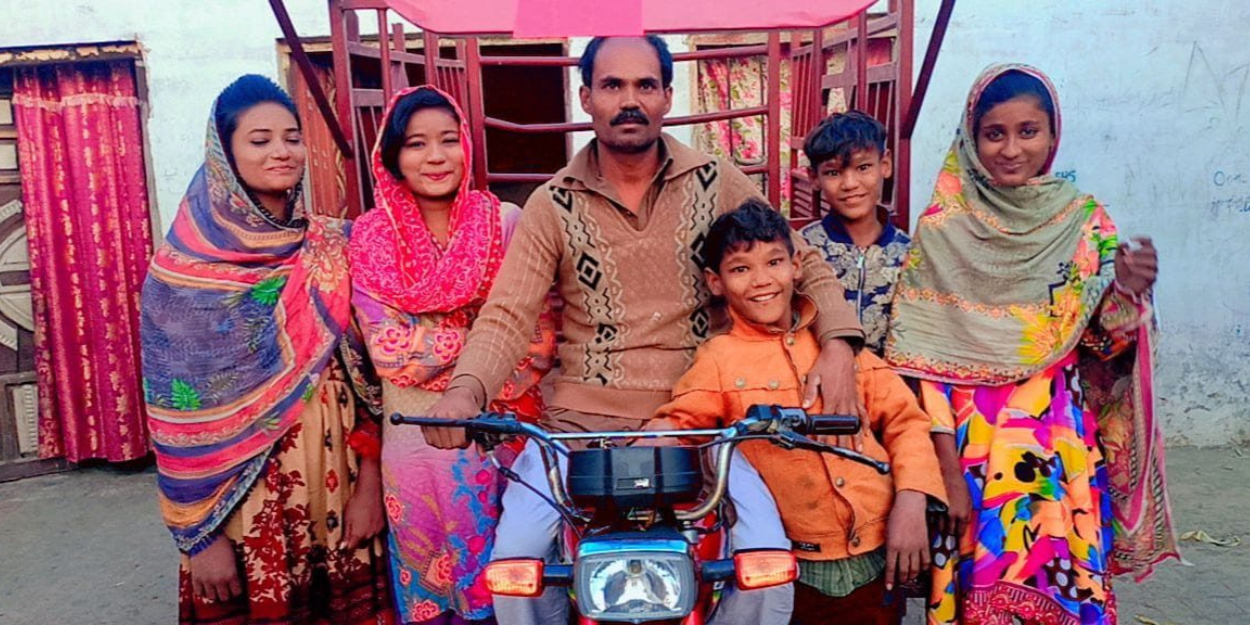 ---
Parvez Masih and her children, a Christian family, experienced endless days of hard work in a brick factory close to slavery. For more than twenty years, the family had been sinking into a spiral of debt, but Christian Solidarity International (CSI), a Christian NGO, redeemed their debt and offered them a new life.
In Pakistan, Christian children often cannot study and are therefore condemned to work in very unskilled jobs, which maintains a vicious cycle from generation to generation. Parvez and her children - even Ishaq, eight years old and mentally retarded - met this fate until the intervention of CSI (see photos on the NGO's website).
Parvez and his wife Sajida already had three daughters, aged five, eight and ten, when the mother died giving birth to their twin sons. Due to a lack of financial means, Sajida could not be treated at the hospital. The father who worked in a brick-making factory in the Lahore region, the capital of Punjab, gradually found himself caught in a downward spiral.
Low-paid work in a risky social context
In addition to financial and physical constraints, there was a permanent insecurity with the risk that the three sisters would be raped or kidnapped during their work, a situation experienced by many Christian women. This worry caused Parvez to not let his daughters go to work on days he was sick, which aggravated the family's debt. Brick kiln workers are in a bonded status, as their low wages force them to borrow money from their employers.
They thus find themselves in endless debt and forced into virtual slavery, held for life by their bosses, and are still under threat of a charge of blasphemy which is punishable by death, death or lynching.
In 2014, a Christian couple had been burned alive in a brick oven by a crowd convinced that the wife had desecrated the Koran. The investigation showed that the husband's boss had locked Shahzad Masih (26) and his partner Shama Bibi (24) there, because he feared that his employee would run away without repaying his debt. The father of the latter, also a worker in this brickyard, had just died after twenty years of work, and the owner had imagined that Shahzad would try to change his life so as not to end up like his father.
In the process, calls were made from surrounding mosques to attack the couple, making three orphans three children between the ages of two and seven.
The deliverance of a whole family
In November 2022, Parvez received from Anjum Paul, a CSI partner, a message he never thought he would hear: a friend of the NGO had donated enough to redeem his debts to his employer and free them. , him and his family.
Moreover, the sum was sufficient for him to set up on his own in the transport of flowers thanks to the purchase of a rickshaw which allows him to collaborate with a local horticultural company. Christian Solidarity International is in return overwhelmed by the thanks of the family:
"Thank you very much, CSI! You have given us new life."
The eldest, Azmat (18) and her sister Muqaddas (13) are now in a sheltered home run by the Christian NGO where they are trained in hairdressing and sewing. They say they particularly appreciate the moments of community prayer in the evening.
More than a million Christians are enslaved in the brick kilns of Pakistan, and so are millions more in jobs as garbage collectors, road workers or carpet weavers. Often families are trapped for generations to pay for medical bills or the marriage of a child.
Jean Sarpedon