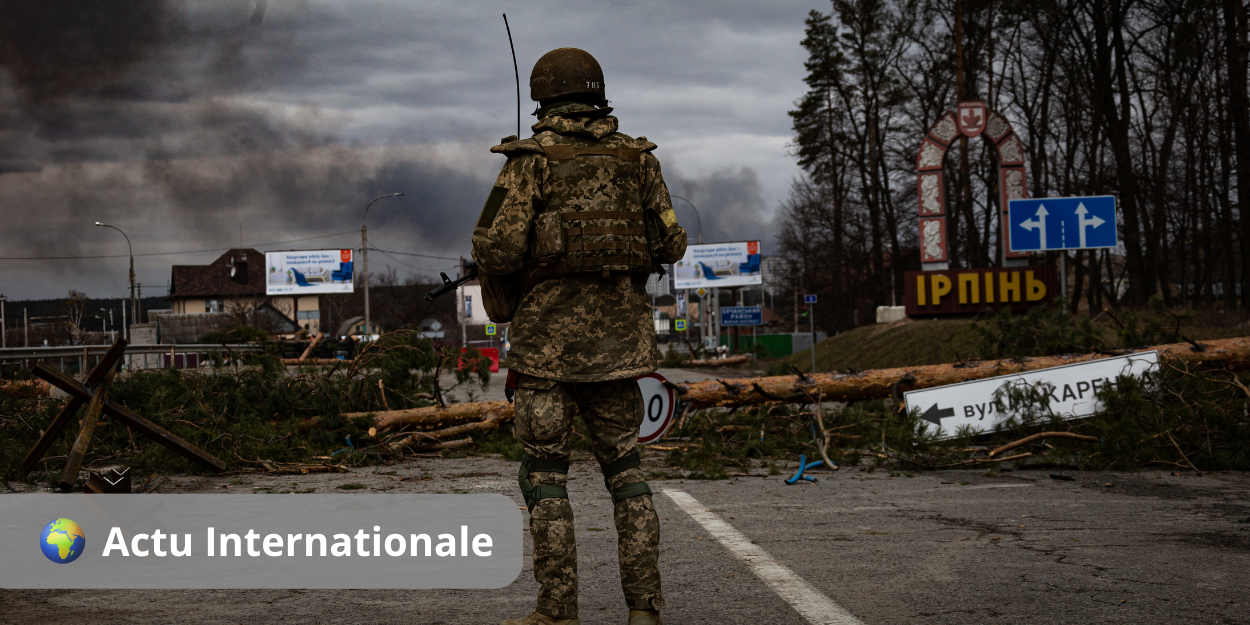 ---
A unilateral ceasefire decreed by Russia in Ukraine on the occasion of Orthodox Christmas is supposed to have started on Friday at 12 p.m. (Moscow time), an initiative whose sincerity has been questioned by kyiv.
Following a call from the Russian Orthodox Patriarch Kirill, but also a proposal from the Turkish Head of State Recep Tayyip Erdogan, Russian President Vladimir Putin on Thursday asked his army to observe a "ceasefire across the line of contact between the parties from noon on January 6 of this year until midnight on January 7".
If respected, it will be the first major truce in Ukraine since the start of the Russian invasion launched in February. Short halts in fighting had previously been observed locally, such as to evacuate civilians from the Azovstal factory in Mariupol (southeast) in April.
However, Ukraine dismissed this initiative as an "act of propaganda". According to President Volodymyr Zelensky, this is an "apology with the aim of at least stopping the advance of our troops into the Donbass and bringing equipment, ammunition, and bringing men closer to our positions".
Vladimir Putin had called on the Ukrainian forces to respect this truce in order to give the possibility to the Orthodox, the majority confession in Ukraine as in Russia, to "attend services on Christmas Eve, as well as on the day of the Nativity of Christ" .
In a message broadcast a few minutes after the announced start of the ceasefire, the deputy head of the Ukrainian presidential administration Kyrylo Tymoshenko reported a Russian bombardment on Kherson (south), which caused casualties. However, he did not specify when the strike took place.
Separatist authorities in eastern Ukraine, quoted by Russian news agencies, reported the shelling of their stronghold of Donetsk by the Ukrainian army 15 minutes before the theoretical entry into force of the ceasefire .
"Keep Your Hypocrisy"
Thursday, the announcement of the truce by Moscow had caused skepticism in Ukraine.
"Russia must leave the occupied territories, only then will there be a 'temporary truce'. Keep your hypocrisy, "reacted on Twitter an adviser to the Ukrainian presidency, Mykhaïlo Podoliak.
For the American president, Vladimir Putin seeks "to give himself some air". He "was ready to bomb hospitals, nurseries and churches (...) on December 25 and on New Year's Eve," joked Joe Biden.
This ceasefire "will do nothing to advance the prospects for peace," reacted British Foreign Minister James Cleverly, calling for a permanent withdrawal of Russian forces. Such a truce will bring "neither freedom nor security" in Ukraine, abounded the German diplomacy.
In his telephone conversation with Vladimir Putin, Mr. Erdogan had proposed a "unilateral ceasefire" intended to support "appeals for peace and negotiations between Moscow and Kyiv".
Russia is ready for a "serious dialogue" with Ukraine provided that the latter complies with Russian demands and accepts the "new territorial realities" born of the invasion of this country in February, argued Vladimir Putin.
Moscow claimed in September the annexation of four regions occupied at least partially by its army in Ukraine, despite multiple military setbacks on the ground, on the pattern of that of the Ukrainian peninsula of Crimea in March 2014.
Volodymyr Zelensky insists on a total withdrawal of Russian forces from his country, Crimea included, before any dialogue with Moscow. Otherwise, he promises to take back the occupied territories by force.
During his discussions with Mr. Erdogan, Mr. Putin accused the West of "feeding the kyiv regime with weapons and military equipment and providing it with operational and targeting information".
The Russian truce is being offered less than a week after a Ukrainian strike on New Year's Eve left at least 89 people dead in Makiivka, eastern Ukraine. A particularly deadly bombardment that the Russian army had to recognize, an extremely rare fact, and which aroused criticism in Russia against the military command.
The Editorial Board (with AFP)
Image credit: Shutterstock / Kutsenko Volodymyr