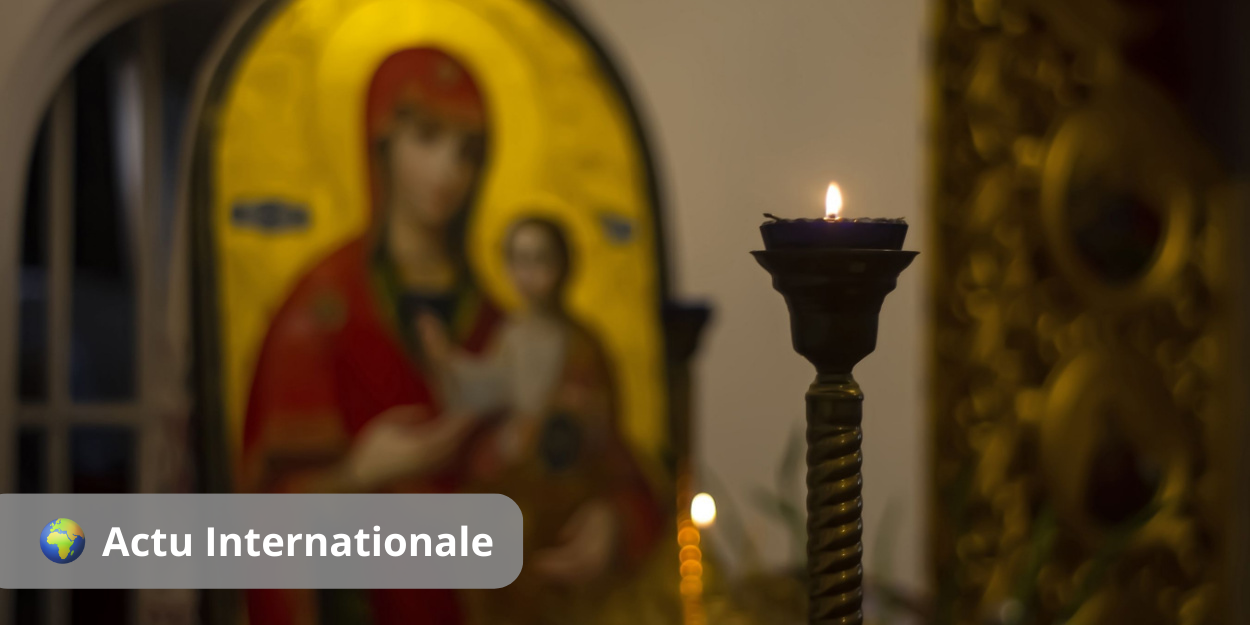 ---
Church bells rang, religious songs rose to the sky: Orthodox Christians celebrated Christmas in the Ukrainian capital on Sunday, a sign of defiance towards Russian religious authorities, who will celebrate the birth of Jesus Christ in two weeks.
In a packed church near the famous St. Michael's Golden-Domed Monastery in the city center near the Dnieper River, worshipers light candles one after another. Some line up before going to confession.
Golden icons adorn the walls.
"The war has brought us so much grief," Olga Stanko, a 72-year-old faithful, told AFP.
"We cannot remain under Russian influence," she asserts, while the military conflict with Moscow has also shifted to religious terrain.
Ukraine, whose population is predominantly Orthodox, is in fact divided between a Church dependent on the Patriarchate of Moscow, which announced that it was severing its ties with Russia at the end of May because of the Russian offensive, and a Church independent of the Russian supervision.
Created at the end of 2018, the latter has pledged allegiance to the Ecumenical Patriarchate of Constantinople, which has its headquarters in Istanbul.
According to an Interfax-Ukraine poll carried out in November, 44% of Ukrainians said they approved of the idea of ​​celebrating Christmas on December 25 rather than January 7, the date of the Orthodox Christmas.
"Great light" versus "twilight"
In this church in kyiv, war is never far away.
Olga's son, she said, is currently fighting in Bakhmout, the epicenter of clashes between Ukrainian and Russian armies in eastern Ukraine.
"We forgot they were our enemies, we were so gullible. And now a war has come to us, a calamity, "she castigates.
Not far away, Olena Zakharova-Gorianska says she is happy to celebrate Christmas on December 25 for the first time.
"I don't want anything to do with the occupiers, with the enemy," says this woman who survived the Russian occupation of the town of Gostomel, in the suburbs of kyiv, in the first weeks of the conflict.
In his sermon, Pope Mikhaïlo Omelyan cannot avoid the subject of the Russian invasion and its consequences on the lives of millions of Ukrainians, between regular power cuts and lack of heating.
"Those who are (today) in darkness have seen a great light, and those who are in the shadow of death, the light has shone on them", he declares facing the faithful in a speech image.
Before directly targeting the Russians, without naming them: "There are people who prefer darkness to light, because their actions are diabolical".
Outside the church, several elements are directly reminiscent of the war. A destroyed Russian army tank stands a few meters away. And an anti-aircraft siren sounds for 25 minutes during the mass.
On social networks, subscribers even have fun replacing, in photos, the Three Kings – who visit Jesus Christ after his birth in the Christian religion – with Ukrainian soldiers.
" Transition period "
Despite this mass celebrated on December 25, Father Andriï has also planned a liturgical ceremony on January 7.
"In my opinion, it's a period of transition... There are things that you can't radically change all at once," he said, anticipating "years" before December 25 comes fully in. in popular culture.
"In fact, we must remember the event we are celebrating, the birth of Jesus, not the date," he adds.
For his part, Mikhaïlo Omelyan recalls that the calls to abandon the date of January 7 for that of December 25 did not find an echo among all the faithful in Ukraine.
It was impossible for AFP to obtain official figures, but according to him, only "a minority" of Ukrainian Orthodox churches celebrated Christmas on Sunday.
"We see that a large part of society wants to continue to celebrate (Christmas) on January 7," he says. "There are a lot of + loyal Facebook + who are 25 years old and are adamant. But often, these people write but rarely come to church," he complains.
The Editorial Board (with AFP)
Image credit: Shutterstock/ Mr_tigga