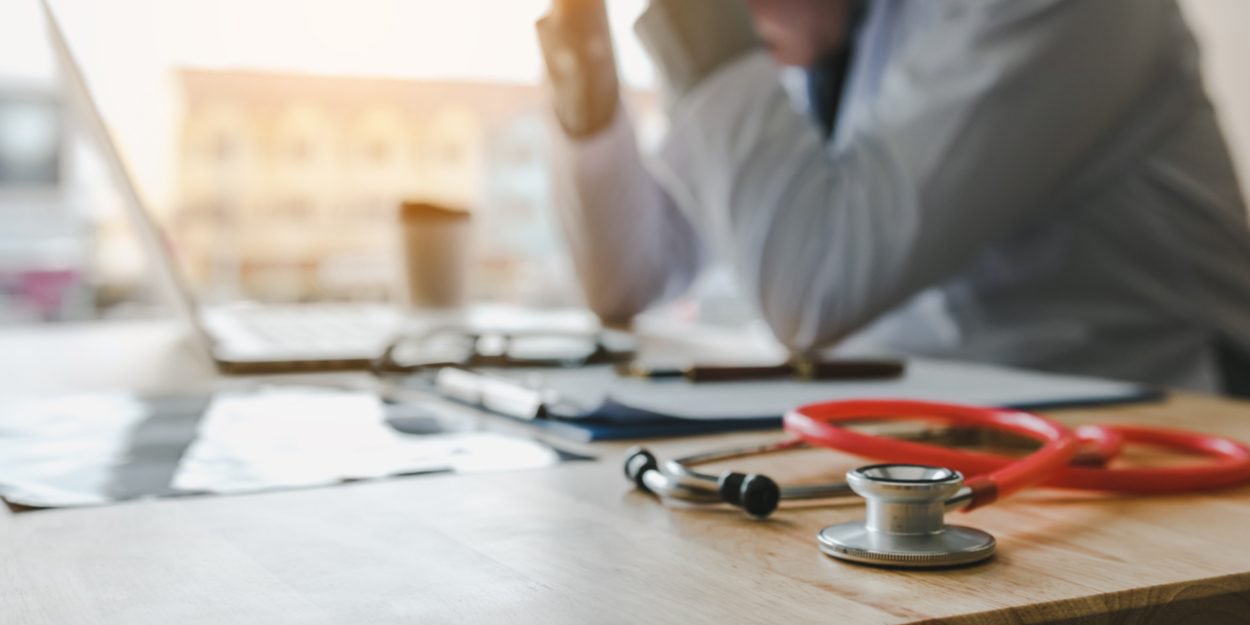 ---
From the start of the Covid-19 pandemic in early 2020, psychiatrists warned of the risk of increased psychiatric disorders. Very early on, studies were carried out in young people (Adolescents, students et health students), among hospital caregivers and also in general population).
But, paradoxically, few studies have focused on liberal doctors.
Suffering that precedes the pandemic
The psychological suffering of liberal doctors is a problem that appeared and was known well before the recent pandemic. Indeed, it had already been studied for at least 20 years, in particular with the work of Dr Didier Truchot and the report to the National Council of the College of Physicians by Dr Leopold in 20036. Before the pandemic, the prevalence of burnout among French general practitioners was estimated at 48% in this population.
Physician burnout is a public health problem not only for the physicians who suffer from it, but also for their patients because of the consequences on the quality of care delivered: less empathy, more risk of medical errors… Thus, a study on English general practitioners found an association between a long time to carry out administrative tasks and a low level of well-being/high level of burn-out which was itself associated with a higher risk of medical errors.
Poor mental health is also associated with increased desire to stop exercising. The psychological suffering of doctors could therefore be an indirect factor aggravating the shortage of professionals.
In France, at 1er January 2021, self-employed physicians represented 41,8% of regularly active physicians, a drop of 11% compared to 2010. This worsening shortage of self-employed physicians has resulted in an increased workload for those who remain. In addition, there is an aging of doctors: the half are over 60 years old compared to only 30% in 2010.
This seems very worrying for the years to come, with a high retirement rate.
The pandemic as revealing
The global pandemic has had an impact on the mental health of populations and has highlighted the importance of this subject in the general population.
In a previous article, we explained the problems related to the methods of measurement and the definition of "Mental Health". In this new text, we will talk about depressive and anxious symptoms, evaluated by theHADS scale (hospitalization and depression scale) which is validated in French and widely used around the world.
We will also address the question of burn-out, a term created in 1974 to designate thecaregiver burnout and since expanded to other populations. And we will deal with insomnia measured by the sleep severity index (ISI), a measurement scale recognized and used for studies on this subject around the world.
During the first wave, 46,6% of doctors working in resuscitation and intensive care units suffered from anxiety symptoms, and 25% from depressive symptoms (HAD score>7) ; they were 47,4% and 30,8% respectively during the second wave.
The question of the suffering of liberal doctors during the pandemic has been studied less, probably because the main problem was to find support beds for patients suffering from severe symptoms. During the first wave, a study finds 30,6% of depressive symptoms among French radiologists and another 49,6% feeling of anxiety among general practitioners.
Our study evaluated the psychological suffering of 1992 French private physicians, all specialties combined, including 48% of general practitioners, registered on Doctolib, during the second wave (November 2020). 73% of respondents were between 30 and 60 years old and 25% were over 60 years old; 58% were women.
We used the same scales as for a study carried out on AP-HP hospital doctors in 2017-2018 : we assessed the presence of anxious and depressive symptoms with the HADS (HAD score >7), the presence of burnout with the Copenhagen Burnout Inventory (CBI) and l'insomnia with the Insomnia Severity Index.
In our study, 71% of doctors suffered from burnout, 46% from insomnia, 59% from anxiety symptoms and 27% from depressive symptoms. This psychological suffering had a significant impact: during the past year, 31% had taken psychotropic drugs (anxiolytics, antidepressants, sleeping pills, etc.) and 28% had increased their consumption of alcohol or tobacco.
General practitioners also reported suffering significantly more burnout than other specialties (75% versus 68%) and consuming more psychotropic drugs (34% versus 28%).
Several reasons, some of them old, but accentuated by the pandemic, can explain these worrying figures: the heavy workload linked in particular to the lack of doctors, the growing share of the administrative burden, the suffering of patients and their relatives, fear to contract the virus and transmit it to their family, the absence of clear recommendations for the management of patients faced with an emerging disease.
Another reason is the climate of violence towards doctors. As a recent English study indicates, theincrease in acts of aggression predates the pandemic. In France, over the last four years (2017-2020), thephysician safety observatory lists an average of more than 1000 incidents per year. More recently, opponents of vaccination have gone so far as to threaten practitioners with death.
And an opportunity for change?
As an editorial in the British medical journal pointed out
The Lancet, Covid-19 has posed a challenge to the well-being of physicians, but it can also serve as an opportunity for raising awareness of the problem and developing actions to address it.
Indeed, even if there has been since 2018 a toll-free number for doctors in difficulty and some hospitalization units for carers suffering from burnout, the subject remains taboo. The medical culture being to suffer in silence, with stigmatization of doctors who admit having psychological disorders.
However, the site of the order of doctors lists some regional self-help associations for caregivers such as ASRA Network (Help for Caregivers Auvergne-Rhône-Alpes) or the association MOTS (Better for better care). But structures of this type remain few in number.
Awareness linked to the pandemic can therefore be an opportunity to break the taboo and develop actions that have already proven their effectiveness: stress reduction therapies, small group discussions, peer support communities… In accordance with international recommendations, psychiatrists should be called upon to develop and organize these actions.
The development of these actions requires financial resources, and this was not discussed during the Ségur de la Santé. At the organizational level, it would be possible to rely on the Councils of the order of departmental doctors and on the Regional Unions of Health Professionals (URPS) representative of liberal doctors throughout the territory.
Ariel Frajerman, Md-PhD, medical psychiatrist at Hopital Kremlin-Bicêtre, Inserm et Jean-Francois Costemale-Lacoste, Clinical Psychiatrist and Doctor of Neuroscience specializing in mood disorders, researcher ("MOODS" team), Inserm
This article is republished from The Conversation under Creative Commons license. Read theoriginal article.