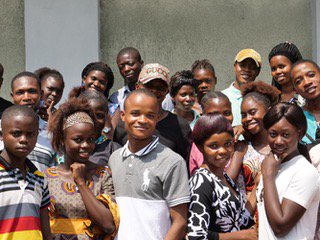 ---
The association La Gerbe wishes to contribute to providing access to education in the DRC with a project which aims to sponsor orphaned students: a way to support the construction of their future and that of their province.
In Ecquevilly, the association La Gerbe manages an integration project which puts people back on the path to employment, a Resource Center which gives a second life to the objects collected and an "International Solidarity" center which supports development projects. by its partners in Eastern Europe and Africa.
On the occasion of the Hope 360 ​​race, the La Gerbe association has decided to support students from ISTSAN (Higher Technical Institute of Sankuru), which provides training in sewing, cabinetmaking, IT, nursing sciences, and management of development project. The higher education that these students receive is an investment for the future.
This training, in fact, will allow them to have access to a profession and skills, which will contribute to the development of their province: the province of Sankuru.
However, these young students are orphans who must, in addition to their studies, support their younger brothers and sisters.
For this, they need a scholarship that will cover their school fees and food. Thanks to Hope 360, the association La Gerbe hopes to sponsor 20 young people for one year.
Sign up for Hope360 today, choose your challenge, and support these orphaned students!
Thank you in advance for your participation and your precious help.
Together, we offer more than help, we offer hope!
Click to discover the project.
La Gerbe is a member of the ASAH collective
Amelia Roumeas