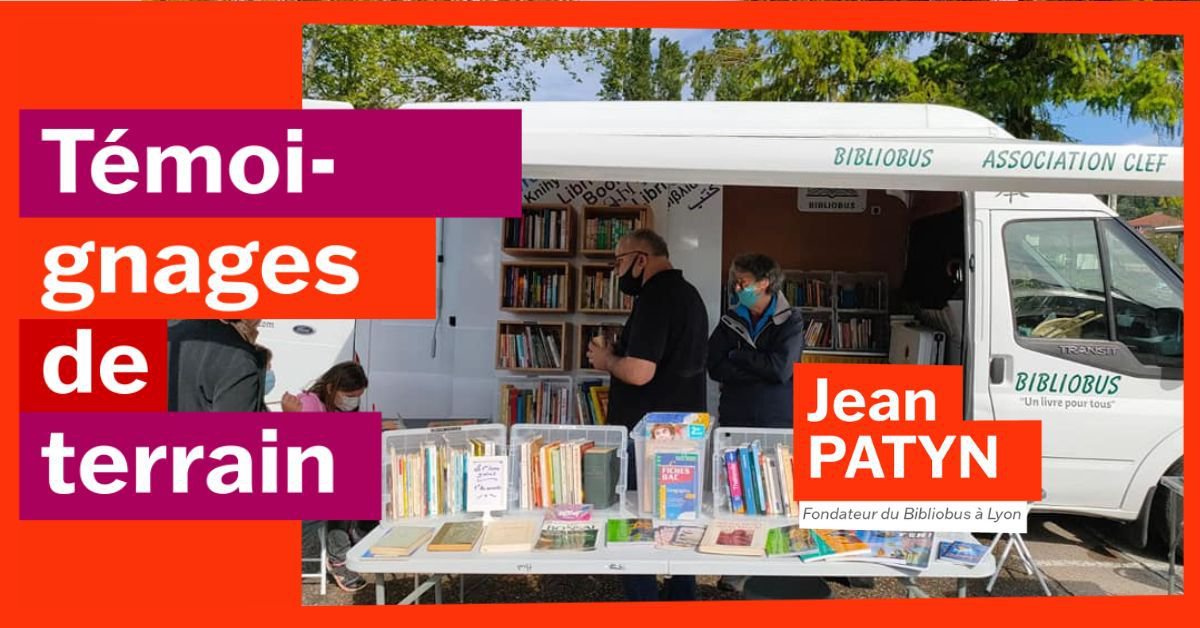 ---
With his association, Jean created the Bibliobus. A bus that offers Lyonnais the opportunity to pick up second-hand books of all kinds, but also to hear about the Good News of the Gospel.
"My distinctive sign is my big voice," laughs Jean. A big voice that he has used for almost 50 years to announce the Gospel on the public highway. In the street, in the markets, at the end of concerts... For this Belgian by birth living in Lyon, all occasions are good to talk about Jesus to as many people as possible. "I always try to innovate", specifies the man who defines himself as an "evangelist, rather than an evangelist".
So six years ago, with the association CLEF (Cercle Lyonnais d'Évangélisation et de Formation) of which he is the founder and President, they embarked on a new project: using a bus to sell Christian books all over the city. This is the birth of the Bibliobus.
Change of strategy
"To be honest, when we arrived with our bus, people tended to change sidewalks," recalls Jean. So with the volunteers of his association, they quickly change strategy. They set up a box of second-hand books, to be distributed free of charge.
"People came! I realized that the French are nosy, they like to search, touch..." And quickly, Jean receives whole bags filled with second-hand books, of all kinds.
"At first, I didn't know what to think, I who wanted to offer only Christian books. But I accepted out of politeness, and I quickly realized that this was what we needed to bring people in. "
Today, the Bibliobus goes out in Lyon four times a week, and offers 50% Christian books and 50% secular books. "The first book is free, and all the others are 1€!"
200 bibles in 3 months
But John kept his lifelong goal in mind: to tell his visitors about Jesus.
"What's good is that thanks to books, people tell us about themselves. They tell us what they like, their centers of interest... They open the discussion."
So with his big voice, he challenges, questions, and uses every open door to evoke his faith, with the same energy that has carried him for 50 years.
"God saved my life when I was younger. I can't settle for it without benefiting others."
And for that, he does not lack imagination. With his teams, they also take care to slip a small sheet of a Christian calendar into each book, with the hope that it can be read, and perhaps change someone's life.
"And we are enthusiastic! Over the last three months, we have distributed more than 200 Bibles, and thousands of calendars" rejoices Jean. Before mentioning this 13-year-old boy, who came twice in the space of two weeks to the Bibliobus to look for Bibles for his father and mother.
"He told us that they had started reading it. It makes me happy!"
Tour de France
So with the volunteers of his association, Jean continues his efforts to set up new ways of distributing the Bible to as many people as possible. This is why on July 20, in association with 5 Evangelical Protestant Churches, they will be present on the stage of the Tour de France in Bourg - en - Bresse.
"The objective is to take advantage of this festive moment to distribute around 15.000 Gospels. And thus to propose the Good News of Jesus", exclaims the ambitious "evangelizer", who regrets the lack of Christians who stand up to announce the Gospel on the public highway.
"If you knew the number of tracts and Gospels lying around in the Churches and that I collect for the Bibliobus, it's maddening!
Theo Lombardo