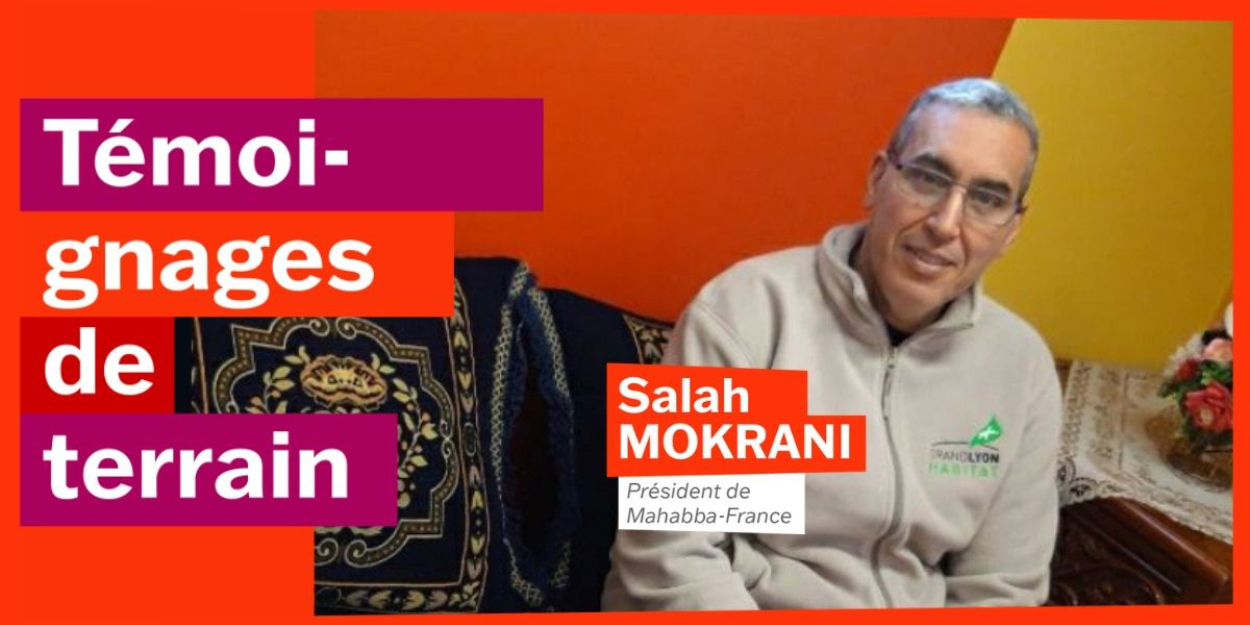 ---
Since converting to Christianity in the 80s, Salah has dedicated his life to bringing the gospel to Muslims. With his association Mahabba-France, he trains the Churches and carries out actions in the field.
Salah Mokrani was born in 1968 in Drôme. The son of Algerian immigrants, he grew up in a Muslim family, in a context that he describes as difficult.
"Like many children of immigrants, I failed at school, with illiterate parents. My older brothers fell into banditry."
An environment which promotes, according to Salah, a certain communitarianism, an identity crisis, but also the arrival of an extremist Muslim current. "During this period, I became interested in Islam. But I did not find meaning in my life there. This meaning, I found it later in the Christian faith", he explains.
The cross and the dagger
It was at the age of 17 that Salah's life changed. "In the street, a guy handed me a leaflet to go see the film 'The Cross and the Dagger'. This is the story of a pastor who works with gangsters in the Bronx". The young man decides to go to the session. Touched by a scene where the pastor speaks of love to a young man who wants to kill him, Salah returns home with a Bible.The next day he learns that his older brother Kamel, whom he had not seen for ten years, has converted to Christianity.
"It was crazy! So I saw him again, and I didn't recognize him. That day, he invited me to a Christian camp where I had an extraordinary moment. My life was never again the same."
Fight against prejudice
Since then, Salah has lived to bring the message of the Bible to Muslims. "I quickly realized that was what God was calling me to do. So I serve it. I go to sensitive neighborhoods to speak with the inhabitants. Also, I visit the Churches, to train them and help them to understand and love Muslims".
A mission that he now carries out with his association Mahabba-France, despite the many challenges to face.
"It's not simple. You have to call a spade a spade. There has always been racism and rejection of Muslims in France, and also in our churches."
So Salah and Mahabba-France are arming themselves with patience and pedagogy, to fight against certain prejudices. "It's a first big challenge. Then, we must inspire Christians to come out of their churches to announce the Good News. They must also be trained so that they learn to understand Islam and Muslims, so that they are able to enter into a dialogue with them. And finally, there is a lot of work to be done on the reception and accompaniment of new converts".
"Breaking the distorted view of the Muslim"
But Salah is optimistic. And it is full of enthusiasm that he lists his encounters over the years: a Salafist man met in a market, now a friend. House churches created in sensitive areas, "where no one ever goes to announce the Good News".
So Salah is all in. He sets no limits.
"What drives me? It's love, quite simply. It is the same motivation that drove Jesus to come and die for us on Earth. Muslims must be saved. And I feel like that's my mission."
A mission that sometimes requires courage. "I have known threats, extremely delicate situations. So it is clear that you have to be convinced of what you are doing. Afterwards, this courage can only come from God". Salah invites all those who wish to pray for Mahabba-France, and for Muslims.
"My hope is that more and more churches will open up to sensitive neighborhoods and to our cause. That Christians dare to come out of their walls. We must break the distorted vision of the Muslim. He is not an invader, and he needs to hear about the gospel."
Theo Lombardo