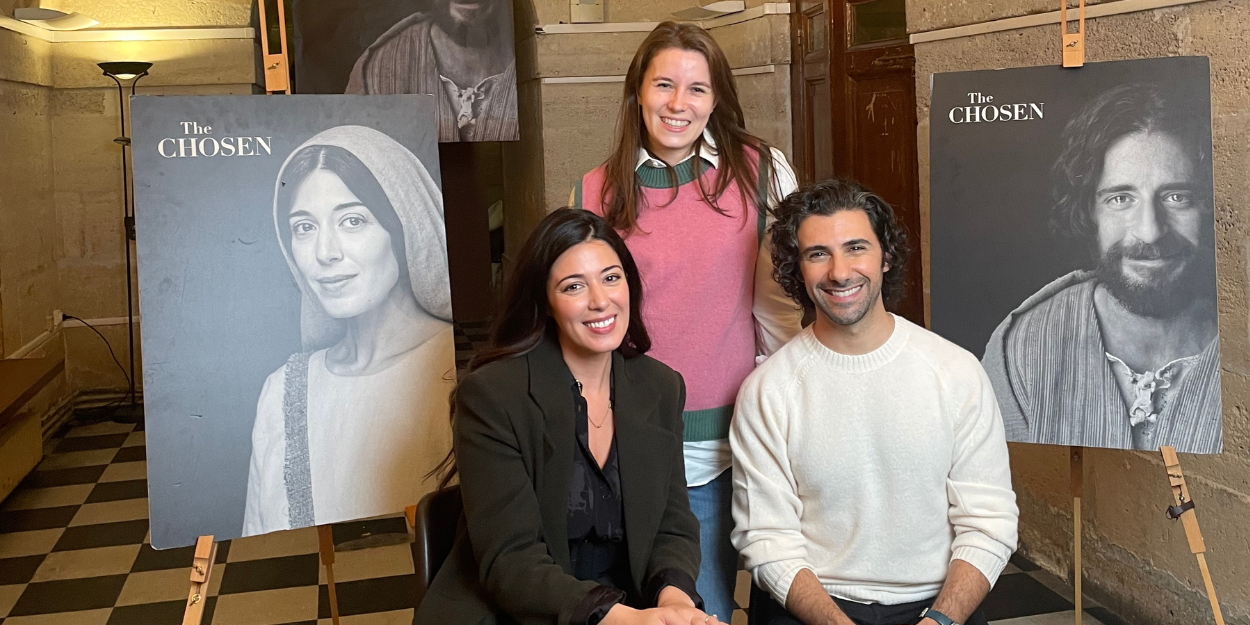 ---
At the end of October, during the preview of season 2 of The Chosen in Paris, we met Elizabeth Tabish (Marie de Magdala) and Noah James (André). As we approach the release of this second season on C8, find out more about our discussion with the two actors, who answered our questions with gentleness and simplicity.
In a small room of the Madeleine Church, located in the 8th arrondissement of Paris, I had the chance to meet Elizabeth Tabish and Noah James, the interpreters of Marie de Magdala and André, at the end of October, during their passage through the French capital.
Both very likeable, and just as charismatic as the characters they play on screen, they confided in their respective relationship to faith, the atmosphere on set and the bond they have with their characters.
Inspirational teachings
"I was raised Catholic, I really liked that growing up, I also really liked the character of Mary of Magdala, I was fascinated by the teachings of Jesus. Besides, I've never said that to anyone before, but I wanted to be a nun for a while. I was interested at that point! "Explains Elizabeth Tabish with a big smile.
She goes on to say that she drifted away from the Christian faith growing up. "I became more cynical about religion and the church. I was living in Oklahoma so in what is called The Bible Belt, I felt a lot of judgment and hypocrisy in the churches. It made me run away, "adds the actress.
However, by joining the team of The Chosen and throughout the filming, she says that it reminds her of what she loved so much in her childhood and that it inspires her today.
"The teachings of Jesus: love everyone, love your neighbor as yourself, turn the other cheek, love your enemies. True forgiveness and peace. »
Elizabeth Tabish also specifies that she finds herself in the journey of her character, Marie de Magdala (or Marie-Madeleine). "She starts fishing again in season 2, she has this feeling of not being up to it, of not doing what she should be doing. I find myself in there! "explains the actress. "But the series shows me the answer that Jesus gives: you don't have to be perfect and you are deeply loved despite everything".
For his part, Noah James explains that he is Jewish, but comes from an atheist family. "Joining this series, I didn't know what to expect, but quickly I felt extremely connected to my character and to the universe of The Chosen".
"Following Jesus, a rabbi who was starting his ministry, I found it quite exciting. Besides, the best way to learn the teachings of Jesus is to literally sit with him and listen to him! ", continues the actor. He is also delighted to have received a very good reception on the set.
"I would also like to say that coming from outside the Christian world, I felt accepted, loved, I was very well received. I love working with these people! »
A cohesive team
The two actors are dithyrambic about the atmosphere on the set of the series. Elizabeth Tabish evokes "strong and authentic" links between the different members of the team. " We enjoy ! ", adds the actress.
Noah James describes for his part a "true spirit of generosity on the set".
"We try to be there for each other. For example if Liz, or one of us at an important scene that day, we really try to be there to encourage her and make sure she feels good. »
An atmosphere of solidarity inspired, according to him, by Jonathan Roumie, the actor who interprets the role of Jesus. "He created this environment between us. He really wants to be there for us, which encouraged us all to do the same. We try to help each other, "he continues.
"Following Jesus is not always easy! »
At the end of our interview, they talk about the evolution of their characters, especially in the second season, which French viewers will be able to discover on C8 on Saturday.
Elizabeth Tabish says she is inspired by the journey of Mary of Magdala.
"She finds it difficult to let go of the shame of her past, I see her growing and letting go little by little. For me, this is very inspiring. »
For his part, Noah James recalls that his character experiences a radical change in the first season. He first appears very enthusiastic about the idea of ​​following Christ, and then we see him facing difficulties. "Following Jesus, being a disciple is not always so simple", underlines the actor.
"I think a lot of Christians feel that. They meet God and say to themselves 'wow now everything is going to be fine'. And sometimes it's even the opposite. This journey, I really liked transcribing it on the screen. Many weaknesses, challenges. That's a big part of Season 2."
So, meet on Saturday December 17 from 21:15 p.m. on C8 to discover the entire season 2 of The Chosen translated into French! As a reminder, it will then be available in replay.
Camille Westphal Perrier