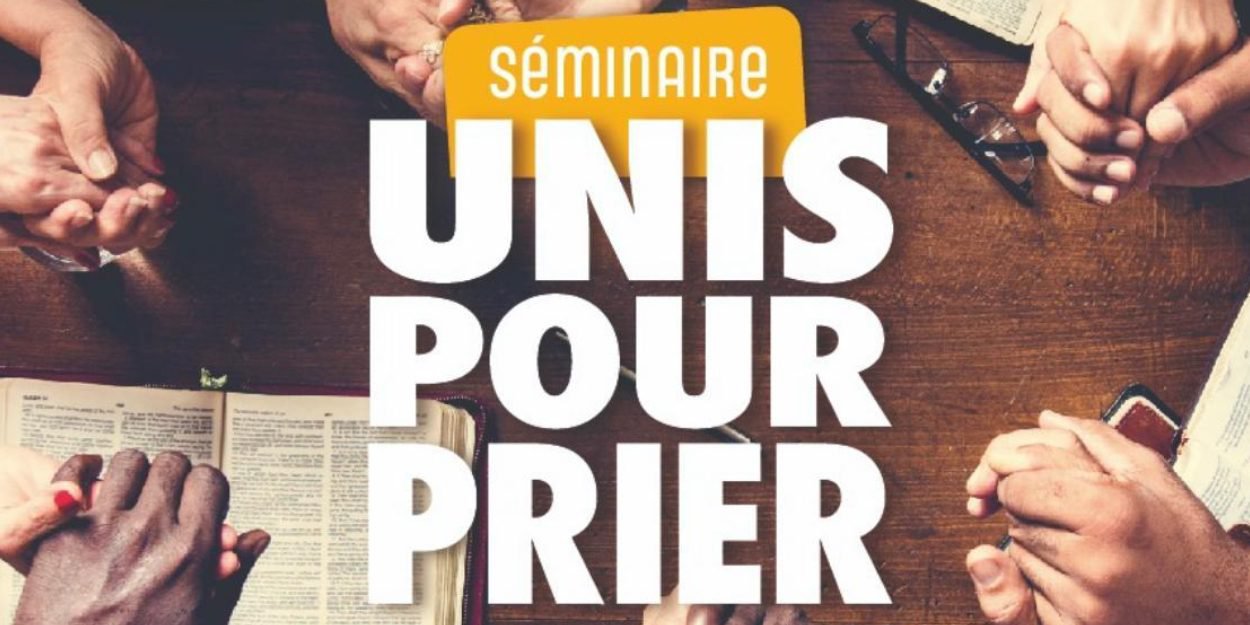 ---
On June 24 and 25, the "United to pray 2022" seminar will take place in Champs-sur-Marne with Jude Jean-Louis and Jacques Colant for a highlight around Isaiah 61.
Meet on Friday June 24 from 19 p.m. to 22 p.m. and Saturday June 25 from 10 a.m. to 18 p.m. at Espace MLK in Champs-sur-Marne to attend the "United to pray 2022" seminar. A time of teaching and adoration with Jude Jean-Louis, host of "United to pray" on Lill'Up Radio and Jacques Colant.
This free seminar has the sole motto of Isaiah 61:
"The Spirit of the Lord GOD is upon me
because the Lord has anointed me to bring good news to the poor;
he sent me to heal the brokenhearted,
to proclaim freedom to the deportees
and to prisoners deliverance,
2 to proclaim a year of favor from the Lord
and a day of vengeance from our God,
to comfort all who mourn,
3 to put, to give to the mourners of Zion
a fine adornment instead of ashes,
an oil of joy instead of mourning,
a suit of praise instead of a downcast spirit.
They will then be called "terebinths of justice",
"plantation of the Lord destined to manifest his splendour".
4 They will rebuild on ancient ruins,
they will raise the rubble of the past,
they will renovate devastated cities,
rubble that is several generations old.
5 Strangers will come and take care of your flocks,
strangers will be your cultivators and vine-growers.
6 As for you, they will call you priests of the Lord,
you will be told: "servants of our God".
You will eat the resources of the nations
and you will profit from their glory.
7 Instead of shame, you will have a double portion.
Instead of experiencing humiliation, they will cry out for joy when they see their heritage.
This is how they will have double in their country,
and their joy will be eternal.
8 For I, the LORD, love righteousness,
I hate to see theft associated with holocausts.
I will faithfully give them their reward
and I will make an everlasting covenant with them.
9 Their descendants will be known among the nations
and their offspring among the peoples.
All who see them will recognize
that they are a blessed line of the Lord.
10 I will rejoice in the Lord,
my whole being will rejoice because of my God,
for he has clothed me in the garments of salvation,
he covered me with the mantle of righteousness.
I am like the young groom who, like a priest, wears a splendid turban,
to the young bride who adorns herself with her jewellery.
11 For just as the earth brings forth its seed,
just as a garden grows its seeds,
the Lord GOD will bring forth righteousness and praise
before all nations. »
A Shabbat meal will be offered to participants on Saturday noon by the ADG Ministries Association.
You can also attend an end-of-season concert by Lill'Up Radio Saturday June 25 from 20 p.m. with Maggie Blanchard, Thierry Ostrini, Anaëlle Genevieve, Lovemin and other artists.
The concert, which will also take place at the MLK space in Champs-sur-Marne, will be paid for, you will have to pay 25 euros to attend. The price is 15 euros for students and 10 euros for children between 3 and 12 years old.
Camille Westphal Perrier