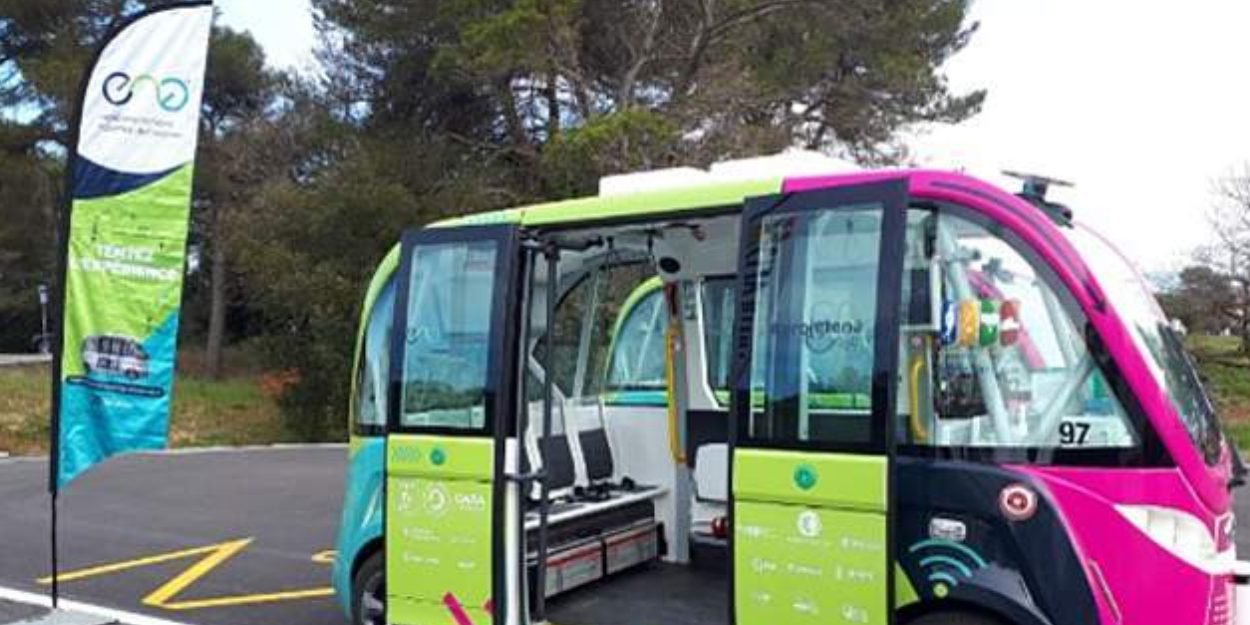 ---
In the heat of summer, a discreet experience, far from the cities, presents itself as a world first. It takes place south of Tours between Châteauroux and Châtellerault, in Brenne, a natural park renowned for its thousands of ponds. Since mid-July, a kind of Google Car of the fields serves four villages of the Indre with picturesque sounds: Mézières-en-Brenne and Martizay, via Paulnay and Azay-le-Ferron. The link covers 17km in 36 minutes round trip, with four or five journeys per day. This free service for users concerns six inhabitants per km2, ten times less than on a national scale. It lasts until December 31.
The experience is part of the program Autonomous shuttle experiments (ENA). It mobilizes around ten laboratories, companies and government departments under the aegis of the Gustave Eiffel University in Lyon. Its amount is nearly 800 euros, half invested by the French Environment and Energy Management Agency (Ademe). The vehicle is assembled by the French company Milla, based in Meudon (Hauts-de-Seine). This start-up already supplies the SNCF with Flexy rail-road shuttles, this 000% electric solution designed to facilitate access for rural communities to stations and the train. The first Flexy shuttle will run on a pilot line from 100.
The one crossing the Brenne is a pink, green and blue van – which is indistinguishable from an ordinary minibus, apart from LiDARS sensors (laser remote sensing) and a few protrusions. If it drives without a driver, it never exceeds 50km/h. The steering wheel turns on its own but an operator can regain control to, for example, overtake a badly parked vehicle. Braking is considered a little abrupt. The obstacles are not always the same as in town. What to do with tall grass that can interfere with the sensors? How to behave in front of a boar? More broadly, how to assess a landscape that varies with the seasons? These are some of the questions under study.
"We are not looking for a technical experimentation but rather a societal one", however tempers Jean-Bernard Constant, interviewed by AFP. Digital manager at the Cœur de Brenne community of municipalities, the first rural site to test this unmanned vehicle, the man is convinced that "the autonomous shuttle is a solution for rural areas". « We know well, he adds, that what costs in transport is the one who drives. In the absence of a driver, mobility becomes financially possible. » Also, for local elected officials, this life-size experience is not a publicity stunt. In their eyes, it even foreshadows the future.
Because everyone meets there, both small towns in a state of budget scarcity and residents penalized by unaffordable petrol prices. Jean-Bernard Constant already imagines, " a few years from now ", "a fleet of smaller vehicles which will, on request, pick up people to take them to their appointments or do the shopping". By also moving the less mobile population (young people without permits, people without cars or the elderly), this system would dissuade the inhabitants from leaving Brenne, a country of 5000 souls affected like so many others by demographic erosion.
Will these autonomous shuttles revolutionize so-called "peripheral" territories, giving them back all their appeal? Is autopilot a panacea? Jean-Bernard Constant insists on the societal dimension of this experience. He is right. Mobility is less a question of means than of representation. It is she who conditions the image of my autonomy. When everyone is mobile, not being mobile is seen as a curse. Taking his car puts you in the world of assets. Giving up driving rushes you into the world of nursing homes. I exist as long as I drive. The price of my freedom is thus confused with the price at the pump, especially among our elders, many of whom live in the countryside.
Will they want to swap their car for the bus? It is the shuttle that is autonomous, not those who ride in it. After the Yellow Vests, will the Covid isolation and the decline in purchasing power be enough to convince rural people to change their mode of transport? If you have to go to a station, why not.
Rural and city dwellers have an inverse relationship to mobility. In the countryside, remoteness and low density force men to form relationships. Autonomy is understood as the permanent possibility of reaching out to others, without however depending on them. In the city, it's the opposite: you can ignore others while enjoying an infinity of services, without having to travel by car. Home meal deliveries, if they are a hit in mainland France, are a failure in rural areas. The supermarket, before the church, reproduces the village square, a place of sociability to which one must be able to go freely oneself, on pain of social death.
Louis Daufresne
source: France Bleu
This article is published from Selection of the day.