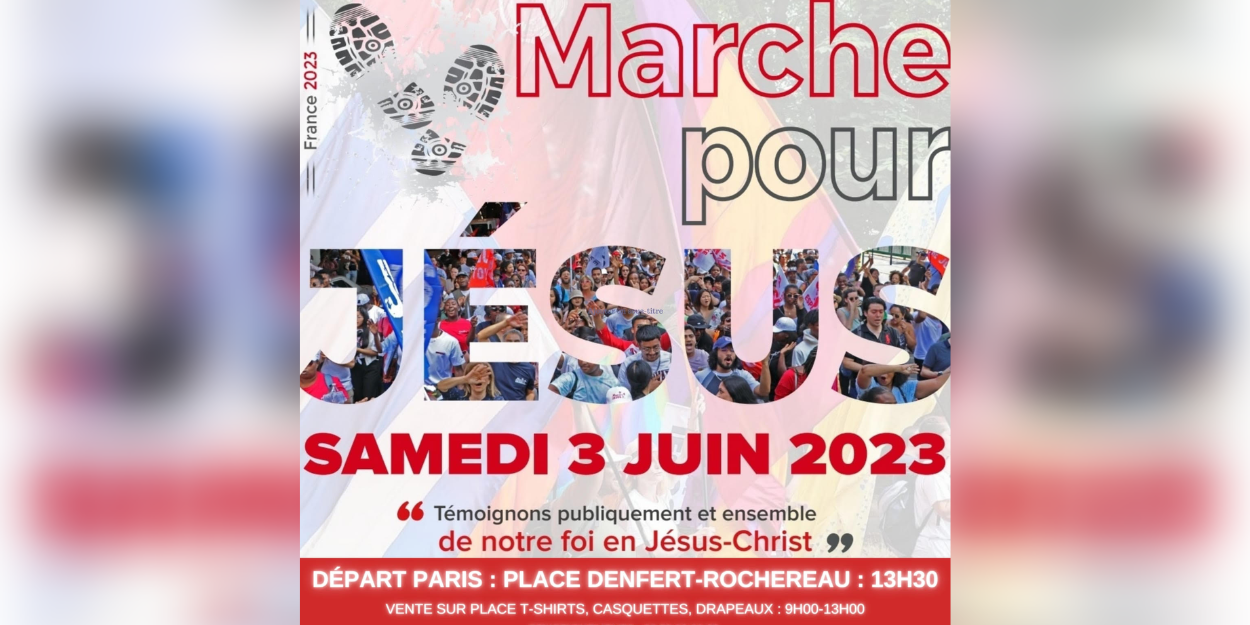 ---
Approaching the march for jesus, a national event to be held on June 3 in Paris, a meeting with Pastor Gilbert Léonian, president of the March for Jesus Ile de France, to better understand the essence of this event. In this exclusive interview, Pastor Gilbert Léonian talks about how the walk has evolved over the years, preparations for this year, the goals of the event and the message he wants to convey to participants. Here are his enlightening and inspiring answers!
IC: What inspired the creation of the March for Jesus in Ile de France and how has the event evolved over the years?
Gilbert Leonian: The March for Jesus has its origins in England in the 70s, but quickly spread to other countries, including France. In Paris, a small team mobilized in the 80s and 90s to live this unique experience. However, three years ago, I took over as president, aware of the importance of forming a larger team to carry this responsibility. Since then, the event has undergone a great evolution, in particular with the national march organized last year in Paris. Despite the various crises we have faced, we have brought together more than 10 people. This testifies to divine timing and the desire of the French people to know the love of God in Jesus Christ.
IC: Can you tell us about the preparations for the Walk for Jesus this year? What are the activities and highlights planned for this day?
Gilbert Leonian: Preparations for this year's Walk for Jesus are underway and we are full of enthusiasm. We have planned several highlights for this memorable day. First, there will be nine worship trucks accompanying the walk, creating an atmosphere of joy and worship. Participants will be able to join in these moments of praise and proclaim that Jesus is the Savior and the King of Kings. Then we will have times of prayer and proclamation to pave the way for the reign of God and resist the powers of darkness. The March for Jesus is also an opportunity for the people of God to mobilize in evangelization, witnessing to the love of Jesus to those who do not yet know him.
IC: What are the objectives and key messages of the Walk for Jesus? How does this event seek to impact society and promote Christian values?
Gilbert Leonian: The March for Jesus aims above all to promote the unity, communion and collaboration of the people of God, in particular evangelical Christians. It is an event open to all those who wish to make Jesus known. We want to impact society by showing that evangelical churches are not a threat, but rather positive actors for the reconstruction of our country in unity, harmony and respect for differences. We also want to share God's love and the message of salvation in Jesus Christ with those who do not yet know him.
IC: What positive changes would you like to see happen in society through this event?
Gilbert Leonian: I believe it is essential that everyone understands that evangelicals are Christians who love Jesus and our neighbour, and we want to be positive elements in rebuilding our country in unity, harmony and respect for cultural differences. and social. As president of the March for Jesus in Île-de-France, I am in contact with the authorities, because I believe it is important to show that Jesus Christ is the hope of France. Christians, whether evangelical or of other denominations, must be exemplary citizens and a reference in society.
IC: What would you like to say to people who are still reluctant to participate in the March for Jesus?
Gilbert Leonian: I would say to them: come, not because I tell you, but because Jesus is calling you. In my own experience, the phrase "come follow me" has transformed my life. I would like those who will participate in the walk to hear the voice of Jesus when he tells them to follow him. Now is the divine moment when the people of God are called to fulfill what Jesus taught when he said:
"I must do the works of him who sent me while it is day; the night is coming when no one can work" (John 9:4).
This walk is an opportunity to see the reality of the unity of God's people. When you participate in a walk for Jesus, you do not come back the same, you become a walker following Jesus to make his message known in our country. Listen to the voice of the Holy Spirit and that of Jesus, for it is he who is calling you.
IC: What message would you like to convey to our readers?
Gilbert Leonian: I would like to convey a message of recognition and encouragement. We need an army of intercessors to support this march. Pray for the praise, for the safety of the participants. We need God's protection, because when we walk in Paris, we are not always calm. This march is a united action of the Church to spread joy and enthusiasm through songs of praise. Pray that the spiritual battles we face will be overcome and that there will be conversions. It is an event that rejoices us, and we pray that the evangelism will be powerful, that the Holy Spirit will work during the testimonies and that the glory of God will be manifested in each city where the march will take place. In conclusion, I would like to thank all those who participate and support this initiative. Thank you for contributing to awaken our country and to make known the love of God through the March for Jesus.
Salma El Monser