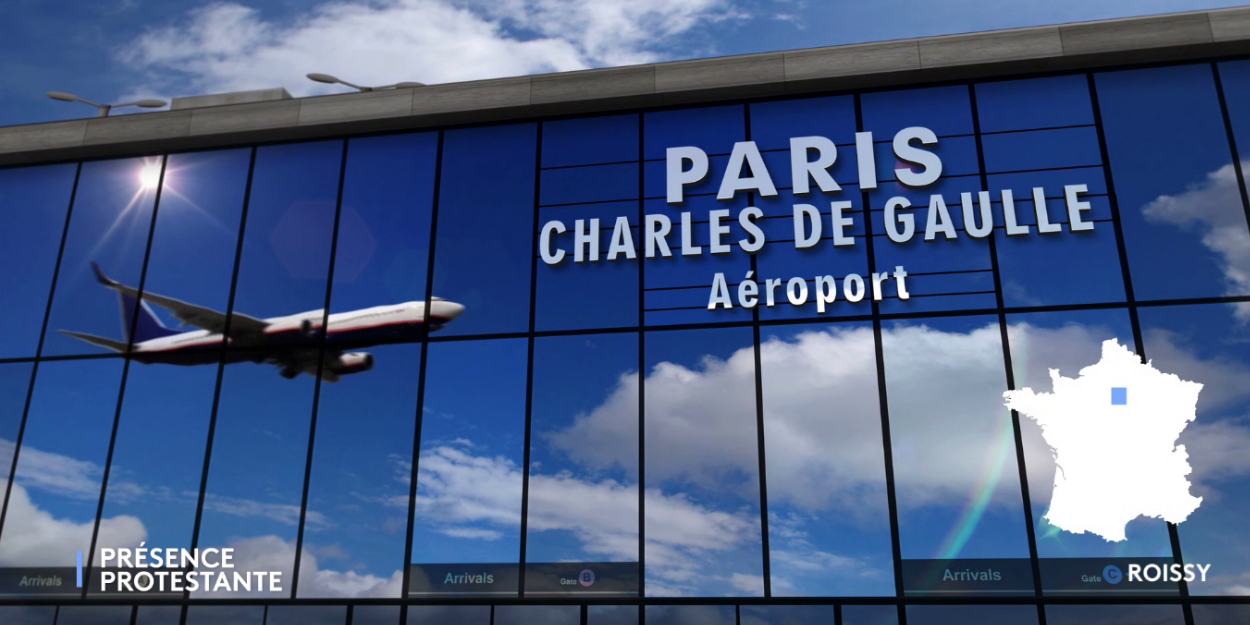 ---
Présence Protestante invites you on Sunday to attend a service prepared by Pierre de Mareuil, the chaplain at Paris Roissy Charles de Gaulle airport. This celebration will also be an opportunity to meet two Presidents of the Protestant Federation of France, François Clavairoly and Christian Krieger, who have agreed to bring together the preaching of this cult that is decidedly unlike any other!
"Yes, the Lord will keep you from your departure until your arrival". If I believe in God, I believe He is omnipresent and all-powerful, right? So, as Psalm 121 says, wherever I leave, wherever I arrive, whatever my geographical and personal situation, He will guard my departure and my arrival.
It is easy to imagine that there are military chaplaincies, chaplaincies in hospitals or prisons, but which of you, if you have ever flown, imagined that there could be a Protestant chaplaincy at airports?
It is however the case. Although discreet, because, by definition, it is in contact with people passing through or, for the personnel on the ground, at work, it is a very active chaplaincy. Just imagine: it is located at the meeting point of 101 million passengers, just for the 3 main airports of Île de France, and several tens of thousands of employees.
At Paris-Charles de Gaulle Airport (CDG), the Protestant chaplain is Pierre de Mareuil. Pastor of the Baptist Churches (FEEBF), this mission was entrusted to him by the Protestant Federation of France and he exercises it with the active support of the management of the Aéroports de Paris (ADP), without which nothing would be possible.
It is to highlight this ministry which is a little special, little known, and without a real meeting place, that Présence Protestante is installing its cameras this Sunday in Terminal 1 of CDG airport. time for a somewhat special back-to-school cult.
After an appointment with the Surf Church of Hossegor (Sept. 2018), the bikers of the association The Way (Sept. 2019) or the elderly of the Protestant retirement home of Montauban (Sept. 2021), Présence Protestante thus continues on her way so that "everything that breathes praises the Lord".
And this Sunday's worship will take on a double symbolism. Departure and arrival at the airport, the sermon will also be the occasion for a handover between François Clavairoly, who was president of the Protestant Federation of France from September 2013 to June 2022 and Christian Krieger, who has just been elected to these functions.
Finally, since there really is no constituted assembly in an airport, this implies that the celebrants have few common traditions, customs, rites, hymns or songs of praise. And basically, this situation of stripping becomes almost a benefit because only prayer, reading the Bible, sharing the Word come back to the center.
It is in this spirit that Vincent Smetana will interpret, almost declaim, the songs he has composed or arranged especially for this cult. So, meet on Sunday at Terminal 1 at CDG airport.
May the Lord guard your departure and your arrival!
A program directed by Elkana Randrianaivo and produced by France.tv Studio for France Télévisions. It will be broadcast Sunday 25 September at 10h on Protestant presence (France 2) and available in replay on France TV until October 2.
Christopher Zimmerlin, for Protestant Presence