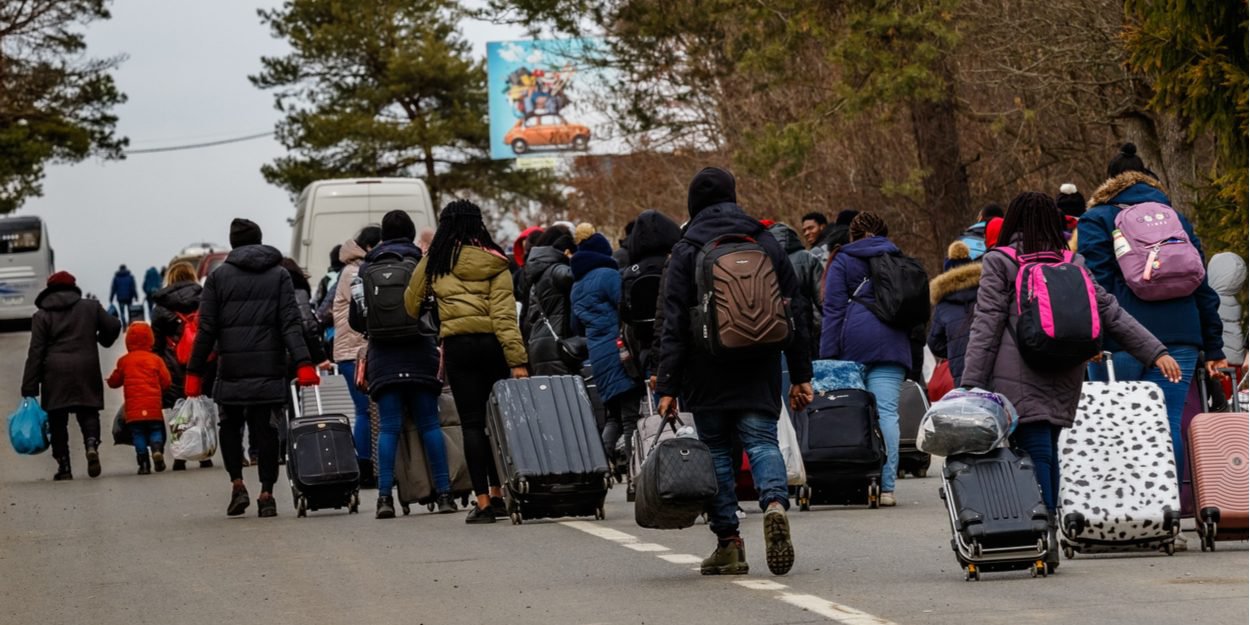 ---
Since the invasion of Ukraine by Vladimir Putin's regime, in 18 days of war, more than 3 million refugees have left the country.
Poland, Moldova and Romania are getting organized to welcome them, associations are mobilizing, civil society is getting involved. The European Union is activating a 2001 directive, never used before, which makes it possible to grant a temporary protection status to guarantee a quick access to rights : a right of residence, access to the labor market, access to housing, social assistance and medical assistance.
Railway companies in several countries (for example in France, in the Netherlands, Belgium, Austria) announce free transport. Faced with the suffering of the Ukrainian people, national and European policies on asylum and reception seem, at last, to rise to the height of the tragedy of a people confronted with war. The absolute contrast with the asylum and reception policies implemented so far is flagrant. In our research with exiled women, conducted for several years, we have indeed observed a social abandonment upon arrival in France.
Lack of accommodation, factory of sexual violence
In 2020, we met women asylum seekers from the DRC, Mali and Côte d'Ivoire in the Paris region as part of two people recherches on gender-based violence in the context of migration.
These women have all fled violence in their country of origin and have often been victims of violence during their journey. But no protection is offered to them upon their arrival in France. Associations like the Cimade have been describing for several years the structural lack of accommodation places for asylum seekers. In 2019, these are approximately two-thirds asylum seekers who do not have access to any form of accommodation. Being on the street, for women asylum seekers, means being constantly exposed to an increased risk of sexual violence.
A quantitative research carried out in 2012-2013 had already identified administrative insecurity and residential insecurity as direct factors of sexual violence and increased risk of HIV infection, with women who fled violence in their country of origin being 3,7 times more likely to report having been victims of rape in France than migrant women who came for professional reasons.
All the associations also note a deterioration in reception conditions in recent years. The women we met found themselves on the street for several months, sometimes in the middle of winter, for some with young children, some in a situation of advanced pregnancy. The absence of available places is such that the associations which carry out patrols in the capital do not have solutions, even for the public a priori "priority". In this context, women in exile are sometimes forced into transactional sex in exchange for shelter. In other cases, accommodation solutions are in themselves places of insecurity: many cases of violence have been reported in social hotels according to our interlocutors.
A young Malian explains that she takes shelter in train stations, always sitting, never lying down, above all not to attract attention, pretend that she is waiting, and try to protect her physical integrity by not showing her situation. of street. She dozes off but never sleeps. The street offers no respite. For several years in a row, public hospital services have become the last defense against the abandonment and isolation of these women. Associations sometimes direct pregnant women, for lack of any other alternative, to hospital waiting rooms so that they do not spend the night in the cold.
Intentional deterioration of reception conditions
Research in recent years has mobilized the concepts of "necropolitics", "systemic failure", "slow violence" or of "intentional degradation" conditions to qualify these processes of militarization of borders and social abandonment with deadly consequences. There are few studies on the subject, but the available data indicate that borders are particularly deadly for women and that necropolitical implications repression of migration are gendered.
These concepts show how states that claim the right to "control their borders", exercise their political and social powers by letting "other", "foreign" people die through the systematic abandonment of these people and the structural denial of rights. (housing, food, legal status, access to health) essential to their survival. Our research sheds more particular light on the institutional production of gendered violence in that non-reception, often analyzed as a policy of deterrence, systematically generates sexual and gender-based violence and therefore has a structural dimension.
Racist and gendered representations of exile
After decades of closure and rejection policies, causing more than 23 deaths in the Mediterranean since 500, number of editorial writers andNGO celebrate the absolutely vital reception of Ukrainian refugees while noting a double standard, a two-tier asylum, and, undeniably, a racist logic, in this reversal of asylum policies.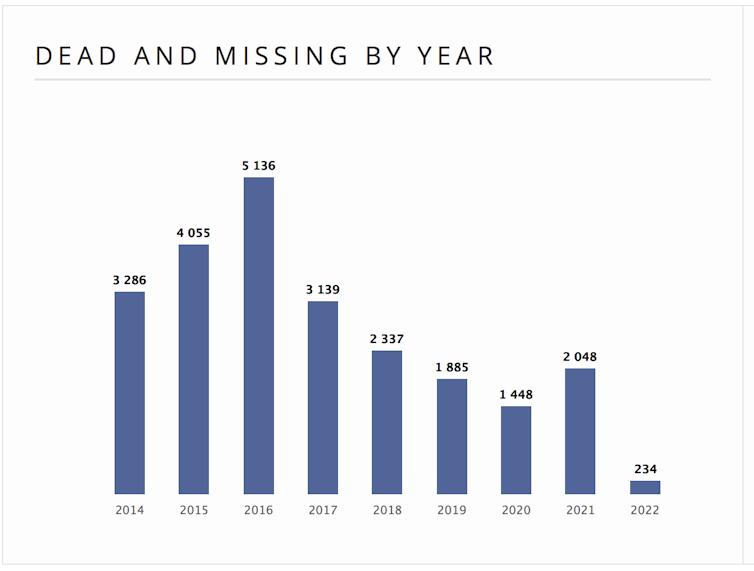 If the contrast escapes no one, in trying to explain these differences, several journalists verbalize a supremacist vision according to which Ukrainian refugees deserve more to be welcomed than refugees from the Middle East and Africa, skin color and religion being explicitly named as a legitimate criterion for ranking.
Speeches emphasizing the fact that people fleeing Ukraine are overwhelmingly women and children highlight the "vulnerability" of these refugees. However, this idea of ​​a "Vulnerability" of women, reinforces gender stereotypes according to which women themselves do not have their own strategies and power to act.
A right to asylum with variable geometry
Today, politicians are hastening to make a radical reversal of their discourse with regard to the policies to be deployed against refugees. Emmanuel Macron which undertakes to welcome Ukrainian refugees declared at the time of the Taliban's takeover in August 2021:
"We must anticipate and protect ourselves against significant irregular migratory flows which would endanger those who use them, and would fuel trafficking of all kinds".
However, the IOM records in 2021 more than 700 people of Afghan nationality who died in migration, stressing moreover that it is difficult to compile this data and that most deaths are probably not documented.
In the region of Calais where all humanitarian activities have been increasingly criminalized in the context of the politics of "zero fixation point", the mayor Natacha Bouchart publicly receives a family of Ukrainian refugees to symbolize its support and says it is shocked by the rejection of Ukrainians by the English authorities, while other refugees trying to reach England have been turned away for years by the French authorities as well as by the British.
On March 7, 2022, the Executive Committee of the United Nations Network on Migration, together with other organizations, publishes a solemn appeal States to take action and avoid the deaths of migrants. The policies put in place to welcome Ukrainians are essential to protect the lives of civilians fleeing war. They can also serve as an example to avoid more deaths at the borders, and should remind us of the obligation to offer a dignified welcome to all exiles.
Nina Sahraoui, Post-doctoral student in sociology, CRESPPA, CNRS, House of Human Sciences Foundation (FMSH) et Jane Freedman, Professor of sociology, National Center for Scientific Research (CNRS)
This article is republished from The Conversation under Creative Commons license. Read theoriginal article.
Image credit: Shutterstock.com / Yanosh Nemesh