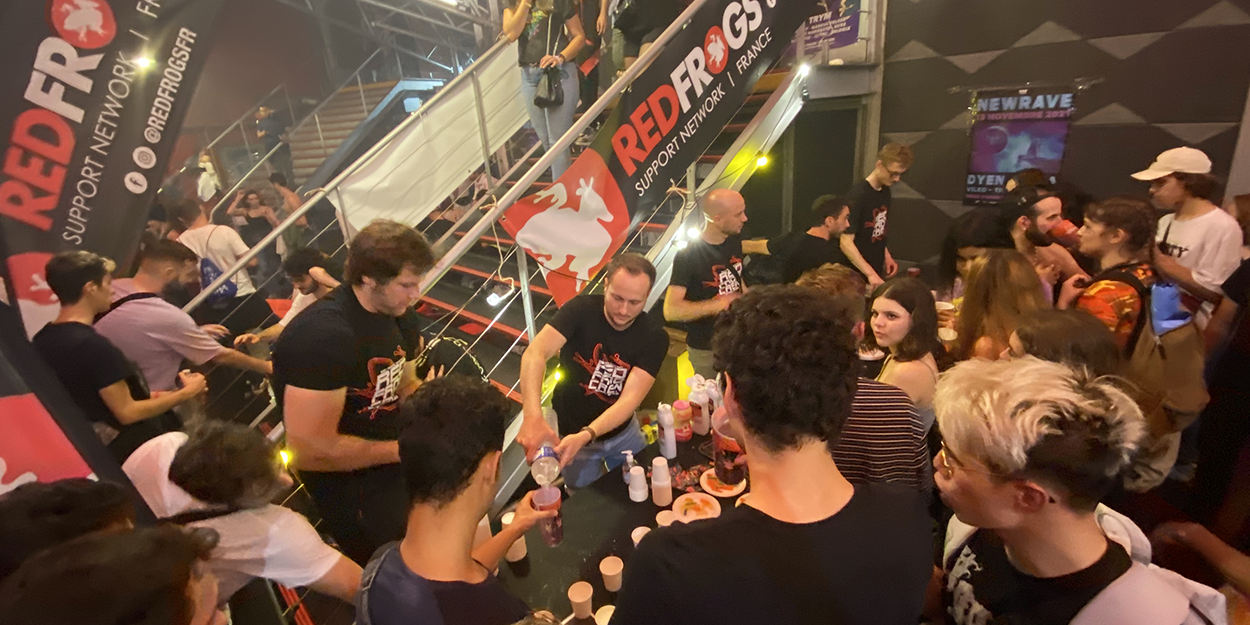 ---
Based in Montpellier, the Red Frogs association launched in 2021 is present in festivals and festive events to bring comfort and support to young people. At the heart of the party, she offers snacks, bottles of water, activities or even a listening ear.
"Bringing a positive presence, being salt and light in order to limit incidents and create a safer space for young people" is the ambition of theRed Frog Association.
"To save a generation, we must serve it," says Yannick Autard, president of the association, who is behind the project in France.
Red Frogs was born in Australia in 1997 and has participated for years in Australia's biggest music festivals such as Splendor in the Grass, Falls Festival, Groovin the Moo, Listen Out and Oktoberfest. They also intervene in high schools, universities and sporting events.
In 2005, following a breakup, Yannick Autard began going to nightclubs, smoking, consuming drugs and above all, alcohol. It describes a life of partying and relationships without a future.
"I had a void deep inside me that I tried to fill with outings, but it was destroying me little by little".
Eight years later, in 2013, after a period of depression, he heard about God and saw his life transformed. Finally, two years later he decides to be baptized and meets the one who will become his wife, Laura. He then feels that his call is to be at the service of young people.
"We start from the observation that the culture of young people is dominated by alcohol and drugs and that this excessive consumption can cause dangerous and upsetting behavior for their lives", explains Yannick who launched the association Red Frogs France in August 2021. .
If Red Frogs is not an organization labeled Christian, but rather a network of help and support for students, the goal of its members is to transmit the love of Jesus through their action.
"We are not here to judge and condemn sin but to spend time with them, to create a bond. Creating a relationship of trust and closeness with young people is often an opportunity to bear witness to our faith and to share the Good News. »
Today four people are part of the office of the association made up of about fifteen volunteers and which is a partner of five churches in Montpellier.
Concretely, the volunteers of Red Frogs, the "froggers" distribute free water and snacks to fill the stomachs of those who are likely to consume alcohol excessively. They also offer a relaxation area for those who wish, as well as entertainment and young people. In addition, their team travels to the heart of the party to provide immediate assistance when necessary, in collaboration with the security and first aid services.
A reassuring presence for the young people as well as for the organizers.
For now, Red Frogs has taken part in various events in Montpellier, such as the I Love Techno festival or even a Halloween party which brought together nearly 6000 people at the Zenith. But its ambition is to deploy in other cities of France and to cover a maximum of festivals and events dedicated to students.
"We are starting to present the project in Toulouse, Lyon and Marseille. »
Camille Westphal Perrier