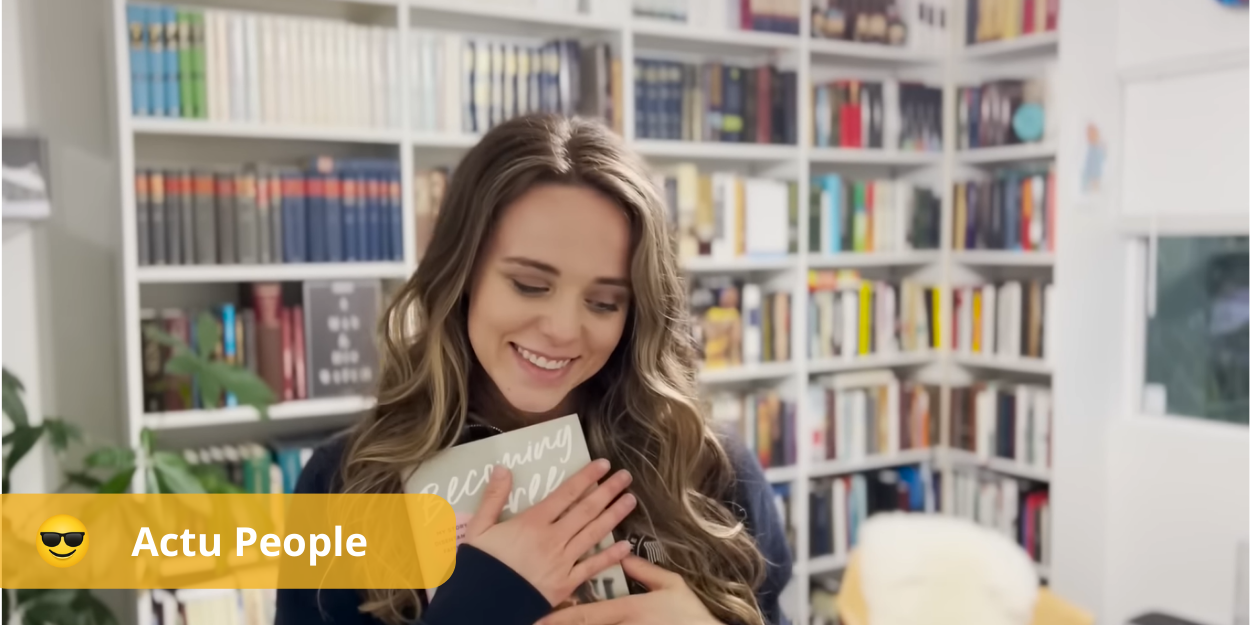 ---
In his book "Becoming Free Indeed" published on January 31 in the United States, Jinger Duggar talks about his spiritual liberation after being under the influence of Pastor Bill Gothard, accused of leading the faithful in the least details of their life. The fourth daughter of the famous Christian American family, who was the subject of a reality TV show, wrote this book in order to help untangle faith from religious principles.
If someone says "Keeping Up With the Kardashians," chances are the name will remind you of a reality show, even if you've never seen an episode of it. If someone mentions "The Wonderful World of Hulk Hogan", you may recognize the name of the famous wrestler, if you don't know that he and his family have offered themselves to viewers. If someone says "19 Kids and Counting" to you, chances are it doesn't mean anything to you at all.
And the Duggar family? If this name evokes little on this side of the Atlantic, apart from a case of sex scandal concerning the eldest son, it is known to Americans and evokes a very conservative Christian family, in a country nevertheless strongly marked of religion.
Recently, Jinger Duggar, one of the daughters of this famous family published a book in which she talks about her spiritual journey far from the religious teaching she received (some pages can be viewed here).
"I grew up under the influence of harmful teachings that made me fearful and confused about Jesus, and this is the story of how I had to separate faith from fear," Jinger said.
The young woman dedicates the book to all those who have been hurt by the teachings of her former pastor, Bill Gothard, or other pastors who falsely claim to speak in the name of God. However, she takes care not to take it out on her family, whom she wishes to help reject this doctrine.
"19 Kids and Counting", the Duggar family shown to America
Jinger Duggar was not yet 10 years old when television cameras swooped into her family for the show "14 Children and Pregnant Again" in 14. After two more shows, the family was followed for seven years, for a total of 2004 seasons, on the show "10 Kids and Counting" (17 children, and it's not over), the title of which evolved until the 17th child. The uniqueness of the Duggars had attracted the TLC chain, owned by the Warner Bros. group. Discovery.
When the show debuted in 2008, Jim Bob and his wife Michelle Duggar had just 17 children, not to mention a miscarriage and in utero death, and another daughter was due in December. A year later, the last child was born. The couple had quickly stopped using contraception, following a possible pill-related miscarriage according to the doctor, and had chosen to let God decide the number of children, a resolution in accordance with their religious beliefs.
The rules are very strict in this Baptist family officially not affiliated with any movement. Modesty and chastity are important values, parents and children do not wear clothing revealing the legs below the knee such as shorts or short skirts, nor are tank tops allowed. Also, girls have to wear dresses; young couples never go out alone, they are accompanied by chaperones, and can only kiss for the first time on the wedding day. The couple's children cannot date anyone of the opposite sex without their parents' consent.
According to Jim Bob, the girls strongly wanted to be accompanied during their meetings with the boys they liked. "It's a responsibility that really keeps things from going in the wrong direction," he says, supported by his wife who agrees. "Before you bond emotionally, you want to know deep down even who the other person is, and it's easier when you have multiple eyes on you. According to her, her daughter Jessa and her future son-in-law Ben were chaperoned by all the boys, even the youngest, the last of whom was only 10 when the lovers married.
A spiritual life marked by terror
This absence of intimacy, Jinger knew it to the point of going to the cinema with her husband, Jeremy Vuolo, only once married. During their honeymoon in 2016, they watched "The Truman Show," a film starring Jim Carrey portraying a character whose universe is scripted without his knowledge, in a reality show.
Once the movie is over, Jinger turned to her husband and told him that it felt like his life : like Truman Burbank, she had grown up under the gaze of viewers who had their opinion on how she should live her life. It was last November that she decided to write her fourth book, this time speaking of psychological and spiritual liberation.
Interviewed by BlazeTV's Allie Beth Stuckey ahead of the release of her book, Jinger spoke about her spiritual journey. The author introduces Pastor Gothard as a teacher who emerged in the 1960s and 1970s when sex, drugs and rock and roll became concerns for parents. The reverend claimed to have the answers to life's problems and presented principles that one must follow to be blessed by God, otherwise life would be a series of disasters.
With parents wanting binary answers about raising children, Gotthard's teachings have spread, says the young woman who mentions filled stadiums across the country to receive her word. The devotees came from a variety of backgrounds.
Among the teachings of the reverend, the ban on listening to drums. He took the example of a young man who died in a traffic accident and who loved this instrument, denounces Jinger, who adds that he "was talking about a modesty of dress that was outside the Bible". She explains that the pastor did not give suggestions based on what would have worked in his life (he is single, editor's note), but made it clear that if we did not comply with his precepts, we would suffer a life of torment. .
"I think that kind of teaching was so fear-based, superstition-driven, manipulated and controlling that I believed, as a child growing up that way, that God was pleased with me if I followed all those principles. , but that otherwise he was there to kill me, even though I had been saved at the age of 14. I knew that the true gospel had nothing to do with salvation by works, but Bill Gothard set a scenario saying that we had to follow steps x, y, z before coming to God," says the young woman who explains that she saw God through this prism.
Her parents, she says, were always concerned to teach Christian salvation to their children, with sincerity, but the family did not attend any church, because there was none in their geographical entourage that was connected to Gotthard. So the family became a small church that attended the reverend's seminars as sermons.
Small steps to freedom: when eyes open
When she was 10 years old and on 14 Children and Pregnant Again, a guest broke into her room and stole her diary to sell it for $100, ruining her trust in children. others. An experience that traumatized her.
She was always afraid of unintentionally offending God, for example by going to play sports with her sisters instead of reading the Bible even if she had just turned its pages for an hour: "I was beginning to be terrified thinking, I don't don't know what God expects of me. It was only when her father asked her to accompany him to sports that she felt relieved and no longer feared dying, because Gotthard taught that one should always obey parents who were considered an "umbrella". of authority".
This umbrella of authority involves living with parents, even adults, as long as one is not married, in order to protect oneself from the attacks of the devil, explains Jinger. By daring to play sports with her father, the teenager was not liberated, she remained in a pattern of fear where fear was evacuated because an umbrella of authority validated her desire to go out.
It was after marrying Jeremy, a reformed pastor, that she discovered another Christian world where she could expose her questions, her vulnerability, and where the passages of the Bible were contextualized without adding opinions presented as dogmas.
She thus understood that stories from the Bible did not concern her personally, but the work of disentangling the faith and the precepts had already begun when she and her fiancé had to watch videos of Gotthard at the request of Jim Bob. Her future husband had pointed out to her all of the reverend's additions to the biblical texts, particularly in terms of the couple's intimacy.
Her various discussions with her fiancé made her realize that many of the precepts she believed to be biblical were not found in the Bible.
Gothard was accused in 2014 and 2016 of sexual assault and harassment by several women in his movement.
Jean Sarpedon