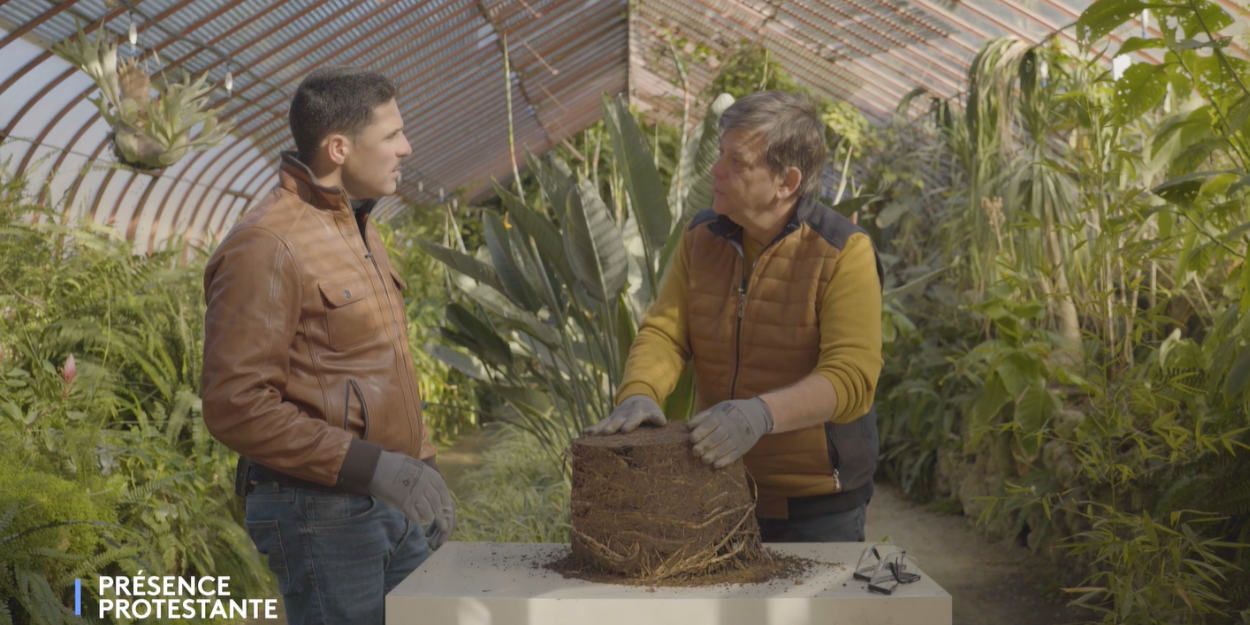 ---
Each month, "Ma Foi…" takes the crossroads of faith: sidewalk noises, investigation, time for reflection and getaway in the middle of nature. Damien and David meet those who have chosen to follow Jesus Christ in a sometimes… confusing way.
"So, since you have accepted Jesus Christ as Lord, live in union with him. Be rooted in him and build your whole life on him. Be ever more firm in the faith, in accordance with the teaching you have received , and be grateful." Colossians 2:6-7
"At Saint Catherine, every tree takes root." The adage is well known to all those who have, one day or another, frequented the knee rests of a garden or an orchard. With a little advance so that we are ready when the weather comes – Saint Catherine's Day is November 25 – Ma Foi… explores the universe of roots in depth.
Because yes, it is the quality of rooting that depends on the growth of any plant. The nature of the soil, the climate, the sunshine and the orientation, the watering, the contributions, etc. A large number of parameters come into play in plant development, but the first, which induces the rest, is rooting.
And when it comes to roots, bamboos are the Huns of gardens: where they go other plants die.
The power of the roots of bamboos is such that our favorite garden centers sell them... to sell better behind all kinds of barriers to be buried supposed to block the underground growth of grasses of the large family of bambusoideae. Because again, bamboos are grasses, simple grasses, who says so!
But, small grass will become large, sometimes very large even. To discover this fascinating world (there are around 1400 species of bamboo), go to the largest bamboo grove in Europe, in Anduze, in the Cévennes. This is where Eric, a nurseryman in his kingdom, arranged to meet Damien for an object lesson.
The root of the bamboo already contains the entire stem, each section pre-exists there, waiting for its time. And, once the stem has finished its development, it is by the roots, and not from above, that the plant makes its way. A road all the more powerful as it is invisible.
Our roots commit us to the paths of the future. If we think we will one day manage to detach ourselves from them, they always catch up with us to remind us of which bamboo we are warming ourselves. I remember one of my high school math teachers saying to lazy people who didn't do their homework:
"It's not a hair you have in your hand, it's a bamboo!"
And all of us, teenagers that we were, we laughed out loud without really knowing why. However, the lesson of this teacher carried since I still remember it.
Wisely, he told us to choose well the roots that we would cultivate in our lives. If we weren't careful, he told us, they would end up taking up so much space – like a dunce's laziness – that we wouldn't have time for anything else.
What are your roots? Which ones do you grow and which ones do you cut? Do you take care of yourself? Where do you draw your resources, do you know? Can hate feed love? Can bitterness result in happiness? Can friendship and fraternity grow on selfishness and indifference? Does turning in on oneself allow growth?
Happiness makes no noise. Nourished by the roots of life, it blossoms in silence and peace of soul, secretly. Happiness is patient, it is full of kindness, it is not envious; happiness does not boast, it is not proud, it does not do anything dishonest, it does not seek its own interest, it does not get angry, it does not suspect evil, it does not rejoice in injustice, but he rejoices in the truth; happiness excuses everything, believes everything, hopes everything, supports everything.
When the storm comes, it bends and does not break, when the sun burns, its roots water it. Happiness comes from love, that which we give, and that which is given to us, the more it is shared, the more it multiplies.
"Ma Foi…", a magazine produced by Damien Boyer, with Jean-Pierre Civelli, pastor and president of Wycliffe UK and Éric, nurseryman at the Bamboo garden of Anduze.
To see "My Faith…", go to the replay of France TV or follow Presence Protestante on Facebook.
Christopher Zimmerlin, Protestant presence