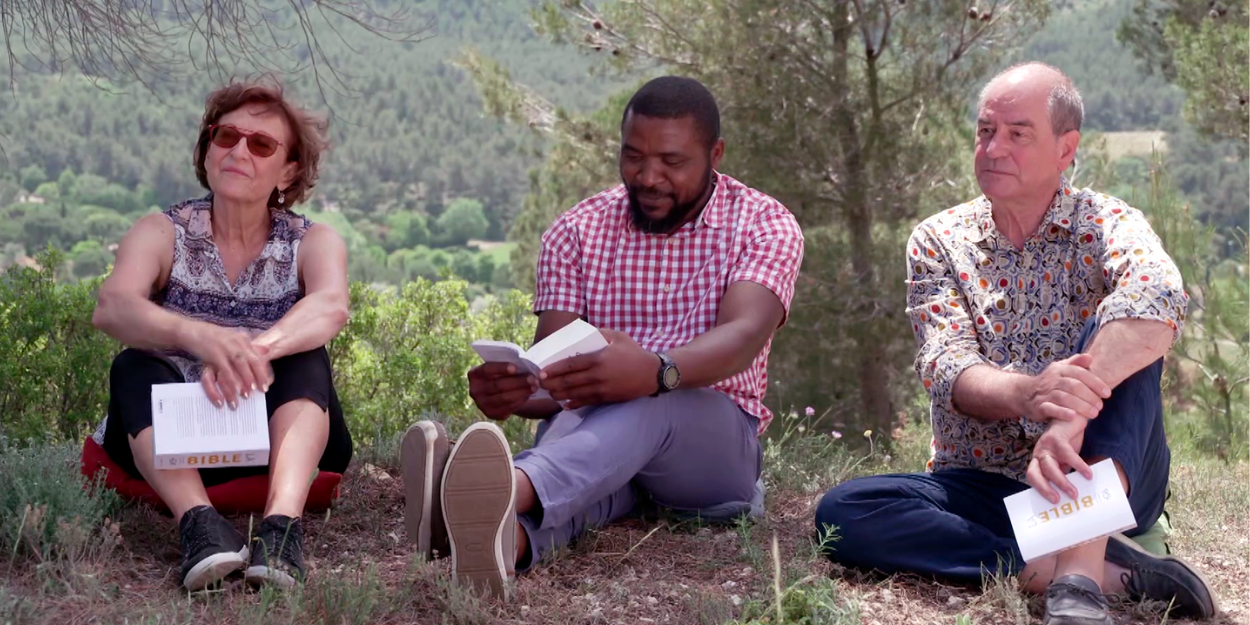 ---
Around a text of which they know nothing, Alain Siewe, business manager, Jean-Paul Sauzede, couple's therapist, and Patricia Mery, former director of EHPAD now retired find themselves in all simplicity for an adventure at the heart of the texts. biblical. A program presented by Marion Muller-Colard and broadcast on Sunday on Présence Protestante (France 2).
Do you read the Bible? No, but… do you really read it?
Not quickly in the morning, eyes clouded with sleep. Not in the evening just before going to bed, eyes misty with fatigue. Not when ideas are jostling at the gate of your thoughts, not only in the subway, at work, on break, between coffee, cream and a spoon. Do you read the Bible?
The question is neither the place, nor the hour of the day, nor the duration, nor the length of the passage, nor the color of the highlighter. The question is one of attention. Do you read the Bible carefully?
Me, I thought so. I thought I read it carefully. And then, I confronted myself with the reading of others. The one that doesn't go along with what I understood from the text, the one that sees things I hadn't seen, the one that isn't comfortable.
Some feel the need to put forms and find a name and a framework for their method of reading. Lectio divina, for example. But, I confess to you, as a good Protestant, I'm a little refractory to executives, I have a little trouble following recipes. I don't care about the bottle.
I started reading the Bible carefully when, as a student, I attended University Bible Groups, and since then I have never finished reading it.
In fact, that's not quite correct. I have read the entire Bible. Several times. And I reread it and reread it, in different ways, with different eyes, in very different situations. To seek a word of wisdom, a teaching, to verify what God is telling me, to step back, to remember again and again John 3.16, 1 Cor. 13., Genesis 1, etc. To be sure that I haven't forgotten a word, an important detail...
I read it alone, at worship obviously, during meetings, at more incongruous moments, between the pear and the cheese, to check this or that point. Sometimes the text slips and does not penetrate my neurons, sometimes it moves me. Sometimes it knocks me out, sometimes it amazes me.
I know that I don't have all the tools or all the science to understand everything. I don't think anyone has them. But I also know that when the time comes, the Spirit of God overflows, and everything lights up.
This Sunday, Marion Muller-Colard invites anyone who wants to read, sitting in the grass, in the company of a business manager, a therapist and a retired director of ÉPHAD, a brief passage from the gospel. of John: verses 25, 26 and 27 of chapter 19.
Wondering what it's all about? But if I told you, I would not be consistent with my invitation: read the Bible carefully.
A program produced by Denis Cerantola which will be broadcast Sunday October 9 at 10 p.m. on Protestant presence (France 2) and available in replay on France TV until October 16.
Christopher Zimmerlin, for Protestant Presence