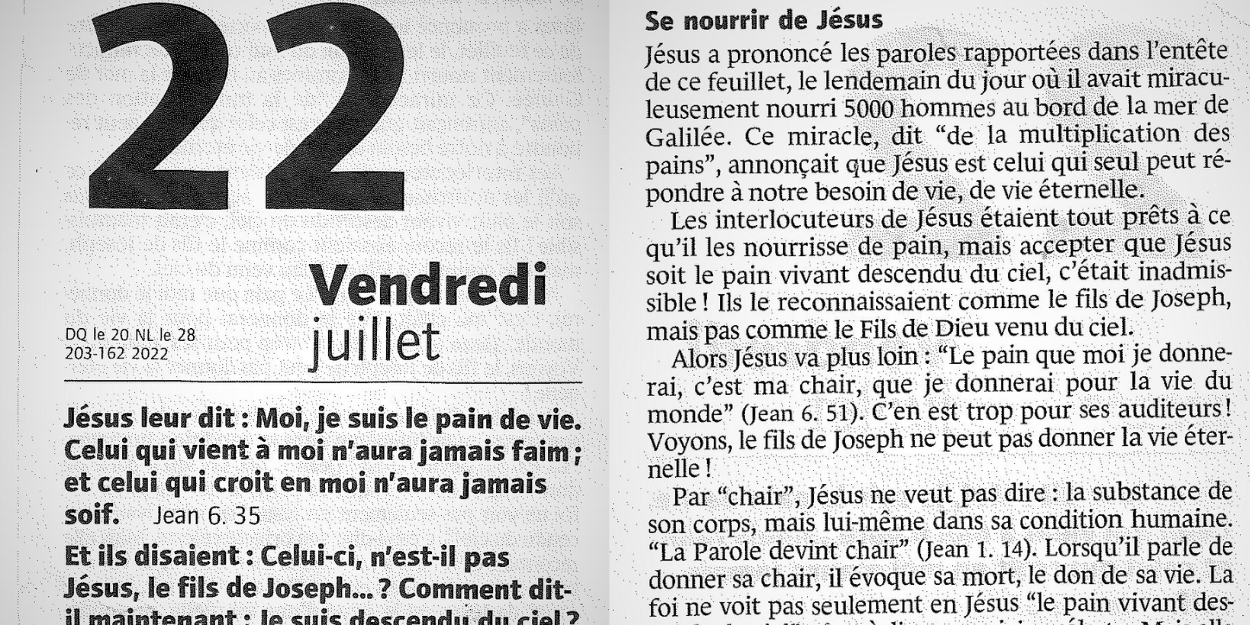 ---
Among the miracles of the Bible, here are two of the best known, often repeated and diverted: Jesus walks on water and He multiplies loaves. Show off? Sleight of hand ? Supernatural phenomenon? Divine humor? What is the message ? Does all of this still make sense today?
"I am the bread of life."

John 6:35
A few months ago, I read the Good Seed Protestant calendar sheet and kept it on my desk, in front of my eyes each day. I reread it sometimes, not really knowing what to do with it, but the idea was interesting, motivating: the bread is Jesus made flesh, it is Jesus who shares our human condition...
Then, unbeknownst to me, the little trickle of water from this text made its way, crossed the meanders of my mind, and its estuary ended up joining the program Ma Bible this Sunday, February 12.
Éric Denimal (author and journalist) and Jean-Rodolphe Petit-Grimmer (director), like good Bible bakers that they are, kneaded the dough for a program on the miracles of bread… and water. Putting a lot of pain and joy into their task so that this beautiful batch reaches your screens-stalls, with the good flour provided by their guests, pastors Florence Blondon and Célestin Kiki, and New Testament teacher, Cédric Eugène , they let the leaven of the Word rise in them.
This Sunday, we invite you to meet exceptionally at the Protestant Presence Bakery, located at Les Chemins de la Foi, France 2, to share a bread of which you will tell us (good) news.
Attention, due to the late morning programming of the program of another religion, sport and the world ski championships, the opening hours of the Présence Protestante bakery are staggered this Sunday: doors open from 9:35 a.m. . But of course, for latecomers, we'll always put a wand aside, on replays.
Good Sunday !
My Bible, a program in partnership with the Alliance Biblique Française, prepared by Éric Denimal and produced by Jean-Rodolphe Petit-Grimmer.
To see or review My Bible – Bread and Water or follow Presence Protestante on Facebook.
Christopher Zimmerlin, Protestant presence