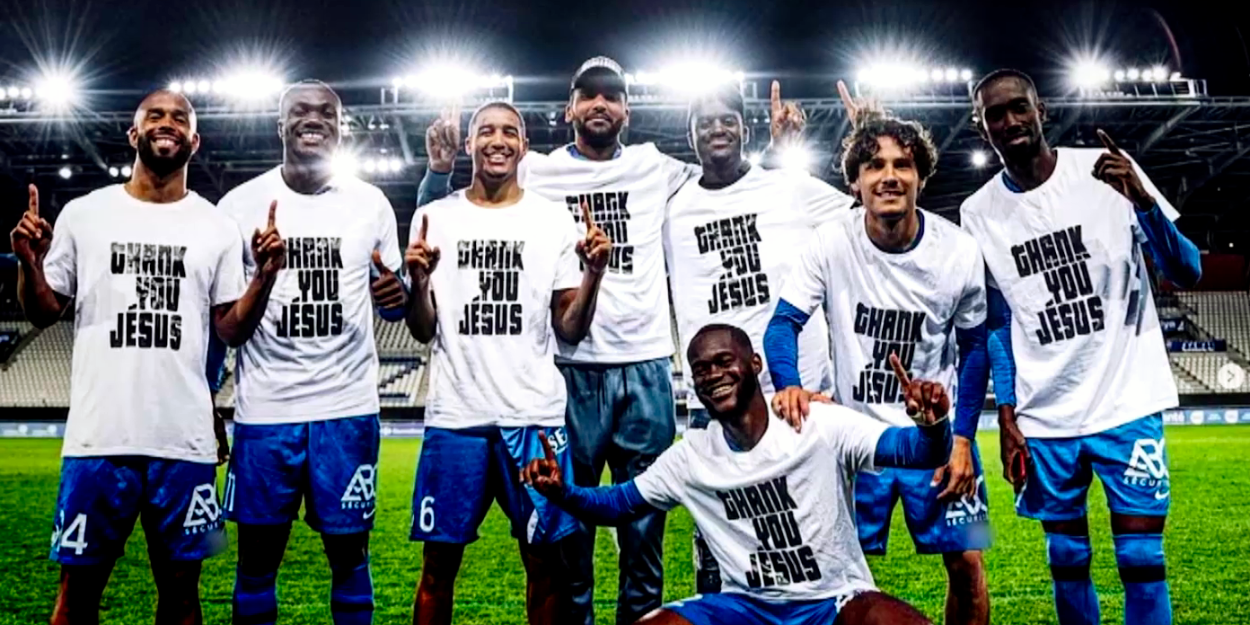 ---
In football, the important thing is to win, but for some players, victory and defeat are not measured by the score. Discover Sunday on Présence Protestante (France 2) a documentary by Théo Lombardo on players from Grenoble Foot 38 (GF38). They tell us how God opened their eyes to the true purpose of their life and open up in all simplicity about their challenges, their doubts and about this faith that they brandish as the most beautiful of trophies.
What do the Queen of England, Paul Pogba and Jesus of Nazareth have in common? Maybe some of you don't know one (Pogba) or the other (Jesus)? Yet all three are very famous.
But who among you has never heard of the Queen of England? As I write these lines, the President of the United States has just paid tribute to his remains and millions of Britons have come to pay their last respects to him as his funeral procession passes.
Elizabeth II is also so famous that, on the Sunday following the announcement of her death, fans of crowned heads deserted France 2 and Sunday morning religious programs for the news channels and their elegiac commentators. Never seen ! Luckily there was only one, Queen of England...
But herself, what would she have thought of all this shenanigans? Was she calling this pomp of her wishes? It is said that she loved the horses more than the court; that she was not only head of the Church, but also and above all profoundly Christian. I want to believe it. His life delivers clues of fidelity that invite it.
No doubt she therefore accepted this pageantry as Jesus allowed himself to be carried by a donkey during his triumphal entry into Jerusalem? And no doubt, we behave like those who held the palms along the way. We so love to extol our heroes.
Far from the blood-red shadow of the Qatari stadiums, on Sunday October 16, the players of Grenoble Foot 38, explain, in Théo Lombardo's documentary, that every footballer aspires to glory, money and everything that goes with it.. It's the deal, and it is perhaps this glory that the international Paul Pogba finally sought and found. The glory of a wood burns quickly like grass, and hardly heats up.
So, if Paul Pogba wanted it, if the Queen of England accepted it, did Jesus have a plan to become famous? And in what was he truly glorious?
Jordy, Anthony, Jekob, Achille, the four players from Grenoble, have found the answer. With their simple and direct words from the field, they testify to it: the temptation is great, but the glory, that which leads to victory, is neither in the funeral eulogies, nor on the backs of donkeys, nor in the glitter of soccer fields. God is faithful and good and for him, with him the victory is elsewhere, and it is final.
I strongly recommend that you hear from these four young people. What they say is simple and moving, but true. For them, the victory is in Christ.
A documentary by Theo Lombardo which will be broadcast Sunday October 16 at 10 p.m. on Protestant presence (France 2) and available in replay on France TV until October 23.
Christopher Zimmerlin, for Protestant Presence