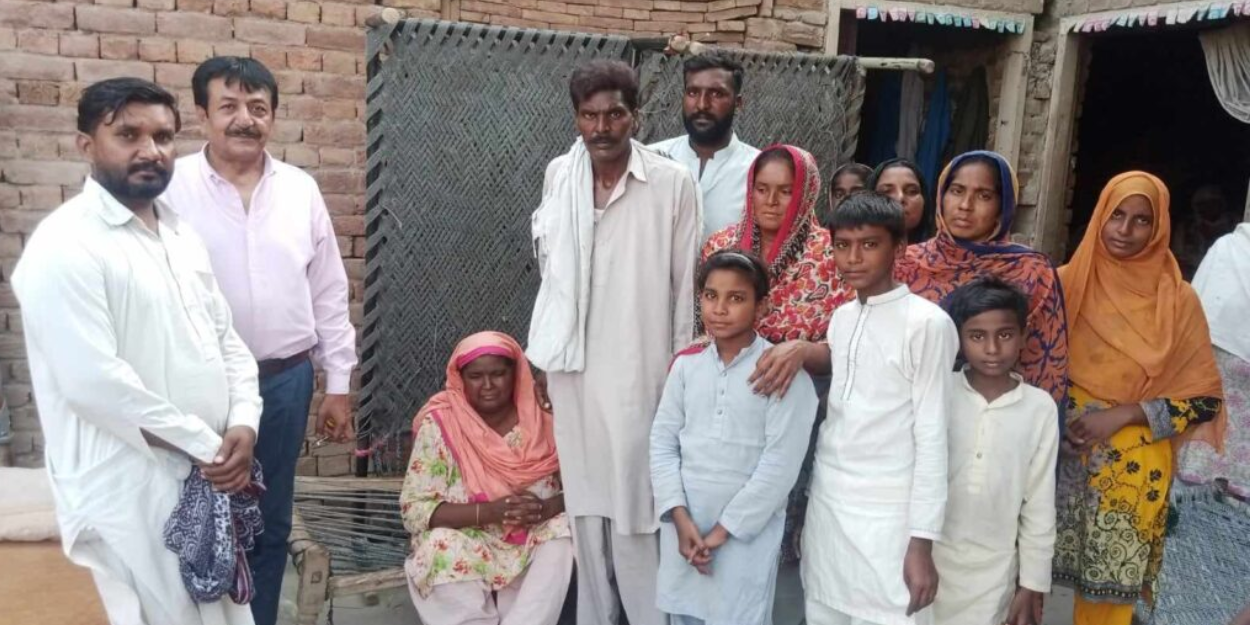 ---
In early September, a Pakistani Christian worker died after being kidnapped and tortured on the orders of his employer. The situation illustrates the state of subjection in which many workers, particularly from minorities, find themselves faced with bosses who consider them their property.
On August 30, Ahsan Masih, a 32-year-old disabled Christian farm worker, was tending to animals in a field in the Faisalabad region when men grabbed him and took him with them at gunpoint. His younger brother, Nadeem, immediately called the police, but they could not immediately clarify the matter because the kidnappers' car did not have a license plate. The cadet said that everything happened very quickly:
"Unknown people in a white Toyota Corolla arrived in the fields where Ahsan Masih was cutting grass for livestock. They brandished their weapons and threatened me to remain silent. Then they grabbed Ahsan by force, shot into the car and quickly drove away."
During the evening, Nadeem was contacted by Ahsan's employer, Muhammad Aslam, who told him that he was detaining his brother and that he would only be released if his family paid the debt owed by one of them. his friends, Shahbaz Masih. The announcement, although frightening, gave hope that Ahsan would be able to see his family again.
However, on September 1, the police informed Nadeem that they had discovered the lifeless body of his eldest child in an unsanitary room usually used to store livestock feed on Muhammad Aslam's farm.
According to the investigation, Ahsan was beaten and subjected to inhumane treatment such as electric shocks, mutilation of toes and whippings.
Martyred for a friend's debt
If Ahsan was martyred to the point of death, it was because of his ties to another brother, or rather a Christian friend to whom he was so close that he considered him a brother. The circumstances leading to his death are made more dramatic by the behavior of the latter, Shahbaz Masih.
Ahsan had become friends with Shahbaz while they were working in a brick kiln and saw a brother in the latter who had no family or home. Also, when Shahbaz borrowed 400 rupees (around 000 euros) from Muslim landowners, notably Muhammad Aslam, Ahsan agreed to accompany him to the latter's farm to help him in his work to repay him.
However, in August, Shahbaz had to be hospitalized due to heart problems, and the owner allowed Ahsan to accompany him to the medical examination center. During the two weeks that Shahbaz was bedridden, his friend faithfully looked after him.
But while Ahsan had briefly returned home to see his family, Shahbaz left the hospital without informing his friend. Ahsan still returned to the farm to finish paying off his friend's debt, despite his disabled leg.
Convinced that, despite his good intentions, Ahsan was covering for Shahbaz and knew his whereabouts, Aslam and his family began to be aggressive towards him. Until deciding to remove it with the complicity of powerful owners who are also creditors of Shahbaz.
A body and a bruised family
When Nadeem went to the morgue to view his brother's remains with the pastor of the village Pentecostal church, they found a body marked by violence. Nadeem Masih told the British Asian Christian Association (BACA), a Christian NGO:
"It was heartbreaking to discover my brother's lifeless body in the hospital. Doctors had already carried out the autopsy. His entire body was bruised, his head was injured, his fingers mutilated and his skin had turned blue from the blows."
BACA has decided to cover the funeral costs to help the family in shock. She also launched a call for donations to pay for a lawyer which the already very poor family cannot afford.
Nadeem filed a complaint against Aslam and his three accomplices who were arrested despite their economic power and political connections, and he did not give in to their threats to subject him to the same fate as that inflicted on his brother.
Minorities subject to contracts against them
Juliet Chowdhry, administrator of the BACA, emphasizes that justice is variable in Pakistan, despite uniform legislation:
"Ahsan's tragic fate is a stark reminder that although laws exist on paper, their effectiveness depends on their rigorous application and the broader social and economic context. Failure to provide justice to Ahsan would further tarnish the image of the nation , perpetuating a climate of fear and insecurity within minority communities."
Although forced labor was abolished in the country in 1992, members of minorities are still too often trapped in servitude contracts. With a feeling of impunity linked to these contracts, employers do not hesitate to mistreat workers when they fear that they will not be able to reimburse them, or even when they ask for their wages.
In 2014, fearing that his Christian employee would run away to avoid paying his debt, a boss had locked them up, he and his wife, in a brick kiln. However, word spread to surrounding mosques that the couple had blasphemed and a mob lit the oven, depriving four children of their parents.
In September 2022, a Hindu agricultural worker was martyred after asking for her salary. The owner and his henchmen beat her, raped her and hanged her. They then paid the doctor to draw up a report discrediting her.
Jean Sarpedon
Image credit: British Asian Christian Association