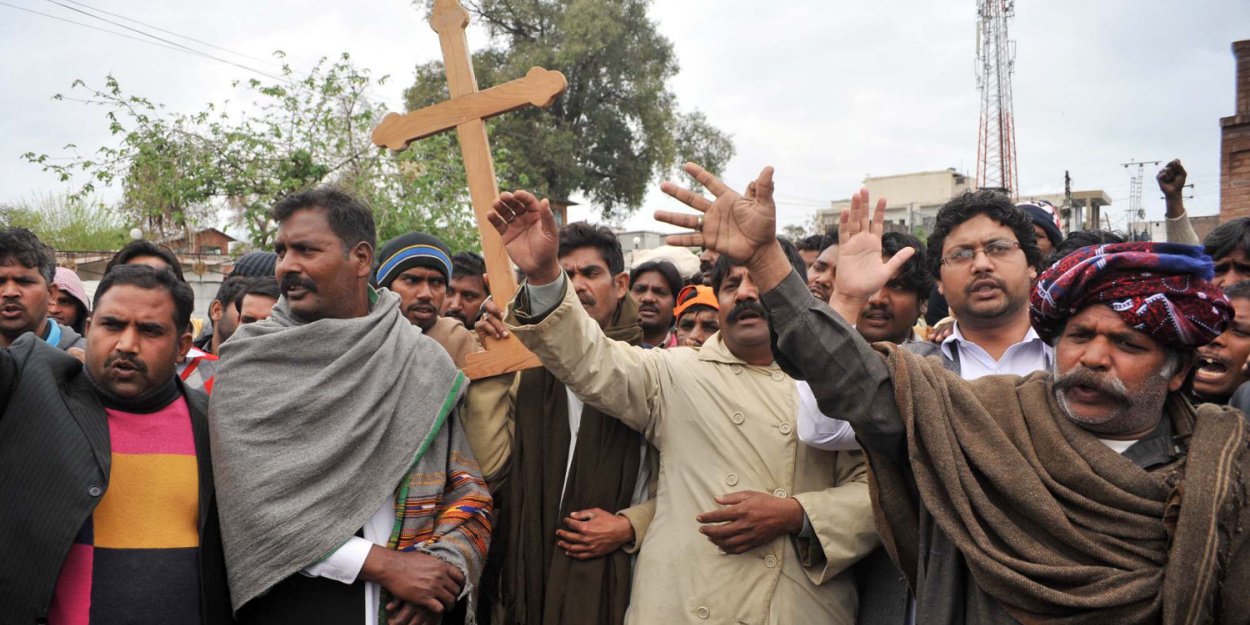 ---
Jaranwala, deserted by its inhabitants during the assault carried out the day before by Muslims following allegations of blasphemy.
Hundreds of people of the Muslim faith swept through the streets of this Christian district on the outskirts of the industrial city of Faisalabad, in the state of Punjab in eastern Pakistan, on Wednesday.
"Some were running barefoot and others were fleeing in rickshaws. It was chaos everywhere," pastor Javed Bhatti told AFP.
At least four churches were burned, a Christian cemetery vandalized and seven homes attacked, police said.
Fury exploded when a group of religious fanatics accused a family of blaspheming against the holy text of Islam.
"Photos and videos of burned pages of the Koran were shared among residents, which caused an outcry," Rana Imran Jamil, spokesperson for the city's emergency services, said on Wednesday.
Acting Punjab Chief Minister Mohsin Naqvi announced on Thursday evening that "the main defendant" had been arrested, without giving further details.
The minister expressed his solidarity with the Christians, adding that they would be compensated for their losses.
A Punjab government spokesman earlier said in a statement that more than 120 people have been arrested and that police are also looking for the family accused of blasphemy.
The provincial government also announced the opening of an investigation into the violence.
Thursday morning, hundreds of police were deployed in the area to restore calm and reassure residents who fled their homes in a hurry.
"All the Christians left their homes and took shelter" elsewhere, told AFP Fayaz Masih Khokhar, who came from the neighboring city of Lahore to see family and show his "solidarity" with the community. Christian.
Yasir Bhatti, a 31-year-old Christian Pakistani, said he fled his home near one of the burned churches.
"They broke windows, doors and took out refrigerators, sofas, chairs and other furniture to pile them up in front of the church and burn them. They also burned and desecrated Bibles," he said. he said, interviewed by telephone by AFP.
As panic spread through the neighborhood, Muslims also rushed to the streets to warn and shelter their Christian neighbours.
"Two women were running. I opened the door to my house for them and let them in. They were very worried, but I reassured them," Tariq Rasool told AFP.
In videos posted on social media, Muslim leaders can be seen using loudspeakers to call on their followers for revenge.
"Christians have desecrated the Koran. All religious, all Muslims must unite and gather in front of the mosque. Better to die if you don't care about Islam," we hear.
Sensitive issue
Government officials condemned the violence, while small protests took place in several towns demanding protection for Christians.
Pakistan's new acting prime minister, Anwaar-ul-Haq Kakar, has announced "severe measures against those who break the law and target minorities".
"The current sad situation in the country demands that religious leaders and personalities of all religions and denominations play their key and fundamental role in safeguarding national unity," Bishop of Lahore, Nadeem urged. Kamran, in a statement.
The issue of blasphemy is particularly sensitive in Pakistan, where even unproven allegations of offense to Islam can lead to murders and lynchings.
The Independent Human Rights Commission in Pakistan has repeatedly pointed out that blasphemy laws are being used as weapons to target religious minorities and settle personal vendettas, and that such violent incidents have been on the rise for several years.
"Not only has the state failed to protect its religious minorities, but it has also allowed the extreme right to infiltrate and poison society and politics," she said.
Christians, who make up about 2% of the population, occupy one of the lowest rungs of Pakistani society and are frequent targets of blasphemy allegations.
"We are deeply shocked that churches and homes have been targeted in response to an alleged desecration of the Quran in Pakistan," US State Department spokesman Vedant Patel said on Wednesday.
"Violence or the threat of violence is by no means an acceptable form of expression," he said. "We urge the Pakistani authorities to carry out a full investigation into these allegations and call for calm."
The Editorial Board (with AFP)
Image credit: Shutterstock/Asianet-Pakistan