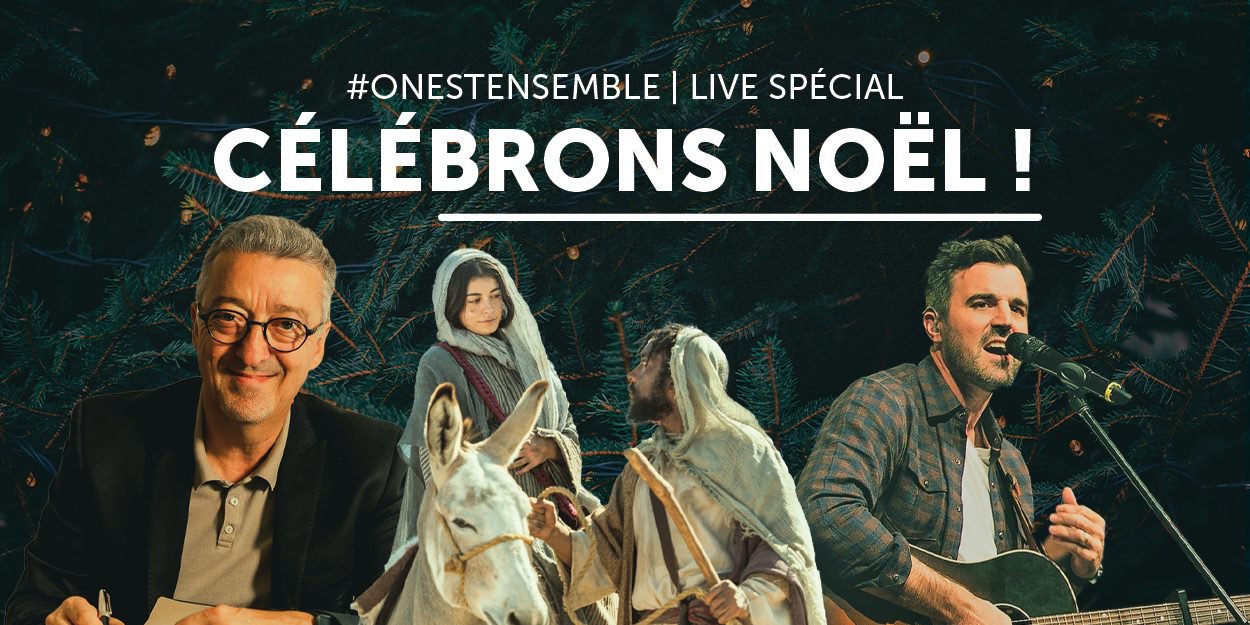 ---
Christmas is fast approaching... For some, it's an opportunity to find loved ones, to rejoice, to share gifts... For others, it's with a lump in their stomachs that 'they wait for this time of year: perhaps because of loneliness, illness or painful events from the past that wake up at the time of the end of the year celebrations.
"Rejoice with those who rejoice; weep with those who weep. Have the same feelings for each other. (Romans 12.15:XNUMX)
The Bible encourages us to rejoice with those who rejoice but also to mourn with those who mourn.
Also, with the IC NEWS team, we thought of producing a special program for Christmas in order to be, for an hour, a source of consolation for those who cry, without forgetting those who rejoice. .
I therefore have the pleasure of inviting you for our Christmas programme. It will be broadcast Saturday, December 24 at 18:00 p.m. (French time) in Premiere on the YouTube channel #OnEstEnsemble. It is offered to you, and I believe it will be a great blessing to your life. In any case, it is my prayer for those who will follow him.
This show contains exclusive content. At the heart of the program, which includes beautiful Christmas carols sung by French-speaking Christian artists, you can watch "Le Berger", a film about the nativity like no other. You'll see !
It was directed by Dallas Jenkins, the producer of The Chosen. And it was precisely this film that was the trigger for Dallas and his team in their decision to produce The Chosen, the series about Jesus, seen through the eyes of his disciples. With our Christian press company, IC-NEWS, we had "Le Berger" dubbed into our language. And for this Christmas, we offer you its first broadcast in French, accessible throughout the Francophonie. I have to admit I cried watching this movie...
This is our 1st Christmas gift for you. I hope you enjoy. In any case, it is with love that we offer it to you. What could be more beautiful than remembering the coming of Jesus into the world, God who becomes a baby...
Be sure to follow the Christmas program (which will be available for replay, if you cannot be present for the appointment on December 24 at 18:00 p.m.).
To follow him, subscribe to the #OnEstEnsemble channel here then click the little bell and notifications so you don't miss a thing.
While waiting to meet you, I pray that the Lord bless you and that he especially visits the crib of your life. Let us remember that we are his home and that there is always a place for him in our home 🙂
PS: If you like The Chosen, know that season 2 is entirely available exceptionally free of charge on Canal+. Certainly there is advertising but it's still a 2nd nice Christmas present, isn't it? https://bit.ly/the-chosen-season-2
These free programs are made possible through the support of donors. If you are one of them, thank you very much. At the end of each year, we give everyone the opportunity to contribute to the continuity and development of IC-NEWS services. By supporting IC-NEWS you are supporting...
1. The InfoChrétienne site: this news site offers a Christian perspective on information
2. The #OnEstEnsemble YouTube channel which has already recorded more than 10 million views
3. #OnEstEnsemble programs to encourage and bring together Christians from the Francophonie
4. A Miracle Every Day: a daily email with Christian Misch and a LIVE every week
5. The Un Temps Pour Prier line: a listening and prayer telephone line with a whole team of volunteers
6. A Prayer Every Day: a prayer topic each day by e-mail, proposed by Paul Calzada
7. I AM: an email every week about our identity in Christ
8. La Matinale with Stéphane Quéry: every morning on the On Est Ensemble YouTube channel, Stéphane leads us in praise
9. The Gospel of the Day: every day a pastor meditates on the Word of God on the YouTube channel On Est Ensemble
10. The Chosen in French: a major evangelization project for France and the Francophonie through the series The Chosen, carried by ICNEWS.
With love,
Eric Célérier - Publication Director of InfoChrétienne