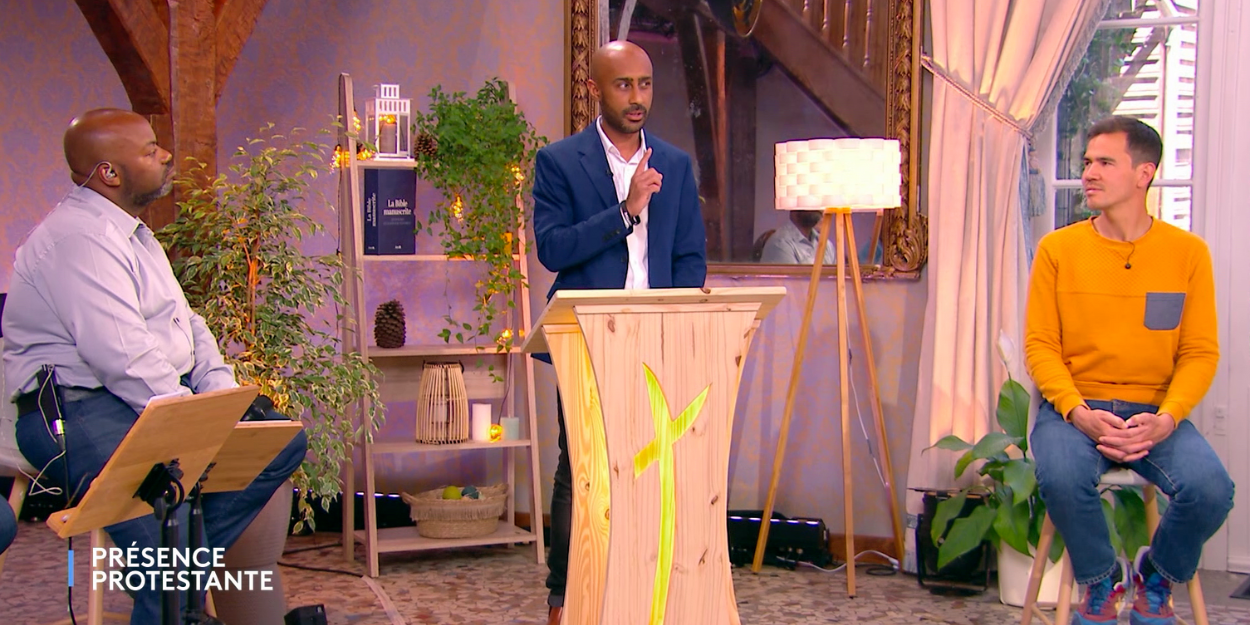 ---
Every month, on the 4th Sunday of the month, Présence Protestante (France 2) offers you a service. On Sunday, it will be provided by Laurent Ruppy, pastor of the Impulsion Church in Paris. The sermon will focus on verses 18-19 and 23-26 of chapter 9 of the Gospel of Matthew.
Come on, let's go! We will quote from Gainsbourg on InfoChrétienne:
"I'm being stared at
I am considered
Like a girl that I'm not
I exile myself
Too weak
A thousand and one nights keep me away from myself
[…] You stare at me
You envision me
Like a girl that I'm not
You exile me
so fragile
A thousand and one nights take me away from you"
On a sensual clip by Jean-Baptiste Mondino, Vanessa, by her name: "Paradise" (it can't be invented... Although?), recites the words of Henri Langolff and Serge Gainsbourg. While in the image the bodies jostle each other without love, under her false Lolita airs that our kings of provocation loved, the young singer seems to confide.
"You stare at me, you look at me". In fact, staring, we all do it, right? All the time, even. It's like the remote control, you can't stop it, there is no on/off button on "stare". Why does this shock you? You, you do not stare, perhaps? To others...
We stare, we all stare. We spend our time staring, contemplating, gauging, weighing, measuring the distance between the nose and the eyes. Did you think facial recognition was invented by the Chinese? Bunch of conspirators!
No, it is God who has endowed us all, without exception, with an extraordinary tool: the brain.
A neurologist recently taught me something that I felt without being able to express it in words: a part of our brain is dedicated to recognizing and analyzing faces. When we see a face, part of our neurons are particularly activated...
We are made to stare, to contemplate. We spend our time, consciously or not, whether we like it or not, weighing, measuring, the other: "Hey, and is she really my neighbor or not? », « And him, do you think he really loves Jesus? », « You have seen he does not close his eyes when he prays ».
Speaking of which... The other day, while we were with Jesus, a Jewish leader arrived. Her daughter had just died. And the poor man was hoping that Jesus could raise her up. Well, I admit that my warnings have come on. The Jewish leaders and me... It's a bit complicated. But hey, Jesus invited us to follow them, so we had no choice.
When we arrived at his place, there was a crazy crowd. The musicians were already there, like in New Orleans, ready to play the funeral march for ten dollars. To begin with, Jesus kindly asked them to leave. People weren't happy. They were making fun of Jesus. But he did not let himself be discouraged. He entered the girl's room and kicked everyone out. It must be said that it was the master of the house who called him anyway. He had the right.
So everyone got out. The musicians outside. The crowd outside. The curious, outside. All the crows, scavengers, voyeurs, out. It smelled of death in the room.
And then, quietly, he just took the girl's hand and she stood up.
When Matthieu says that, it sounds simple. Maybe it was? But me, I admit it to you without shame, I didn't follow everything. I saw everything, I calculated everyone who was there. But I didn't understand everything.
Sunday, in Présence Protestante (France 2), the pastor Laurent Ruppy of the Impulsion Church, in Paris, will tell you all about it in its own way. He knows what he is talking about. He too has a daughter, a family and he knows Matthieu. I don't think he's Jewish, but he's a leader.
With his friends, they will read, sing, pray. And Laurent will tell you again for this story. So, we meet on Sunday, each in front of his post.
A program produced by Elkana Randrianaivo and produced by France.tv Studio for France Télévisions which will be broadcast Sunday October 23 at 10 p.m. on Protestant presence (France 2) and available in replay on France TV until October 30.
Christopher Zimmerlin, for Protestant Presence