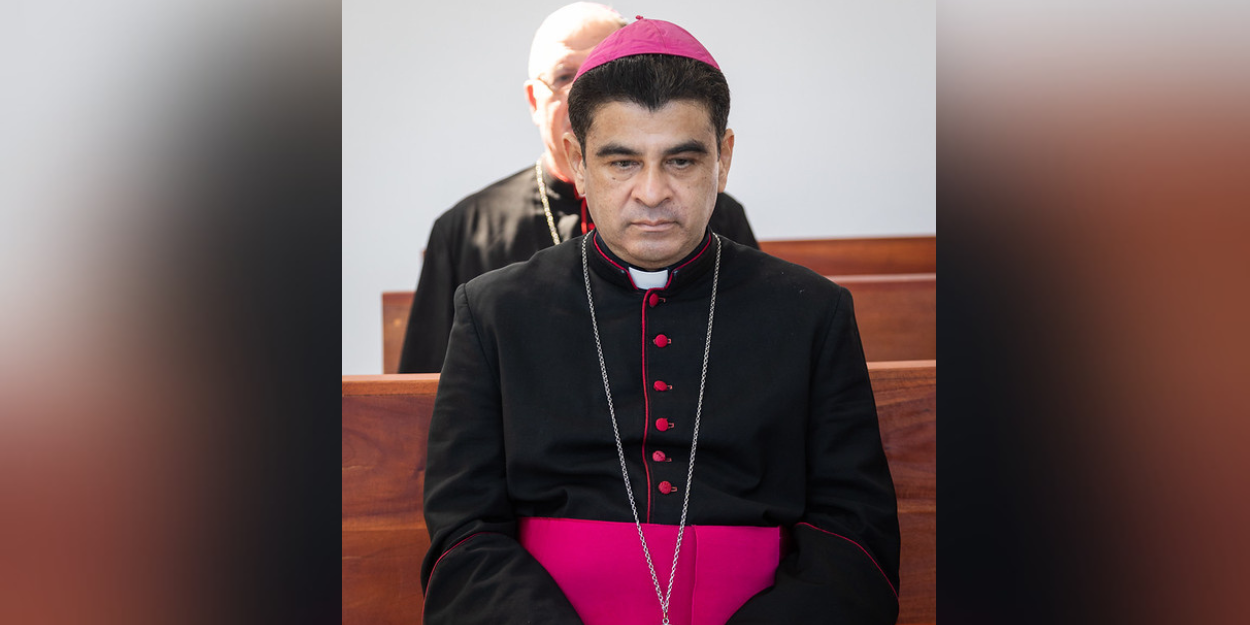 ---
Bishop Rolando Álvarez was sentenced Friday to 26 years in prison in Nicaragua for "conspiring and spreading false news".
Nicaraguan Bishop Rolando Álvarez, a critic of President Daniel Ortega's government, was sentenced on Friday to 26 years in prison for "conspiracy and spreading false news". He was also stripped of his Nicaraguan nationality and civil rights for life and fined $1.
"The defendant Rolando José Álvarez Lagos is a traitor to the fatherland," said the president of the first criminal chamber of the Court of Appeal, Octavio Rothschuh, when reading the verdict in front of the press. "As we find ourselves in the presence of a real concomitance of crimes, the prison sentences pronounced will be served successively, so that the condemned Rolando José Álvarez Lagos will have to serve 26 years and four months in prison", he added .
Rolando Álvarez refused to be deported to the United States on Thursday along with more than 200 other opponents freed by the government, deprived of their civil and political rights and stripped of their nationality, and returned to prison, according to President Ortega. Among those released and expelled from the country are former presidential candidates, journalists, former Sandinista guerrilla leaders, former ministers and former diplomats.
Chris Smith, chairman of the House of Representatives Subcommittee on Global Health, Human Rights and International Organizations of the United States House of Representatives, sees Rolando Álvarez as "a Christ-like figure".
"We must continue to work to fight the brutal Ortega regime and free the remaining prisoners - including the courageous Bishop Rolando Álvarez, who refuses to abandon his flock. He is truly a Christ figure with a servant's heart, and we continue to urge Pope Francis to speak unequivocally on his behalf and call for his release."
Sunday, after the Angelus prayer, the Pape Francois asked God, "to open the hearts of political leaders and all citizens to the sincere search for peace, which is born of truth, justice, freedom and love and which is obtained through the patient exercise of dialogue".
"The news from Nicaragua has saddened me, and not just a little, and I cannot help but think with concern of the Bishop of Matagalpa, Msgr. Rolando Alvarez, whom I love so much, sentenced to 26 years in prison, as well as to the people who were deported to the United States. I pray for them and for all who are suffering in this dear nation. And I ask for your prayers."
Christian Solidarity Worldwide specifies that according to an official list published by the government, the group included Father Ramiro Tijerino, Father Sadiel Eugarrios, Father Raúl González, Father José Luis Díaz, seminarians Darvin Leiva and Melkin Sequeira and cameraman Sergio Cárdenas, all arrested in August 2022. Convicted of conspiracies against the state last January, they were detained at the Directorate of Legal Aid, better known as El Chipote, recognized as a symbol of government repression.
Relations between the Catholic Church and the government of Mr. Ortega have been execrable since 2018, when demonstrators demanding the resignation of the Nicaraguan president took refuge in churches. President Ortega has accused the Catholic Church of being complicit in a coup attempt hatched by Washington.
MC (with AFP)