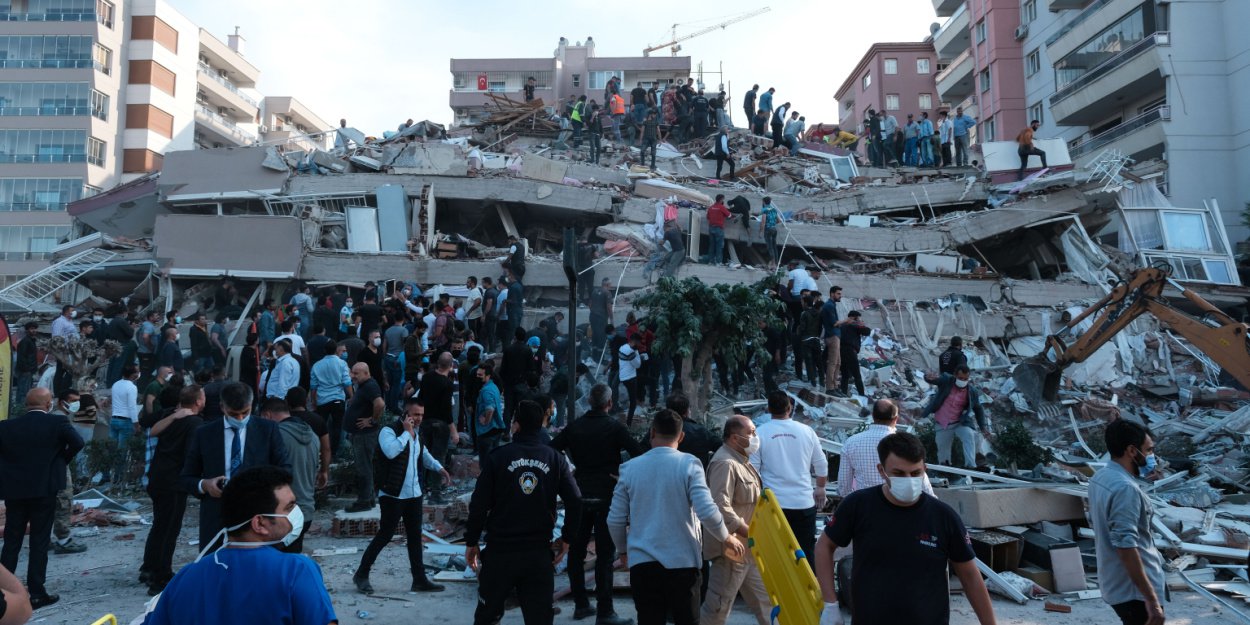 ---
According to the Turkish Interior Minister, the next 48 hours will be "crucial" to find survivors.
Two days after the 7,8 magnitude earthquake that struck Syria and Turkey at dawn on Monday, the toll continues to rise, now exceeding 9 dead. In the freezing cold, rescuers race to find survivors. According to the Turkish Interior Minister, the next 500 hours will be "crucial".
"Where is the state?", wonder the inhabitants of Kahramanmaras, a Turkish city and epicenter of the 7,8 magnitude earthquake which shook southern Turkey and northern Syria on Monday, which is only ruins and desolation ⤵️ #AFP #AFPTV pic.twitter.com/WH52FfrJ2I

- Agence France-Presse (@afpfr) February 8, 2023
International aid began arriving in Turkey on Tuesday, where national mourning was declared for seven days. The official death toll there currently stands at 6. This is already the worst death toll that Turkey has known since 957, when 1999 people died, including a thousand in Istanbul. In Syria, 17 deaths have been recorded at this stage. The toll is expected to "climb considerably as hundreds of people remain trapped under the rubble", according to the White Helmets (civil protection volunteers) in the rebel areas.
Twenty-three million people are "potentially exposed, including around five million vulnerable people", warned the World Health Organization (WHO).
The first teams of foreign rescue workers arrived on Tuesday. According to Turkish President Recep Tayyip Erdogan, who declared a state of emergency for three months in the ten provinces affected by the earthquake, 45 countries offered their help. The European Union has mobilized 1.185 rescuers and 79 search dogs for Turkey from 19 Member States including France, Germany and Greece. For Syria, the EU is in contact with its humanitarian partners on the ground and funds aid operations.
The appeal launched by the authorities in Damascus, however, was mainly heard by its Russian ally. According to the army, more than 300 Russian soldiers are already on the scene to help the relief.
Ibrahim Najjar, from the organization Open doors, is currently in Aleppo, Syria. He testifies and explains that many churches have opened their doors and are providing shelter and food.
"The situation, especially in the north, is difficult. People are panicking, they have left their homes, they are on the streets, children, babies and the elderly. People cannot return to their homes because of the cracks and damage and people are in a panic I was at home and then the earthquake hit it was horrible we thought it was certain the ceiling would collapse and death was imminent at that time. We rushed to the street and spent the whole night on the street."
Martin Leach, Tearfund's regional manager for the Middle East, explains that in Syria, the Orthodox churches are taking over from hospitals that have reached their maximum capacity.
"Buildings have collapsed, houses have collapsed, roads, infrastructure damaged. And don't forget it's the middle of winter, and winter is serious here, it's cold here, it's freezing, it's there's snow on the ground.... They've opened some of their churches as shelters, so people can come and be safe, get warm, have a hot meal and something to drink. also to bring blankets and clothes so that people who have had to escape from their homes have something for the future."
The Chaldean bishop of Aleppo describes the reality on the spot atAgenzia Fides.
"A city of two and a half million inhabitants without electricity, water and heating. It is very cold, the winter is harsh. I see people who remain in the streets, or who lock themselves in their cars. They have scared, they don't know what's going to happen, because it may not be over, and there are rumors that new strong and devastating tremors may be coming."
"Now it is even more important to be close to the people, who are terrified by this earthquake," he says, "among the many disasters we have experienced, this is one disaster to which, so to speak, we are not used to it. After twelve years of war, a new terrible, mortal and unknown bomb falls on us".
Father Antuan Ilgıt SJ is Vicar Delegate and Chancellor of the Apostolic Vicariate of Anatolia. The courtyard of the cathedral, almost completely collapsed, serves as a refuge. He tells to Vatican News.
"Although our cathedral has almost completely collapsed, the buildings in which the bishop, the sisters and I live are partially usable. And since we have a large courtyard, people have come to take refuge there. Catholics, Orthodox, Armenians, but also many Muslims whom I myself went to invite in the streets to stay with us. We shared and share everything that we have in our kitchens and our fridges. J celebrated Mass almost in the dark and everyone, even if some were not Christians, participated. The night was difficult because it was raining hard and cold, and the continuous shaking was very strong. It was difficult for people to stay outside, but they were also afraid to be inside. Little by little, the news comes about the deaths of neighbors and relatives of our parishioners who lived here in Iskenderun but especially in Antioch. Otestant and his wife would still be under the rubble. They are presumed dead."
MC (with AFP)
Image credit: Shutterstock/ Ahmet AYUNAL/ Izmir/ Turkey/ Buildings that were damaged in the earthquake on October 30, 2020