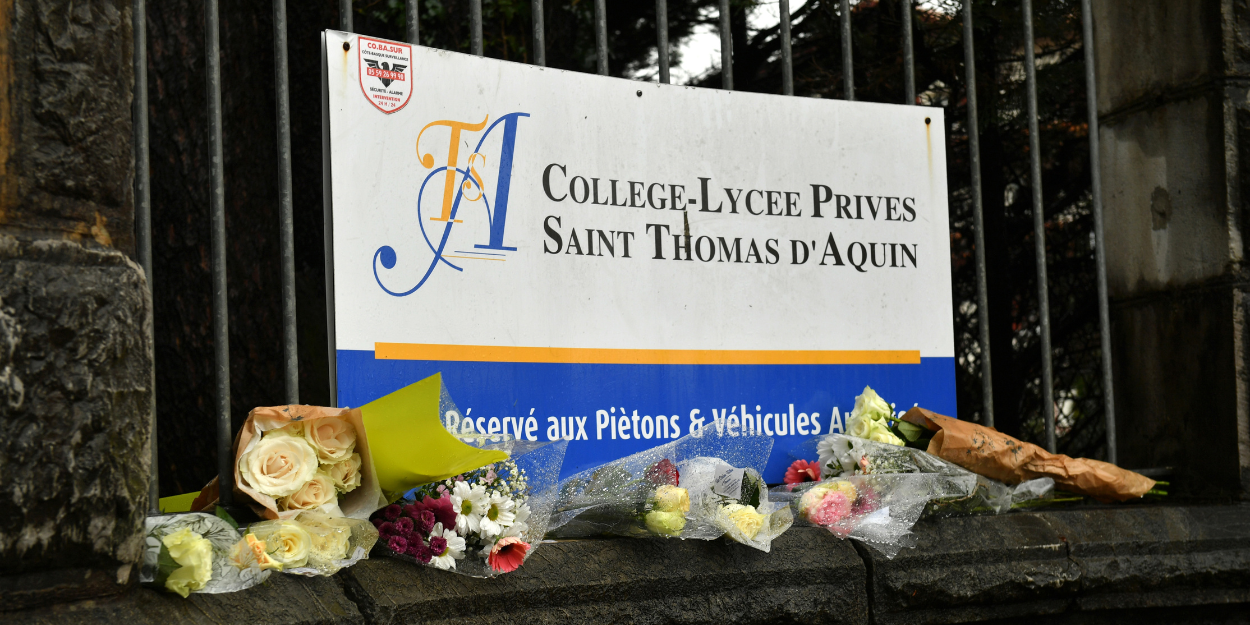 ---
A Spanish teacher was stabbed on Wednesday in her class in Saint-Jean-de-Luz (Pyrénées-Atlantiques) by a student presented as psychologically unstable. This Thursday, a minute of silence in tribute to the teacher, Agnès Lassalle, was organized in all secondary schools in France.
The students of the Saint-Thomas d'Aquin high school in Saint-Jean-de-Luz arrived Thursday morning with bouquets of flowers or white roses to pay tribute to their teacher Agnès Lassalle, stabbed the day before by a student. A few hours before a minute of silence honored at 15 p.m. in all secondary establishments in France which are not currently on leave.
"It's going to be a hard day, I'm still very emotional," an education assistant told AFP, who declined to give his name, as municipal police dissuaded the children. students to respond to the press.
"It's important to be present for your family, your loved ones, your students, you also have to give strength to those who have seen this," said Rudy, a 3rd grade student, who had Ms. Lassalle in class l 'last year.
Murder investigation
An investigation was opened for assassination after the death of the teacher, stabbed Wednesday in her class by a student making "incoherent remarks" according to the investigators.
"He approached her and stuck a large knife in her chest, without saying anything," Inès, 16, who was in the second class of the private Catholic high school, told AFP. Saint-Thomas d'Aquin at the time of the events, which occurred in the middle of the morning.
"We didn't know how to react, there was a student who opened the door and we all left. I ran away, I left the establishment and the father of a friend came to pick me up, I I didn't feel safe in high school," she added, assuring that "there had never been a problem between" the author of the aggression "and the teacher in class".
The victim, whom the emergency services could not revive, is a 52-year-old teacher named Agnès Lassalle, according to the prosecution. "This is a Spanish teacher who had been in this establishment for a long time. She was conscientious," Serge Hastoy, FEP-CFDT delegate from the Basque Country, told AFP.
The Minister of National Education, Pap Ndiaye, who came to the scene, praised this teacher's "exceptional dedication" and her "commitment to serving her students".
"She was a very nice and very good person, who was loved by all", "who was not in conflict" and "spent at least 80-90% of her time doing her work for her school, even during the holidays", testified his companion on BFMTV.
The alleged perpetrator of the assault, aged 16, was "placed in police custody" and "was not known to the police or the justice services", according to the Bayonne prosecutor, Jérôme Bourrier , who opened an investigation for "murder".
"His condition allows custody" in the premises of the Bayonne judicial police, he said, while two sources close to the case spoke to AFP about a young man making "incoherent remarks" and to the "proven psychiatric disorders".
"To my knowledge, there were no particular circumstances or reports," said Pap Ndiaye during a press conference organized in front of the establishment, alongside his civil service counterpart Stanislas Guerini and Mr. .
"Studies have to be done and that may take a little time (...) so let's wait for the prosecutor's communication, what is certain is that there is no apparent motive that could be identified," government spokesman Olivier Véran told France Inter on Thursday morning.
The suspect had arrived at the start of the school year in this calm and popular college-high school in Saint-Jean-de-Luz, after having passed his patent with honors, confirmed the rectorate of Bordeaux. Last year, he was in ninth grade at a public college in the Basque town, according to one of his former classmates.
Frequent assaults on teachers but rarely fatal
This is the first time that a teacher has been killed in office in France since the assassination of Samuel Paty, a history and geography professor beheaded on October 16, 2020 by a young radicalized Islamist man.
While attacks on teachers are frequent, Agence France Presse indicates that there have been less than ten teacher murders over the past four decades.
In July 2014, a 34-year-old teacher was stabbed to death by the mother of a student at a school in Albi. While in August 1996, while he was walking at the Dax feria, a 51-year-old English teacher was killed by two young people, including one of his students who had failed in the baccalaureate.
"The Nation is by your side", declared President Emmanuel Macron to the address of the educational community on Twitter, while the head of government Élisabeth Borne shared "the shock and the pain of the educational community" of the college-high school Saint Thomas Aquinas.
The murder of a teacher in Saint-Jean-de-Luz fills us with intense emotion. I share the pain of his family, his colleagues, his students, our teachers who dedicate their lives to transmitting knowledge to future generations. The Nation is on your side.

— Emmanuel Macron (@EmmanuelMacron) -
Mgr Marc Aillet, Bishop of Bayonne, said he was "very touched by the concern of the authorities" on arriving at the scene to express "all (s) compassion and all (s) prayer for this family in shock of an unthinkable event that should never have happened".
CEF press release
In one press release published yesterday, the Conference of Bishops of France (CEF) spoke of its "astonishment" and its "tremendous sadness" at the announcement of the tragedy.
"Our thoughts and prayers go first and foremost to the teacher's family, to the entire educational community of the establishment, students and teachers, and to all those who are at their side in this terrible ordeal", have continued the bishops of France who assure "the diocese, its bishop Monsignor Marc Aillet, as well as all the teams of Catholic Education" of their "support" and "communion".
Camille Westphal Perrier (with AFP)
Image credit: GAIZKA IROZ / AFP