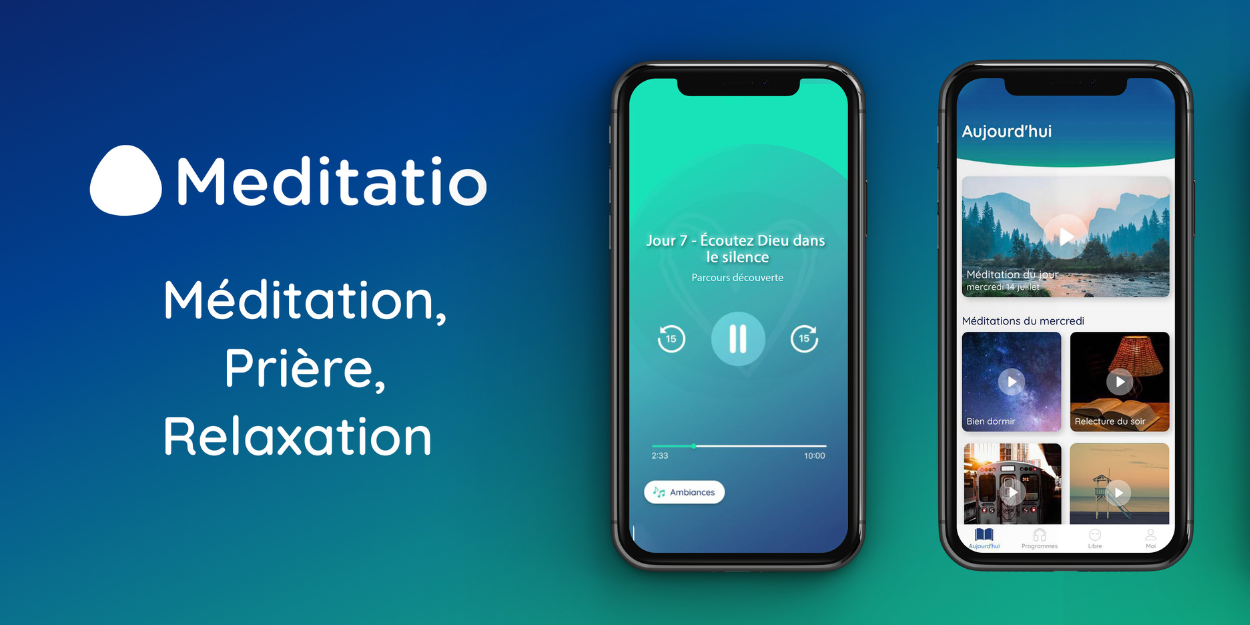 ---
Launched in October 2021, Meditatio is an exception in the vast catalog of applications dedicated to mediation since it is a Christian application. Inspired by the meditative tradition dear to Christianity, between meditation on the Word of God and silent prayer, it offers guided audio tours to find peace, sleep well or even manage stress.
The meditation apps sector has been booming for a few years and notably accelerated in 2020 and 2021, following successive lockdowns. So, according to a study published at the end of the first year of the pandemic, 25% of French people practice or have practiced meditation.
Despite a growing supply, no Christian application was available on the market. And indeed, when we talk about meditation we tend to think of Buddhism or esotericism. However, in the United States, a Christian offer has been developed on this subject for several years now with applications having raised tens of millions of dollars such as Pray or Glorify.
It is this observation that prompted Thomas and Jeanne Delenda to create meditation, the first French application for Christian meditation, which the couple launched in 2021.
"The Christian tradition is rich in a centuries-old practice of various forms of meditation, which can be broken down into two main axes: meditation on the Word of God and silent prayer. These practices draw their sources from the Jewish tradition, from the Bible , among the Fathers of the desert, and within the great monastic and religious orders, in particular in the family of the Benedictines, and the Carmelites", underlines Jeanne, former high-level sportswoman, today Director of the content of Meditatio.
The application, which has been very successful since its creation with more than 175 downloads, offers guided audio meditations based on these different currents. An invitation to calmly face everyday problems thanks to Christian wisdom to "find peace, sleep well, cultivate gratitude, live in the present moment" or even "manage stress"! Courses are also offered for the little ones.
Based on an original economic model, part of the app is free, while to access all the content, users must subscribe to a subscription, the price of which each sets at their convenience. "We wanted Meditatio to be accessible to everyone, regardless of their means", explains Thomas Delenda to justify this bold choice.
In any case, users seem to be seduced and describe a useful tool that helps them to feel "close to the Lord" and to relax while offering them the possibility of "meeting more deeply with God".
In addition, determined to become the "Petit Bambou Christian" (Petit Bambou is a very popular meditation application in France, editor's note) the application is on the rise! She recently raised half a million euros to accelerate its development, expand the content offer and enrich its functionalities.
Camille Westphal Perrier