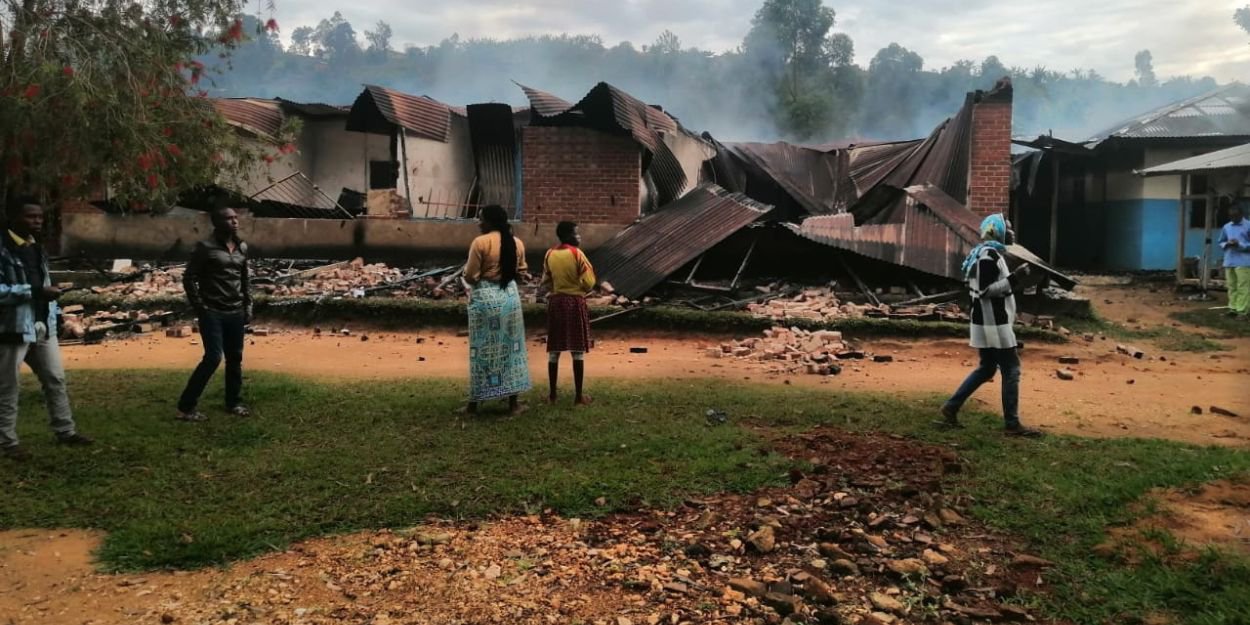 ---
Seven people died, including a nun, during the attack and looting of the village of Maboya, in the province of North Kivu, in the east of the Democratic Republic of Congo.
"Words fail us, as the horror has more than crossed the threshold of tolerance. These are the words of Msgr. Melchisedec Sikuli Paluku, Bishop of Butembo-Beni, echoed by Agenzia Fides. They echo the tragedy that occurred on the night of October 19 to 20 in the village of Maboya, in the province of North Kivu, in the east of the Democratic Republic of Congo.
According to the testimony of the locals taken over by theAgenzia Fides, alleged members of the ADF (Allied Democratic Forces), a group of Ugandan origin which joined the Islamic State under the name of ISCAP (Islamic State in Central Africa Province), attacked and looted the village.
🔴 Images of the Catholic Hospital of #Maboya in the territory of #Blessed set on fire in an attack attributed to the #ADF early Thursday morning. pic.twitter.com/G4ba7tJZqI

— 𝐌𝐚𝐫𝐭𝐢𝐚𝐥 𝐏𝐚𝐩𝐲 𝐌𝐮𝐤𝐞𝐛𝐚 (@MartialMukeba) October 20, 2022
We deplore the death of at least seven people, including a nun, doctor Marie-Sylvie Kavuke Vakatsuraki, and an unknown number of people kidnapped.
[#DRCongo] Sister Marie-Sylvie, a doctor, was killed by #terrorist this October 20 at #Maboya in the diocese of #Butembo-Blessed. "The horror has more than passed the threshold! » denounces the local bishop, Mgr Sikuli Paluku. #Pray for her and all their loved ones. pic.twitter.com/46X74xiyBG

— AEDFrance (@AEDenFrance) October 24, 2022
The Reference Health Center, managed by the Diocesan Office of Medical Works of the Diocese of Butembo-Beni, was destroyed. The same is true for the hospital of a nearby Baptist community.
Doctor Denis Mukwege, Nobel Peace Prize winner, spoke in a press release about this "massacre".
"We strongly condemn this attack attributed to elements from the ADF group (...). We also deplore the looting and burning of several houses as well as the destruction of the Hospital of the Baptist Community of Central Africa (...). These heinous crimes cannot go unpunished and we urge the Congolese authorities to conduct an investigation so that those responsible are held accountable for their actions. »
Massacre at #Maboya #Blessed #Butembo #DRCongo #Stopimpunity #ReportMapping #Lemera pic.twitter.com/NWSuy7mtaz

- Denis Mukwege (@DenisMukwege) October 23, 2022
On social networks, a press release in Arabic claims, in the name of ISCAP, the assault on Maboya. The Congolese army, for its part, claimed to have captured four members of the ADF/ISCAP, including the man who allegedly gave the commando instructions to storm the village.
MC