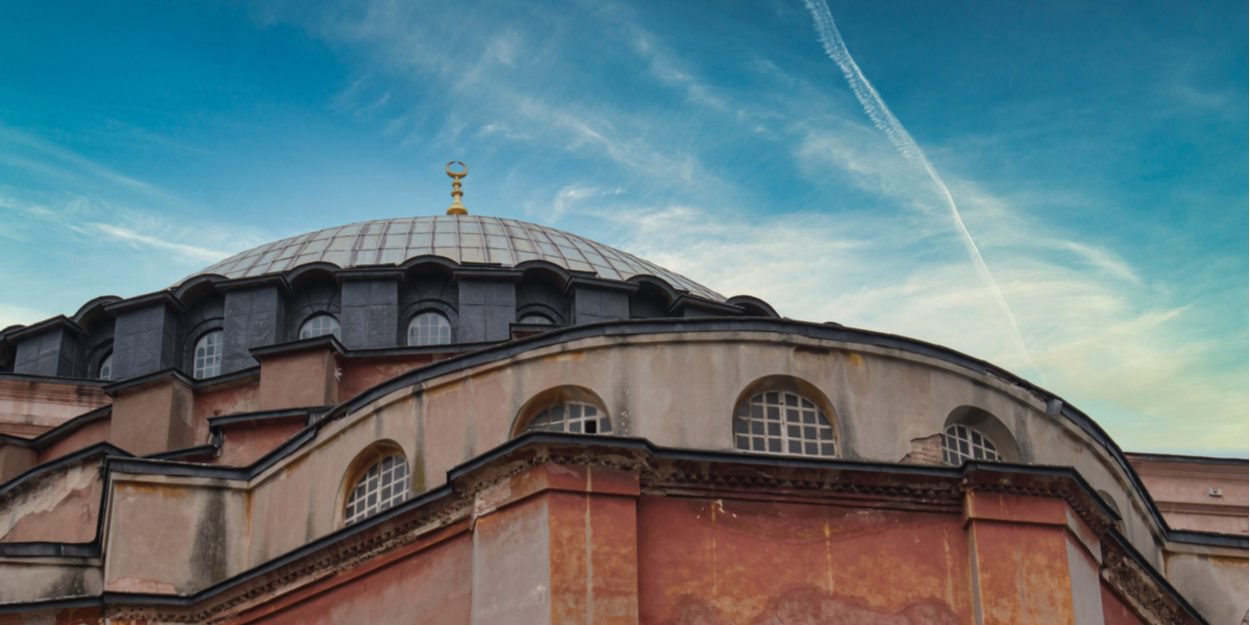 ---
Since Hagia Sophia's conversion into a mosque, "expertly trained museum staff who monitored the site daily for signs of decay have also been removed."
The iconic Imperial Gate of the Hagia Sophia was vandalized in Turkey last month. On Twitter, the Turkish Art History Union posted beautiful photos damages.
Gelen bir şikayet fotoğrafı üzerine bu akşam (18.04.2022) saat 20.45 civarı Ayasofya Camisinin, tarihi "İmparatorluk Kapısının" bu halde olduğunu tespit ettim ve fotoğrafladım. Nöbetçi güvenlik müdürünün bilgim yok demesi üzerine ismini Talip Bey olduğunu söyleyen ve Ayasofya'nın pic.twitter.com/BH7qKNjVpg

— Sanat Tarihi Derneği (STD) (@SanatTarihiSTD) April 18, 2022
"Unfortunately, I witnessed the bloodcurdling speech of the person who said he was the responsible manager. I declared that it is a legal crime to damage Hagia Sophia, which is a first-degree historical monument. »
The expert requested the CCTV images without success.
"But he said there was no camera footage and it was okay anyway, they would fix it themselves. »
According to Serif Yasar, head of the Turkish Art History Union, "the dome of Hagia Sophia could collapse on the faithful by 2050" if no precautions were taken.
Istanbul-based writer and critic Arie Amaya-Akkermans tells Al Monitor, there are "structural and environmental risk factors that could jeopardize this huge but so fragile building".
"The management of the building has changed hands from the Ministry of Culture to the Department of Religious Affairs… It is not to praise the Ministry of Culture and its management, but it is different to have a professional department in charge of antiquities and to not have. »
Tugba Tanyeri-Erdemir, a non-resident researcher at the Middle East Institute, explains that there are currently "no more regulations to protect the site or experts to guide this process".
"The Hagia Sophia was converted from a museum to a functioning mosque in 14 days, without consulting experts who could have investigated, assessed and developed a long-term sustainable management plan for the site. When Hagia Sophia lost its status as a museum, the expertly trained museum staff who monitored the site daily for signs of decay were also removed. »
Audrey Azoulay, General Manager of theUNESCO, had expressed his deep regret at "the decision of the Turkish authorities, taken without prior dialogue, to modify the status of Saint Sophia". "It is important to avoid any implementation measure that would not be discussed beforehand with UNESCO and that would have consequences on physical access, on the structure of the building, on movable property and on the management method. of the site," warned Ernesto Ottone Ramirez, UNESCO Assistant Director-General for Culture.
MC
Image credit: Shutterstock.com / Muhammad Fayyaz Rub