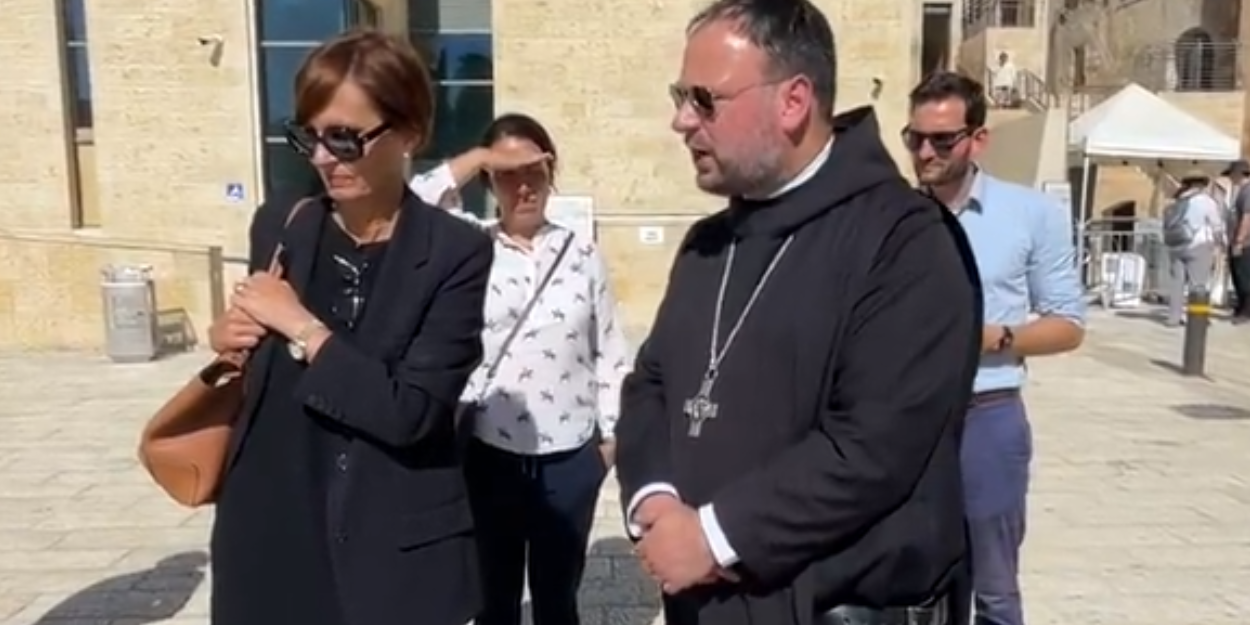 ---
A German abbot was ordered to remove the cross he was carrying during a visit to the Western Wall in Jerusalem last week alongside the German education minister.
Western Wall workers were asking Nikodemus Schnabel, the abbot of Dormition Abbey in Jerusalem who accompanied German Education Minister Bettina Stark-Watzinger on her visit to the Jewish holy site, to hide the cross he wore around his neck on the morning of Wednesday, July 19, 2023.
They told the abbot that the cross carried at the Western Wall in the Old City of Jerusalem was "really big and inappropriate for this place".
A video of this incident was shared by journalist Christopher Schult of the German daily Der Spiegel.
In the video, Schnabel responded by expressing that the request was extremely difficult, while the employee insisted that she respected her religious affiliation by asking those present to stop filming the incident.
Forschungsministerin @starkwatzinger erlebt am Mittwochmorgen in Jerusalem mit, wie Abt @PaterNikodemus At the Platz vor der Klagemauer (außerhalb der Gebetszone) aufgefordert wird, sein Kreuz abzunehmen. The official notice is that it is a new regulation. @the mirror pic.twitter.com/Zy1GxBVCRP

— Christoph Schult (@schultchristoph) July 19, 2023
The abbot defended his outfit by saying:
"This is not a provocation. I am an abbot and this is my dress. The cross is an integral part of my dress as a Roman Catholic abbot. You want me to give up clothes that reflect my faith."
according to The Times of Israel, following this incident, the Western Wall Heritage Foundation released a statement apologizing. She also pointed out that the Western Wall is open to everyone. The foundation made it clear that no rules or regulations concerning this subject are in force in the Western Wall plaza.
Salma El Monser