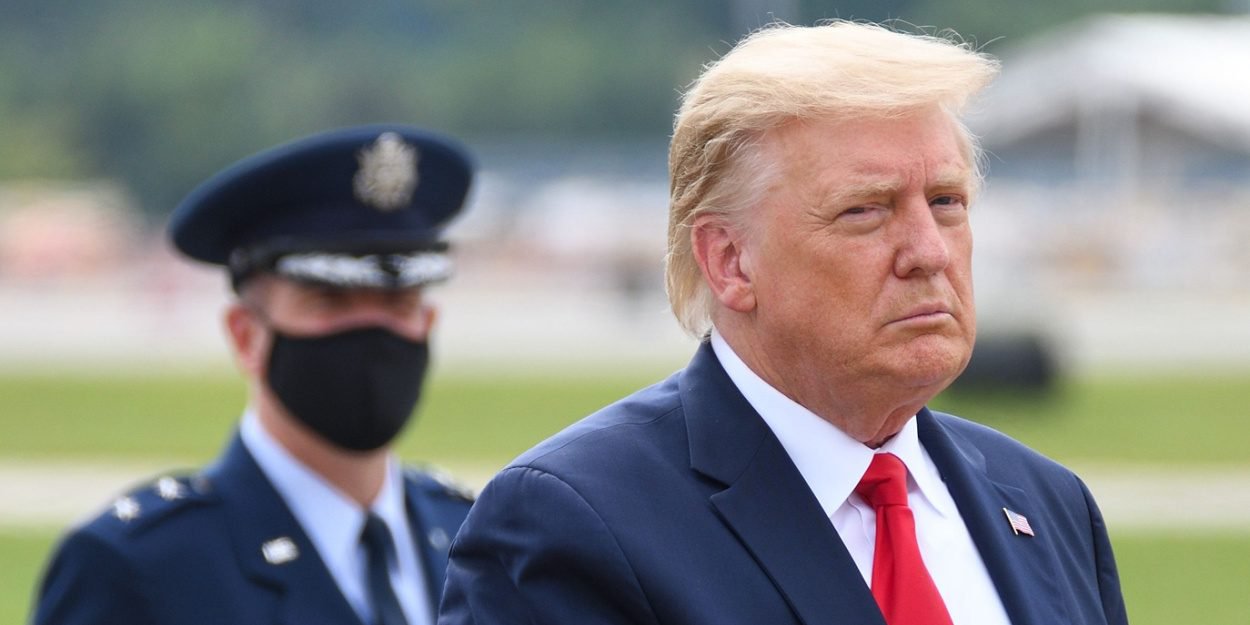 ---
In one tweet from september 14, a Canadian researcher specializing in US politics wrote: "We started the primary calendar six months ago with one main question: how much does Donald Trump still dominate the Republican Party? We completed the primaries last night, and the answer is clear: he still dominates him. Outrageously. »
This remark seems to answer the main question posed by all those interested in this country and will, depending on their side, reassure them or rekindle their fears, at a time when the United States is preparing to organize, on November 8 next, the midterm elections (all 435 seats in the House of Representatives will be renewed, as well as a third of the 100 seats in the Senate; in addition, the Houses and Senates of many States will be renewed on that day , as well as two-thirds of governors and other elective positions).
Does that mean Trump has been doing the rain or shine in the Republican Party primaries that were held to nominate the candidates for all the positions in play? That he chose the majority of candidates? That he influenced the party program? That he has woven a network that will take him directly to the White House in 2024? That he ruled out all other possible suitors? And then, additional question: is it so stainless that nothing can actually reach it and that all the cases that the newspapers talk about from morning to night will not finally be able to catch up with it?
Did Trump really weigh in on the primaries?
The domination described in the tweet, and which is widely and regularly mentioned in the media, seems to answer all these questions. However, let us immediately remove a doubt: Donald Trump is not a particular component of the Republican Party, a "current", which would have weighed and elected during the primaries a majority of candidates responsible for carrying their own program.
First of all, there is no particular program to which the "Trumpist" candidates or MAGA (for Make America Great Again, his catchphrase) can refer to, on which they all find themselves, if not the denunciation of the "Big Lie" (The Big Lie) - the assertion that the 2020 election was stolen by Joe Biden, to which should be added some conspiracy theories, at least for some of them.
Moreover, of the several thousand positions at stake, Donald Trump only supported 236 candidates, very often doing so at the last moment, a few days before the ballot, out of opportunism, choosing the one who was (often largely) ahead in the polls, Tudor Dixon in Michigan, or associating his name with candidates who had no opponents in their constituency, and therefore could not lose (for more than half of those he supported, including 61 who had no opponents ). The victory thus promised fed a legend which therefore rested on the wind.
Propaganda, of course, tapped into this vein of Trump's power over the Republican Party. His communication teams and his supporters have particularly insisted on the 21 candidates for senators who owe him their victory in the primaries. However, this total is again very exaggerated since eleven of these candidates supported by Trump – John Boozman (Arkansas), Mike Crapo (Idaho), Chuck Grassley (Iowa), John Hoeven (North Dakota), Mike Lee (Utah), Jeremy Moran (Kansas), Rand Paul (Kentucky), Ron Johnson (Wisconsin), John Neely Kennedy (Louisiana), Tim Scott (South Carolina) and Marco Rubio (Florida) – were incumbents and didn't need anyone to win their respective primaries (96% of outgoing senators are re-elected). And of the remaining 10, there were actually only 7 primary wins: Katie Britt (Alabama), Ted Budd (North Carolina), Adam Laxalt (Nevada), Blake Masters (Arizona), Mehmet Oz (Pennsylvania ), James David Vance (Ohio) and Herschel Walker (Georgia). With little chance, however, that they will materialize in as many positions on Capitol Hill in November, apart from Adam Laxalt, who is already the surprise of this election, due to his good polls.
We also talked a lot about "verdicts" delivered by Donald Trump, condemning to defeat those who betrayed him, did not support him as he wished or – worse still – had voted for his impeachment in January 2021. The legend of the "beaten felons" has been widely circulated, commented on and exaggerated: each defeat of one of the ten Republicans who had voted in favor of theimpeachment seemed to give substance to his strike force, driven by his desire for revenge.
Except that the reality has been amply distorted: four of these chosen ones did not represent themselves and, if three out of the six remaining were actually beaten, it is a bit light to make the basis of any demonstration.
Crediting Trump with the fact that some of his opponents within the party did not run again this time is also ridiculous: will the same observers claim that Biden led 15-20% of members of Congress not to run again? in 2024? Yet this is what should happen, but for a very simple and very logical reason: 23% of the current members of Congress are over 70 years old. To be serious, there are people who do not stand for re-election, just as there are beaten, including among the incumbents.
This year, 39 Democrats and 117 Republicans lost their seats in the primaries, whether they ran for the US House or Senate or their state House or Senate. But let's put it all into perspective: there were 1 Republican incumbents and 901 Democrats. 1 of the defeats recorded are due to redistricting, which was decided last year. Trump has nothing to do with it.
And then there were the beaten at Trump, which should also be mentioned, the best known being Madison Cawthorn, the most MAGA of MAGA, defeated in North Carolina, Charles Hebster, beaten in Nebraska, David Perdue in Georgia or Janice McGechin, defeated in Idaho.
Putting the numbers and events to say what you want, it was surprisingly almost ignored that Trump ended up totally sinking in Georgia, when Brian Kemp won the gubernatorial primary and Brad Raffensperger (the man who had refused to "find 11 votes" for Trump in 700) that of Secretary of State. However, they were both, in Trump's eyes, prime targets to be shot down as a priority.
Let us add that when the candidates supported by Trump weakened in the voting intentions, the former president did not hesitate to withdraw his support from them, as in the case of Mo Brooks in Alabama, or to play the artistic blur by throwing a strange "vote Eric", when Eric Schmidt was announced the winner by the polls in Missouri… while the former president had given his official support to Eric Greitens, who finally scored poorly and lost, the support of the head of MAGA not having him brought nothing.
A few scathing snubs
So there is nothing really new: we were confronted with a smoke-out and manipulation strategy, which the 45e President has a perfect command of it. Let's give back to Caesar what is his: some candidates have fully benefited from his aura, which allowed them to win in difficult fights, such as JD Vance in Ohio or Mehmet Oz in Pennsylvania.
But since these were confrontations within the Republican Party itself, it is not surprising that Trump's supposed outrageous domination was not enough to eliminate the fierce competition that "his" candidates faced. Moreover, even a "very well-elected" like Blake Masters in Arizona ultimately received only 40% of the votes of voters who identified themselves as Republican Party sympathizers, which means that 60% did not wish for the candidate of Trump.
Isn't this the same Trump we were told was supported by 90% of GOP voters before he was defeated in 2020? If we add that the same Blake Masters also had the support of the wealthy businessman Peter Thiel, who poured his millions into this campaign, the score obtained is really very disappointing.
Neither Trump nor the candidates who received his support dominated the primaries. They were even very difficult for them, and the Democratic Party sometimes played with fire by financing videos to attack some of them, not doubting for a second the result generated: this unexpected campaign projected the candidate in question on the front of the stage and most often brought him the few voices he lacked. For the Democrats, it was about throwing the Republican Party to the far right, so that it would be easier to defeat it in November, in the real election.
So Trump didn't control anything at all. Worse still: out of ideas, he continued his strategy of division, hardening his speech and showing himself to be more and more conspiratorial, especially on his network. Social Truth. The consequence was noticeable in the by-elections, caused by a resignation or a death.
In Virginia, Glenn Youngkin prevailed by not once mentioning Trump's name. This victory, almost unexpected on a land that had been taken over in 2016 by the Democrats, showed that there was another possible way. In July 2021, the Republican Jake Elzey followed that same path and defeated boss-backed candidate Susan Wright, causing a national stir. Not yet enough to turn the spirits and encourage the sling; but all the same, something had happened… Nothing worked out afterwards, until the surprise defeat of Sarah Palin in Alaska which, moreover, gave the seat to a Democrat! And in the re-election campaign (it was a partial one), and three weeks before the ballot, the former candidate for the vice-presidency of the United States is trailing by more than 25 points according to the surveys. The Trump effect has gone pschitt.
The beginning of the end for Trump?
Everyone understood perfectly that Donald Trump's strategy was not going to change: just as he had managed to agglomerate 74 million votes around his name in 2020, it seemed obvious to him that he had to cultivate the divisions of the America to be placed on the launch pad for a 2024 comeback. So he started talking about that comeback, dangling an imminent announcement.
But we're used to it now: American politics doesn't like scenarios written in advance... Trump's personal rating hasn't fallen among his supporters, and all the polls confirm that he's still just as loved within the Republican Party. But, cruelly, these same polls are also beginning to make other music heard.
Like the Queen in Snow White who was no longer the most beautiful in the reflection of her mirror, right-wing voters are now looking ahead to the next presidential election on a few others, including former Vice President Mike Pence, who started a big campaign early in the summer, or the Governor of Florida, Ron de Santis, often called the "mini-Trump" and who only hopes for one thing: to become bigger. Donald Trump's rallies began to empty, the halls are no longer filling up: even at the Conservative Political Action Conference congress in February, there were only 1 believers in a room planned for 500 people. In Arizona, 3 days before the election and in one of the most critical states, they were not more numerous.
Finally, let's not forget the potentials legal troubles coming from Donald Trump. Indeed, from November 9, everyone will be interested in 2024. But Trump will certainly have other concerns in mind: the Minister of Justice has given instructions not to indict the former president during the period electoral. He didn't talk about what's going to happen next...
Jean-Eric Branaa, Lecturer in American politics and society (Paris 2 Panthéon-Assas), Paris 2 Panthéon-Assas University
This article is republished from The Conversation under Creative Commons license. Read theoriginal article.
Image credit: Shutterstock / Evan El-Amin