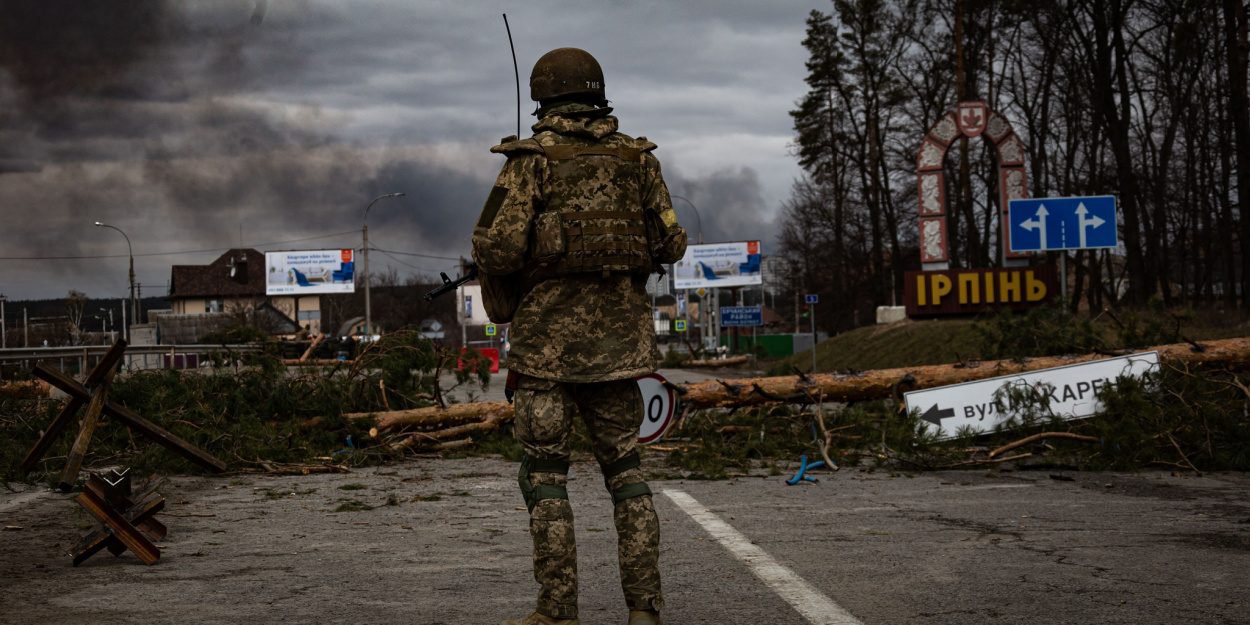 ---
Speaking at the Autumn Plenary Assembly, the delegate bishops of the episcopates of the European Union expressed their sadness and their support for the Ukrainians in the face of the "war madness" of which they are victims. They call on Russia to suspend hostilities and work with Ukraine to find a solution to the conflict.
Gathered in Brussels from October 12 to 14 as part of thePlenary assembly Autumn 2022 of the Commission of Episcopal Conferences of the European Union (COMECE), the bishops of the EU have drafted A declaration expressing their "deep sadness at the horrific human suffering inflicted on the Ukrainian people by the brutal military aggression initiated by the Russian authorities".
This Plenary Assembly comes a few days after a bombing campaign by Russia on several Ukrainian cities, which took place on Monday 10 October. "In the morning, the aggressor launched 75 missiles (of which) 41 were shot down by our air defense," Ukrainian Commander-in-Chief Valeriy Zaluzhniy said on Telegram, adding that Russia had also used "combat drones ". Comments reported by Agence France Presse (AFP).
AFP reports that for his part, Ukrainian President Volodymyr Zelensky has assured that his country will not be "intimidated" by the massive bombardments carried out by Russia, which have affected important energy infrastructures and left at least eleven dead.
"Ukraine cannot be intimidated. It can only be all the more united. Ukraine cannot be stopped," he said in a video posted on social media, promising "even more painful" fighting for Russian troops on the front.
The bishops recall the disastrous consequences that the continuation of the conflicts in Ukraine but also for the rest of "humanity" can have.
"We are deeply concerned that recent actions risk further expansion of the ongoing war, with disastrous consequences for humanity. »
They refer in particular to "those who are experiencing increasingly dramatic socio-economic difficulties due to the energy crisis, growing inflation and the soaring cost of living".
Affirming that such crises "raise awareness of the deep value of the European Union and its founding vision", the European prelates go on to express their gratitude "to European decision-makers for their tireless efforts of solidarity with Ukraine and mitigation of the consequences of war for European citizens".
They encourage them to continue in this direction, to maintain "their unity" and to "remain attached to the European project".
COMECE also claims to be "in total communion with the many appeals launched by Pope Francis and the Holy See", which, as a reminder denounced in a press release at the end of August, a war that is "morally unjust, unacceptable, barbaric, senseless, repugnant and sacrilegious".
The statement concludes with a "strong call" for lasting peace in Ukraine.
"We too appeal strongly to the aggressors to immediately suspend hostilities, and to all parties to be open to negotiating 'serious proposals' for a just peace, in order to work towards a solution to the conflict, which respects international law and the territorial integrity of Ukraine. »
Melanie Boukorras
Image credit: Shutterstock / Kutsenko Volodymyr