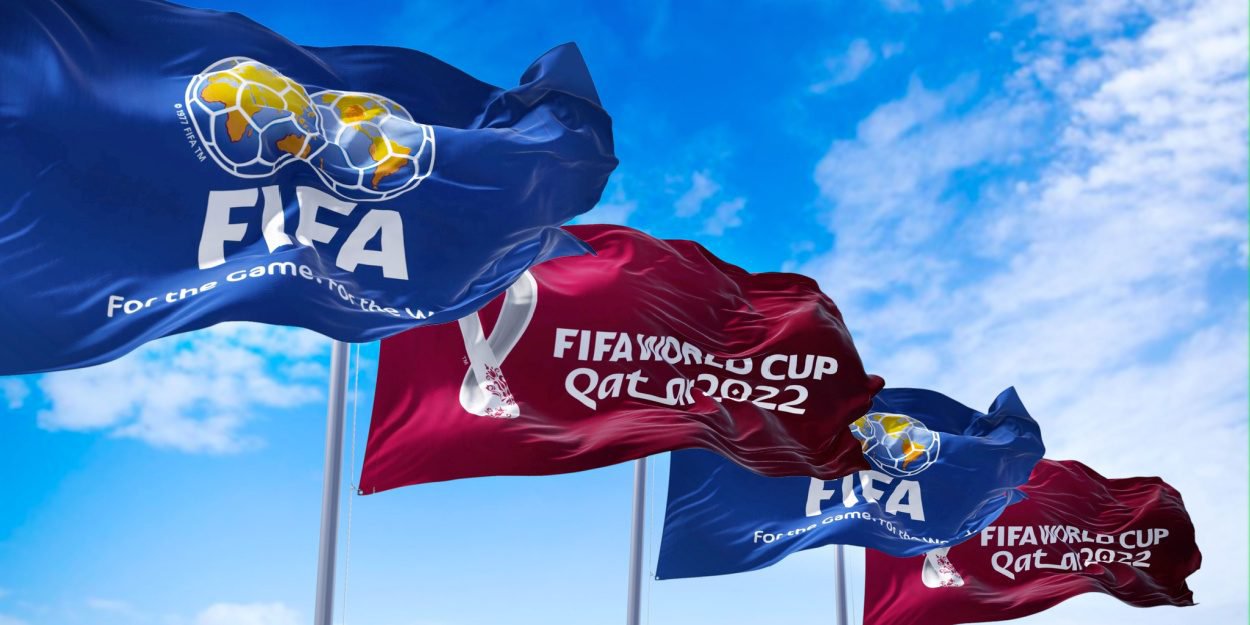 ---
Diet "annuitant, oligarchic and clientelist", Qatar has, as the researcher explains Daniel Reiche, implemented a policy of soft power through sports. This, initiated in 1995 after the seizure of power by Sheikh Hamad ben Khalifa Al Thani, was reinforced in 2008 by the Qatar National Vision 2030, a program aimed at both strengthening national security and ensuring that the ruling family remains in power.
It is within this framework that, from November 20 to December 18 (national holiday), Qatar will host the 22e FIFA World Cup. Strong controversies agitated the years separating the attribution of the competition (2010) – controversial and marred by suspicions of corruption – of its organization. These controversies relate in particular to the cost of work estimated at $200 billion; on the ecological footprint of the event, although it will be the geographically most compact World Cup since the very first, organized in 1930 in Montevideo; on working conditions on construction sites, quasi-slavers and number of worker deaths, highlighted in particular by a survey by the Guardian… Non-exhaustive list.
All these questions are quite relevant, but as the World Cup approaches, other important questions are emerging, relating to the reception of supporters, as well as overall security.
An unprecedented influx of tourists
Qatar will welcome nearly 1,5 million tourists during the World Cup, for a total population of 2,9 million people (90% of whom are immigrants, including FIFA President Gianni Infantino, who there is recently installed !), in a territory equivalent to the Île-de-France region.
This World Cup is an important tourist issue for a country which welcomed nearly 3 million tourists per year in the mid-2010s (before the 2017 blockade and the Covid crisis) These supporters will focus on a very small area: seven of the eight stadiums are in Doha or within a radius of 20 km (in Al-Rayyan and Al-Wakrah), and only 75 km separate the northernmost stadium (in Al-Khor) from the southernmost one (in Al- Wakra).
The first part of the competition (from November 21 to December 2) will be very sensitive since the group stage will see 48 matches played, i.e. four per day, involving massive and incessant travel by eight cohorts of supporters, unlike previous Cups. where only two teams and their fans were simultaneously in one city.
Managing crowd flows will therefore be a major challenge. Helmut Spahn, FIFA's director of security, estimates that 350 fans will be gathered at the same time in Doha, but however, is confident :
"We have to deal with that. But we can make history and I'm pretty sure we will. »
While it will be for five weeks under the eyes of the media of the world, Qatar cannot afford the slightest faux pas in terms of security. From this point of view, there are two major issues: safety in the public space and in the stadiums; and the fight against terrorism.
Safety in public space
How to control these crowds for several weeks who, unlike the very many immigrant workers permanently in the country, will have substantial financial liquidity since the prices of air transport and hotels are very high, and a lot of free time?
Some answers to this question have been the subject of many speeches, information and, also, fake news. Thus individual and collective behavior in the public space: it is true that local dress traditions require covering the body, even if a some tolerance is given to tourists, and public displays of affection offend local cultural values ​​and are prohibited; as for the consumption of alcohol and drunkenness on the public highway, they are punishable by law. However, it is possible to obtain alcohol in some international restaurants and hotels, and FIFA has announced that it will be possible to get beer of the main sponsor in the fan zones three hours before and one hour after the matches.
[
Nearly 80 readers trust The Conversation newsletter to better understand the world's major issues
.
Subscribe today
]
Recently, information spread following a tabloid article Daily Star, according to which sexual relations outside marriage would be totally prohibited. They are indeed, but in reality very few hotels are concerned about the issue by asking couples for a marriage certificate, because the staff is almost exclusively foreign.
On the other hand, it is true that homosexuality is not tolerated in Qatar. She falls within the law and those found guilty face up to seven years in prison.
FIFA ensures however that it undertakes with Qatar to "guarantee the safety and warm welcome of all participants in the FIFA World Cup. This includes ensuring that law enforcement activities related to the FIFA World Cup are strictly necessary and proportionate. As has been the case at several international events that Qatar has hosted, individuals' privacy will be respected. »
However, the Qatari authorities have not formally committed themselves to this, and ostensible demonstrations would clash with the nationals to the point of disturbing public order.
International security cooperation
If the conference "The last mile of the Qatar FIFA-2022 World Cup" was held in May in Doha, in the presence of security officials representing each of the 32 qualified, Qatar has long been developing cooperation to meet certain challenges such as the management of the terrorist threat, hooliganism, crowd movements , cyberattacks, as well as certain issues that local authorities are not used to dealing with: counterfeiting, alcohol consumption, actions of protest organizations, etc.
Unlike other Gulf Arab countries, Qatar is on good terms with Iran, with whom it shares the North Dome, the largest gas field in the world, Tehran having even come to its food aid during the 2017 blockade, it is a priori unlikely that an attack comes from here, especially since the national team participates in the World Cup. However, because Qatar mediated the Taliban's takeover of Afghanistan, a possible jihadist threat could come from groups based in that country such as the now more active Islamic State-Khorasan Organization. since the departure of the Americans and which has recently perpetrated attacks in Kabul and Herat and opposes Taliban power.
However, no threats were made. Finally, last but not least, a report commissioned in 2010 by Frenchman Jérôme Vlacke, then Secretary General of FIFA, noted that Qatar's proximity to countries with an Al-Qaeda presence and its plan to amass millions of fans and players in a highly centralized area made it a high-risk location…
On this point, cooperation with France (initiated at the Asian Games in Doha in 2006) materialized in 2019 during a visit to Qatar by the French Prime Minister at the time, Édouard Philippe, then by a agreement signed in Doha on March 21, 2021. Qatar is then described as a "strategic partner for France". A Senate bill results, relating to the following aspects: planning, counter-terrorism, management of public order, intelligence, security of sports facilities, security of mobility, special land resources, air resources, cybersecurity, civil security.
Assistance and training missions will be carried out with the local internal forces (exchange of information, dispatch of experts and specialists, joint training). Also planned is the deployment of gendarmes, police and firefighters, and the provision of materials, equipment, vehicles and machinery.
Other cooperation, with Turkey, which has trained 677 Qatari security personnel in 38 areas, and will deploy 3 riot police, 000 special forces personnel, 100 bomb detection dogs and their operators, and 50 bomb experts.
For its part, the Morocco will send a team of cybersecurity experts during the event, as well as several thousand agents to manage crowds and avoid overflows.
In addition, the British Royal Air Force and Royal Navy will provide the counter-terrorism police, and allied states of the UK and Qatar will join forces in a Joint Typhoon Squadron to air police the skies. For their part, the United States (which has, Al-Udeid, from their largest military base in the Middle East), will participate in the training of agents in airports and in cybersecurity.
Finally, NATO will provide security support by training against threats posed by chemical, biological, radiological and nuclear (CBRN) materials, by a second concerning the protection of important people (VIP), and a third to counter the threats posed by improvised explosive devices.
Safety is also a communication issue
Qatar specifies that, during the tournament, an international police cooperation center will be present in order to prevent any incident. Also, the FIFA security director believes that the terrorist risk is "low and under control" compared to previous World Cups:
"We had threats of terrorist attacks before a World Cup, private security and police strikes, sometimes infrastructure problems in stadiums that weren't ready. This is not the case here. »
Hosting the 2022 World Cup is a considerable image issue for Qatar, hence this international security cooperation. Hence, also, these speeches of tolerance which we do not know if they will materialize positively during the event.
The strong criticism suffered for years with regard to the non-respect of human and workers' rights as well as the intolerance of morals highlight the dark side of the country. Any incident relating to these questions could blur the message that Qatar intends for the world concerning the quality of reception and tolerance, essential components of a strategy of tourist attractiveness.
Michel Raspaud, University Professor, Grenoble Alpes University (UGA)
This article is republished from The Conversation under Creative Commons license. Read theoriginal article.