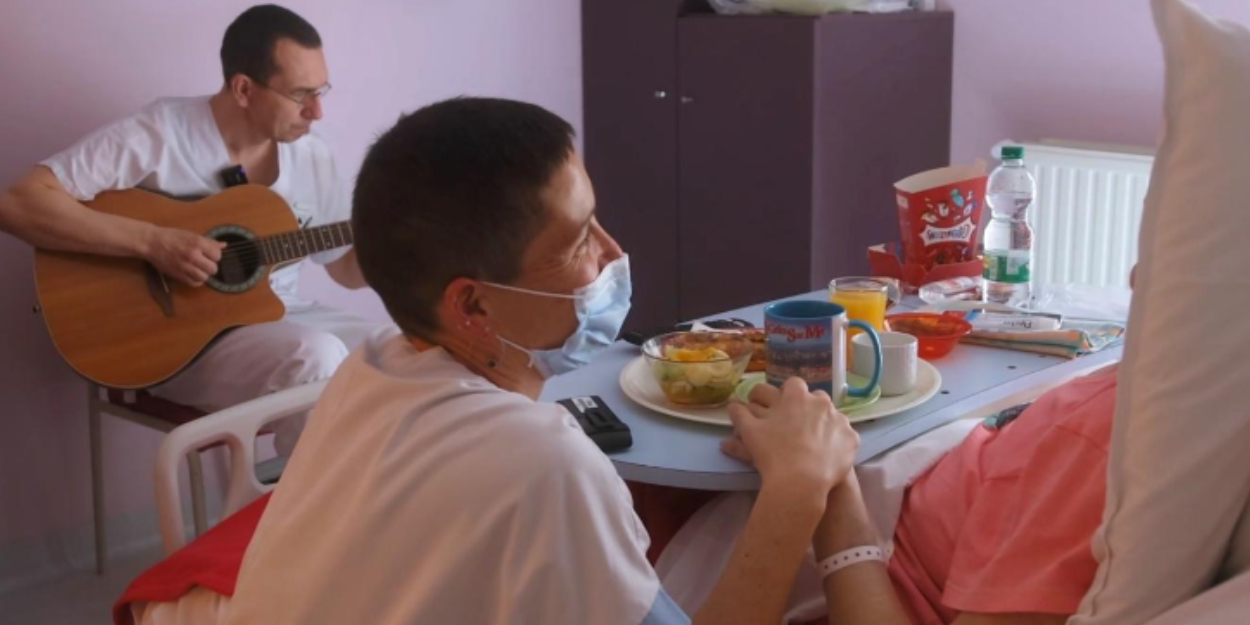 ---
Love will have the last word is an invitation to dive delicately into the heart of daily life in a palliative care unit in Charente-Maritime. A documentary by Présence Protestante and the Jour du Seigneur broadcast on Sunday August 27 on France 2.
"Yes, I am certain that nothing can separate us from his love: neither death, nor life, nor angels, nor other heavenly authorities or powers, nor the present, nor the future, nor the forces above, nor those below, nor any created thing, nothing can ever separate us from the love that God has shown us in Jesus Christ our Lord." Romans 8:38-39
This is a verse well known to Christians. It could not be clearer: those who recognize that the love of God is manifested in Jesus Christ will have nothing to fear when they are confronted with death, tribulation or various earthly or heavenly forces and powers. .
No enemy, predator, torturer, disease or suffering can separate them from the love of God.
God loves them. Point. Yet three other little words also open the verse and give it a truly astonishing flavor: "Nor life?"
We understand that the author of the epistle wants to reassure on the limited power of death and its riders. But why should Christians fear that life will separate them from the love of God? And why does Paul write "Neither life nor death" thus associating the two? Many interpretations are possible.
Here is one. Entry into life, birth, and departure for death have these two things in common: we enter it alone and naked and no one escapes either. It's almost a truism. However, it is the same, in a different way, of course, with our whole life: who knows our inner self? Who could tell our thoughts? To probe our soul?
Throughout our lives a part of us remains alone. Our reflections reveal us. We are islands that more or less crowded (or empty) ferries connect. Last Sunday evening, I was on the road, alone in a small car.
On the radio, a benevolent presenter gave the floor to whoever wanted to. Free antenna way "Allo Macha" (the oldest will remember). A listener from the Vosges calls. No family, no friend, no job. Above all: not the desire, not the taste. Neither today nor yesterday. He testified to his great loneliness. The facilitator was trying to give him some leads so that he could already get himself (who else?) out of his immense distress. Vain efforts. At the wheel of my Yaris, I wanted to shout to him:
"You are loved by God: 'Nor life...'"
In his deep loneliness, this man did not see or did not have the courage to grasp the solutions, however accessible, that were offered to him. I believe that often we are like this man: we are ignorant of our own condition. Blind, we do not see the exits. Yet, God watches over us, beyond what we perceive. Who knows how many hairs he has on his own head, if not God?
Finally, I realized that this man was not far from those who are disconnected from life due to the mental, psychiatric or physical degradation of their state of consciousness. So, I asked myself again this question that often comes up: on the verge of death, how does God welcome those who die after a long coma? Or the crazy ones? Or Alzheimer's patients? Etc.
Those whose consciousness is altered? Is the old person who loses his head received by his heavenly father with the memory of his previous life or in the state of consciousness in which he is at the time of his death?
Fortunately, I don't know the answer. I want to let God be God, and trust him. I don't know how many hairs I have in my head and I don't even know clearly all the twists and turns of my own soul.
So what mastery could I claim to have over the course of my life? I have to play my role, make decisions, take initiatives. But how would I be able to wisely determine the day, the hour of my own death? I believe that in this matter, no dogma, no law will have the last word. I believe that for my life, love will always have the last word. And I know where it comes from.
Christopher Zimmerlin, Protestant Presence
Love will have the last word
A documentary directed by Grégoire Gosset on an idea by André Breuvart produced by Aligal production, france.tv studio, the CFRT and the Protestant Federation of France
To see or see again L'Amour will have the last word for 7 days: https://www.france.tv/france-2/presence-protestante/ or follow Presence Protestante on Facebook
The documentary is also available for debates, symposiums, conferences, Church evenings on request to the Protestant Federation of France: [email protected]