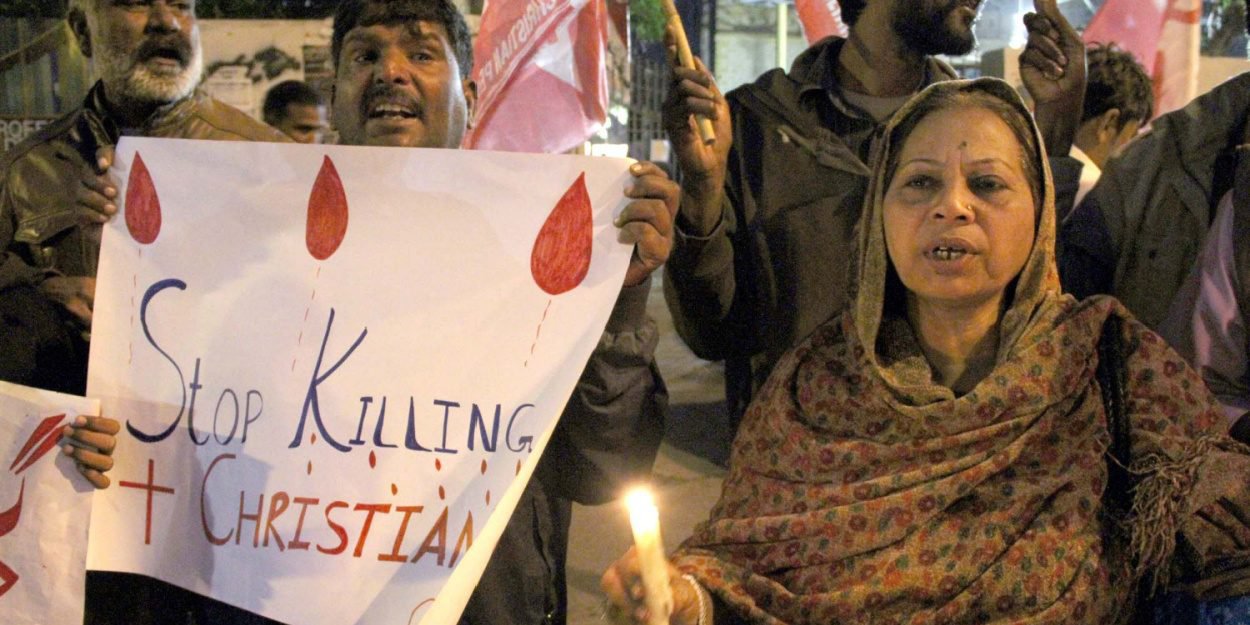 ---
The recent bulldozing of the homes of two Christian families in Islamabad, the capital of Pakistan, by a government agency, without the residents having time to salvage their meager belongings, is one of the latest avatars of persecution and discrimination faced by Christians in the second largest Muslim country.
One of the victims denounced this injustice thus: "Although we are Christians, we are also Pakistani citizens". Words that sum up well the status of non-Muslims faced with the hostility of the authorities and society.
The Christians of Nawaz Sharif in Islamabad had not been warned of the operation to destroy their homes and church by the Capital Development Authority on October 18, but they were able to escape in time to avoid being crushed to death. The demolition is all the more dramatic with the approach of winter and when the authorities have not offered any compensation and rehousing plan to the inhabitants.
This is not the first time that the authorities have destroyed homes or places of worship of Christians. Indeed, on March 31, 2021, the last day of Lent, the same Islamabadi body had destroyed without warning the church in the Musharraf area where 300-400 people live.
Christians, left to abandonment and to social injustices
The latest destruction comes shortly after floods hit the country killing more than 1 people.
During these bad weather, the authorities and Islamic NGOs often do not distribute international aid to Christian communities. Abandoned during disasters, Christians are also abandoned in their daily lives throughout the year.
"They encounter discrimination, persecution aggravated by their abject poverty", underlines Juliet Chowdhry, Director of the British Asian Christian Association (BACA), an association supporting persecuted Christians, itself Pakistani.
Due to discrimination, Christians often cannot study, are illiterate and perform menial jobs. It's a vicious circle that forces them to remain at the mercy of the bosses.
The director of BACA observes that "more than a million Christians are enslaved in the brick kilns of Pakistan and another 500 have similar labor contracts in the carpet weaving industry. This is because an illiterate patriarch will have signed (with his thumbprint) a contract of slavery trapping his children and subsequent generations in brutal labor contracts. Normally in exchange for a loan to pay for medical bills or the marriage of a child. »
Under these contracts, "enslaved families are beaten, derisively paid, and forced to work excessive hours. Children over the age of 13 are expected to join their parents as part of the workforce. »
Often the women employed in these brick kilns are raped by the owners or other officials, while the men in their families are busy working.
Christian women targeted for rape and forced marriages
Sexual violence is the lot of religious minorities in Pakistan, and Christians are no exception. Women, teenagers, little girls, but also boys, like when a 14-year-old teenager, Zeeshan, was raped and hanged in 2016 without the police deigning to really investigate.
In 2010, Arshed was burned alive outside a police station following threats from his employer for refusing to convert to Islam; when his wife Martha went to file a complaint, the police raped him and forced his three young children to watch the scene.
In the suburb of Essa Nagri, near Karachi, Islamists carry out raids to rape women and girls. All minorities are victims of these attacks, even the Ahmadi community which is denied the qualifier of "Muslim".
"What is even more infuriating are the approximately 700 Christian girls kidnapped, raped and forced into Islamic marriage", laments Juliet Chowdhry, who adds that "some mosques are known to preach that there is a special place in paradise for Muslim men who thus enlarge the Umma, the community of believers. »
The police ignore these kidnappings, despite the laws that sanction them and the age of the girls below the legal threshold. The courts make Sharia prevail over these laws to validate forced marriages. BACA was the first association to free a married woman from death, but most legal battles are lost, "because even when a girl is found, she is sent to a women's refuge center which is often not impartial only in name. »
"Muslim rapists or their friends have access to these protection centers and threaten to kill the young girl and her family if she does not declare that she married the Muslim man of her own free will," sighs Juliet Chowdhry.
The Blasphemy Law: The Permanent Threat of Lynching or Criminal Conviction
To these aggressions and this precariousness is added a strong insecurity linked to the blasphemy law of 1986.
Asia Bibi's story has been around the world with Western countries pressuring Pakistan after the mother was sentenced to death in 2010 on blasphemy charges.
Her fault was to drink from a cup which she handed to her co-workers who claimed that it was now soiled. The young woman replied that she doubted that the Prophet Muhammad would have spoken in this way, which had led to her being brought to justice. Some Pakistani judges had feared that she would be lynched by the mob if they released her and that they themselves would be murdered.
Indeed, even when state officials or other leaders attempt to uphold minority rights, they expose themselves to the risk of being killed.
In January 2011, Punjab Governor Salman Taseer had been assassinated by his own bodyguard, a policeman, after supporting Asia Bibi and calling for the removal of the blasphemy law. Two months later, the federal minister for minorities, the Christian Shahbaz Bhatti, was in turn assassinated, after which President Asif Ali Zardari, widower of former Prime Minister Benazir Bhutto killed by a suicide bomber, supported a constitutional amendment for reserve four seats in the Senate for minorities.
Although Zardari expressed in 2009 his desire to put an end to the use of the blasphemy law to harm minorities, justice still condemns Christians on this ground. Magistrates have their prejudices against Christians, observes Juliet Chowdhry, but they also have afraid of being assassinated like Judge Arif Iqbal Bhatti, killed in 1997 because he had freed two Christians three years earlier.
In 2016, a Pakistani court sentenced four Muslims to death after a mob locked a Christian couple in a brick kiln to burn them alive. A reaction that remains the exception.
Jean Sarpedon
Image credit: Shutterstock/Asianet-Pakistan