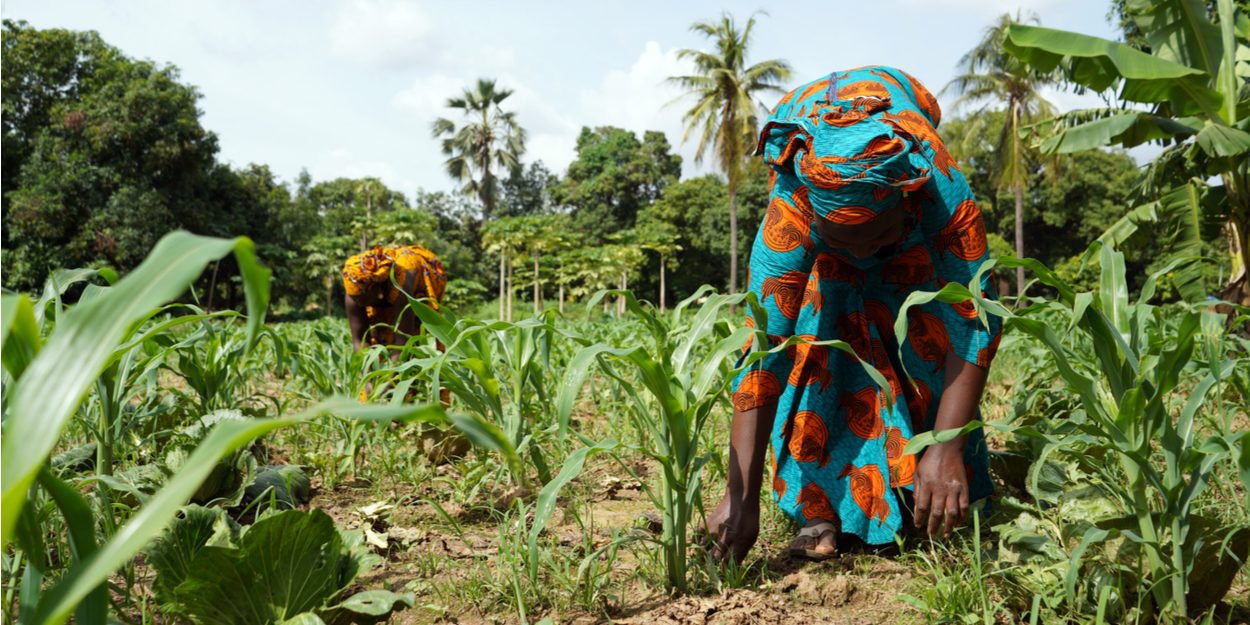 ---
Belonging to the Fabaceae family, cowpea Vigna unguiculata (L.) Walp is a seed legume native to Africa, now grown in almost all tropical and subtropical regions. Cowpea is the most important culture of grain legumes in sub-Saharan Africa, particularly in arid to semi-arid savannah areas. The main producing countries are Nigeria and Niger, which together account for nearly half of world production.
This basic foodstuff, exploited and valued in an efficient way, could constitute a real bulwark against malnutrition and dependence on certain products such as rice, animal proteins and wheat, of which we measure today, at the light of the Russo-Ukrainian conflict, the vulnerabilities for sub-Saharan populations. Cowpea also offers a wide range of gastronomic possibilities, for the most part unknown. For example, more than 50 dishes can be made with it, including starters, main courses, desserts, and even the bread !
Origin and geographic distribution of cowpea
After the domestication of its wild forms by the first farmers in Africa, from the Neolithic period, cowpea was quickly introduced to India. The dates of the introduction of cowpea in Europe diverge and are still the subject of debate among scientists, but everyone agrees that cowpea was already consumed there. a few centuries before our era. Then called black-eyed cowpea, habine des Landes or Mongette bean from Provence, it was grown in the south of France before its gradual replacement by the common bean (Phaseolus L.), more productive and better adapted to temperate climates.
Nutritional, heritage and socio-economic importance of cowpea
Cowpea occupies a good place in agricultural diversification policies in West and Central Africa. As such, the states of the region are trying to support the renewed interest in this long-neglected local plant despite its many virtues and in particular its nutritional qualities. With a protein content of over 20%, the ripe seed represents an important source of amino acids. It contains a large amount of starch (50 to 67%) and has high levels of dietary fiber and B-type vitamins (pantothenic acid or folic acid). The seed is also rich in essential microelements, such as iron, calcium and zinc and has a low fat content, which makes it a very interesting resource from a nutritional point of view.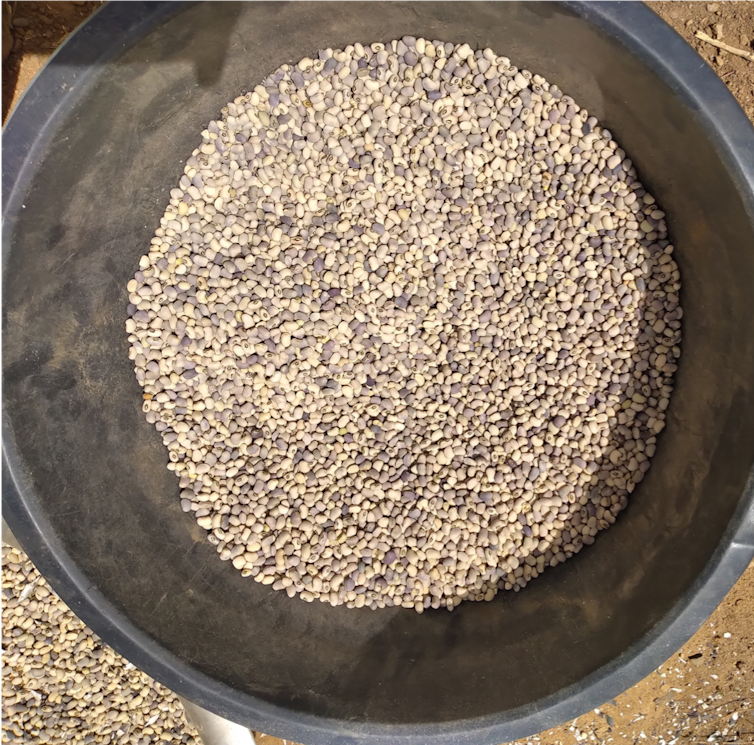 Only the presence of some antinutritional factors, which can reduce the digestibility or the bioavailability of certain essential minerals (Magnesium, Calcium, Iron, Zinc), constitute brakes for the acceptability and promotion of this grain legume. The use of different preparation techniques and efforts in varietal selection aimed at reducing these antinutritional compounds could make it possible to limit the undesirable effects and further improve the virtues of cowpea.
In sub-Saharan Africa, cowpea is a highly valued staple food for its leaves, green pods and dry seeds for human consumption, or for its protein-rich haulms, which provide quality fodder for livestock. In addition to their high protein content, comparable to ripe seeds, the tops have essential amino acid levels even higher. The latter are a highly valued resource during the dry season because farmers who harvest and store cowpea fodder for sale in the middle of the dry season increase their income by 25%.
In the northern half of Senegal, harvesting of traditional food crops, such as millet, sorghum, groundnuts, and late varieties of cowpea in the form of dry pods generally takes place between October and December. The possibility of harvesting short-cycle, i.e. early-harvest, cowpea varieties is very important because it provides food at a time of year when granaries are almost empty (lean season). .
The sale of pods is also an opportunity for producers, and in particular women who are very often involved in the cultivation, harvesting and sale of cowpea, to obtain income at a critical time when the prices of other foodstuffs are at their lowest. upper.
For several years, this speculation has gone from a food crop to a cash crop, like groundnuts. The cowpea processing circuit is very promising: not only is the price more remunerative, but there are also many more possibilities for value addition. Senegalese processors say that anything that can be done with millet, maize and rice, can be done with cowpea.
Cultivation methods and ecosystem services
In West Africa, particularly in Senegal and Burkina Faso, cowpea plays a major role in rotation or association with cereal crops (maize, millet and sorghum), particularly in areas characterized by low rainfall. and infertile soils. In Senegal, cowpea is mainly grown in the regions of Diourbel, Louga and Thiès. With barely 300-500 mm of water per year and erratic rain that is spread over the three winter months (July-September), this area is prone to drought.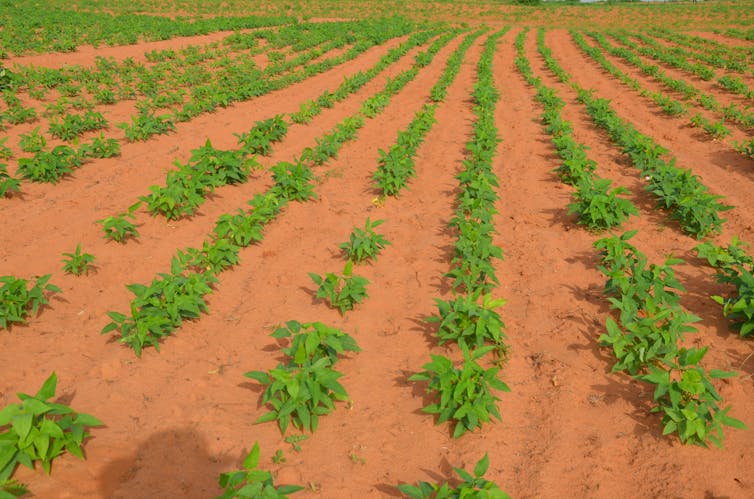 The use by producers of several varieties improved by agricultural research, which complete their cycles in 2 months, makes it possible to limit the impact of droughts and to obtain fresh pods in the middle of the lean season.
In addition to these short cycle varieties, other varieties popular with growers with an upright or creeping habit are also available. Thanks to the use of quality seeds, seed yields can reach 800 kg, or even 1,3 tonnes per hectare with the new varieties.
Despite a high protein content, mineral nitrogen requirements for growing cowpea are low. This paradox can be explained by a particularity common to a large number of legumes, which are capable of fixing the atmospheric nitrogen present in abundance in the air thanks to a symbiotic interaction with soil bacteria, called rhizobia. This nitrogen-fixing symbiosis gives legumes a clear advantage in poor soils and represents a lever for improving the productivity of complementary associated crops such as millet, sorghum or maize, and contributes to the sustainability of agroecosystems.
In order to improve production while respecting the environment, various types of biofertilizers can be used such as organic fertilizers or compost (decomposed, stabilized and enriched residues of plant and/or animal origin) which are commonly used but insufficient to cover large crop areas. The inoculation of plant growth-promoting microorganisms, such as nitrogen-fixing bacteria (rhizobia) or endomycorrhizal fungi, also represents a potential lever for improving cowpea production and minima stabilizing seed yields. Their use by inoculation, a simple technique of mass supply of microorganisms selected at the time of sowing, is being structured in Senegal with the development of production units of mycorrhizal fungi in rural areas.
Opportunities, expectations of stakeholder communities and necessary support measures
For the time being, in Senegal, the main obstacles to the development of this crop are access to quality seeds, poor soils, pests, transformation processes and the organization of the sector.
To remove these obstacles, it is therefore necessary to support breeders who are developing cowpea varieties that are more resistant to drought and to the main crop pests. The selection of resistant varieties allowing a preventive fight against pests is all the more important as the curative treatments by phytosanitary products which increase the health problems (risks of intoxication), economic (costs of these products) and environmental (depletion of soils, groundwater pollution). Cultivation practices, such as the cowpea-cereal association, can also mitigate the impact of certain diseases. To strengthen or diversify the processing circuit, the financing of cross-sector projects making it possible to integrate and promote local know-how is essential, for example the development of solutions and sites dedicated to the proper preservation of grains, processing and their marketing.
Although a national interprofessional framework for the cowpea sector has recently been put in place, this interprofessional organization must however be strengthened and representative of all stakeholders. At the same time, it is fundamental to structure research around vast multidisciplinary programs and to support the large-scale transfer of the results obtained therefrom. Only action in this direction by political decision-makers and donors will allow the development of this cowpea sector with high potential for the countries of sub-Saharan Africa, but also for the countries of southern Europe which are facing increasing droughts. more frequent.
Jean-Christophe Avarre, Researcher in viral ecology, Research Institute for Development (IRD); Antoine Le Quéré, Researcher in microbial ecology, Research Institute for Development (IRD); Mouhamadou Moussa Diangar, Cowpea Breeder / Geneticist, Senegalese Institute for Agricultural Research (ISRA) et Moustapha Gueye, Agronomist, Senegalese Institute for Agricultural Research (ISRA)
This article is republished from The Conversation under Creative Commons license. Read theoriginal article.
Image credit: Shutterstock.com / Riccardo Mayer