The Christian association Lazare, which offers shared accommodation between young working people and the homeless, is launching a new campaign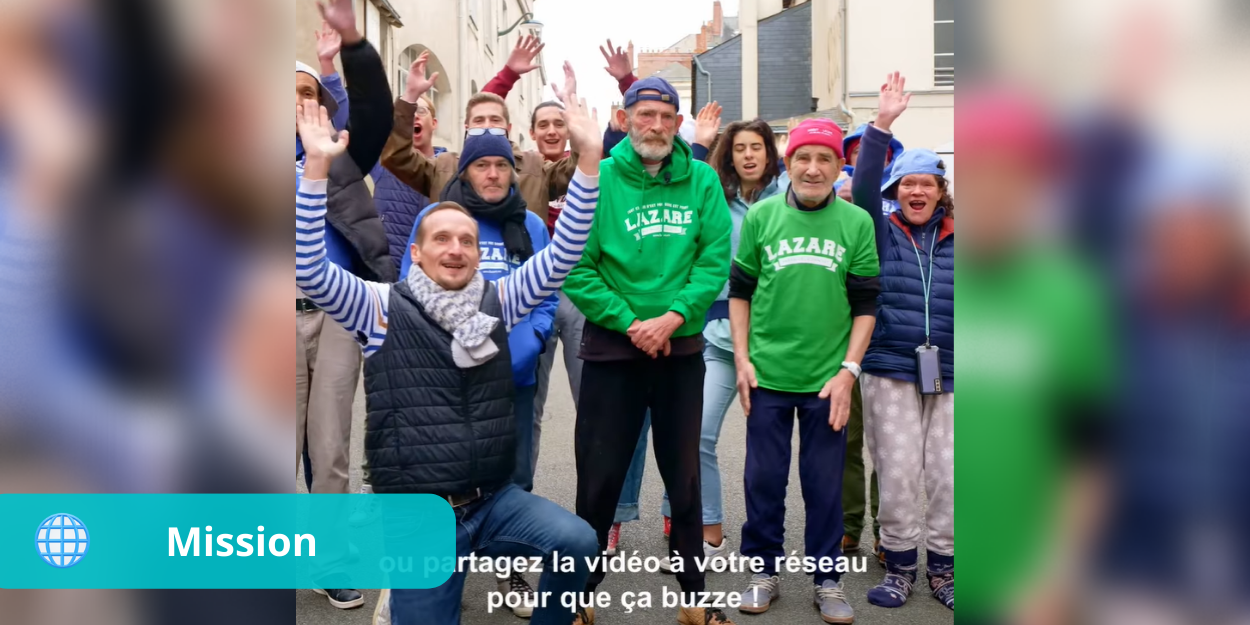 ---
"They see a roommate where there was only a homeless person": this diversion of the words of the Christmas carol "Midnight, Christians" could have been their motto. They are not Lazarists, but their desire to rebuild social ties by bringing together people from the street and young working people and students, is inspired by their Christian faith. Their association bears the name of Lazarus, this poor character mentioned by Christ who lived in front of the door of a selfish rich person. Already supported by Vianney or Nagui, the association has just launched a new campaign.
Faces and voices marked by years on the street, various former homeless people try to define an entrepreneurial strategy to help isolated young workers, in a humorous campaign video, full of advertising anglicisms, which can only touch even those who hate these barbarisms.
Indeed, the contrast is striking between their lack of confidence in front of the camera and their use of terms from the business world such as "fit to market", "poc". Therefore the Lazarus association presents her project which she encourages to relay.
Recreate the link between isolated people who have left the street and those in the active or student world
The tone is set, the loneliness of young working people is humorously compared to the abandonment of animals: "During the holidays, they will still be 200 abandoned in open spaces. Without family, forgotten by their married friends, they will take their holidays later. »
An employee of the SPA (Protective Society of Friendship) points to Louis, a young worker, whom the association has taken in and who "was rather deficient", eating "only sushi and charcuterie boards for months" before being collected and "coaxed with rice cakes".
Created in 2010 by young Catholics, Lazare is "an evangelical response to the problems of precariousness", in the words of Étienne Villemain, one of the founders of the association. An initiative that pleased the Lazarists of Saint-Vincent-de-Paul in Paris who spontaneously offered their building in the XNUMXth arrondissement to the association.
"We no longer had the means to bring this building up to standard, but we did not want to sell it", according to the Provincial Superior Gilles Pelletier who specifies that the congregation's mission is not "to make money but to 'to help poor people ". Lazare pays a financial contribution for the charges, and each roommate pays 150 euros per month.
Because the rents are the same for all those who share the same building. In Nantes, roommates pay 300 euros. Everywhere Lazare takes over buildings that are uninhabitable or built to house shared flats generally ranging from six to 10 people. In the building in the XNUMXth arrondissement, a dozen former homeless people and young working people live on different floors according to their sex. Another distinctive feature is that each home is overseen by a volunteer family that ensures good order and conviviality.
In Nantes, Loïc Luisetto left the robe of a lawyer to become general delegate of Lazare. With his wife and their children, this convinced Catholic lives in a house of the association after having worked in the favelas in Brazil. "On the street, people are mostly dying of loneliness," he underlines, implicitly highlighting the reason for these places of connection. The homeless and many young working people and students share this loneliness which ruins the soul.
The experience is conclusive, the testimonials are satisfactory, like Charlotte's : "Sylvie, a friend of Lazare and new roommate, opened her door to me, listened, advised, put me in safety and above all gave me back my confidence. I went into survival mode at Lazare and today I found meaning in my life. »
Those who wish can take part in the lauds, a moment of morning prayer, explains Beatrice, Loic's wife. Indeed, if the association does not have a proselytizing goal, it carries out its work by avoiding the pitfall of social activism which would evacuate the Christian witness, delivering a manifestation of charity identical to that advocated by the encyclical "God is love" of Benedict XVI.
"You are not called to succeed, but to be faithful" is Lazare's motto. Loïc Luisetto knows this only too well, he who, with his family and roommates, was faithful to Antoine, who died of an overdose at the age of 28, a few months after his departure: "From a human perspective, we did not succeed but I believe that we been faithful to his last homage, and that is what Christ asks of us. »
The association has already opened 10 centers in France, six are in the process of being opened and 10 are under study. She also has opened one in Mexico City.
Jean Sarpedon
Image credit: YouTube video/screenshot Lazarus association