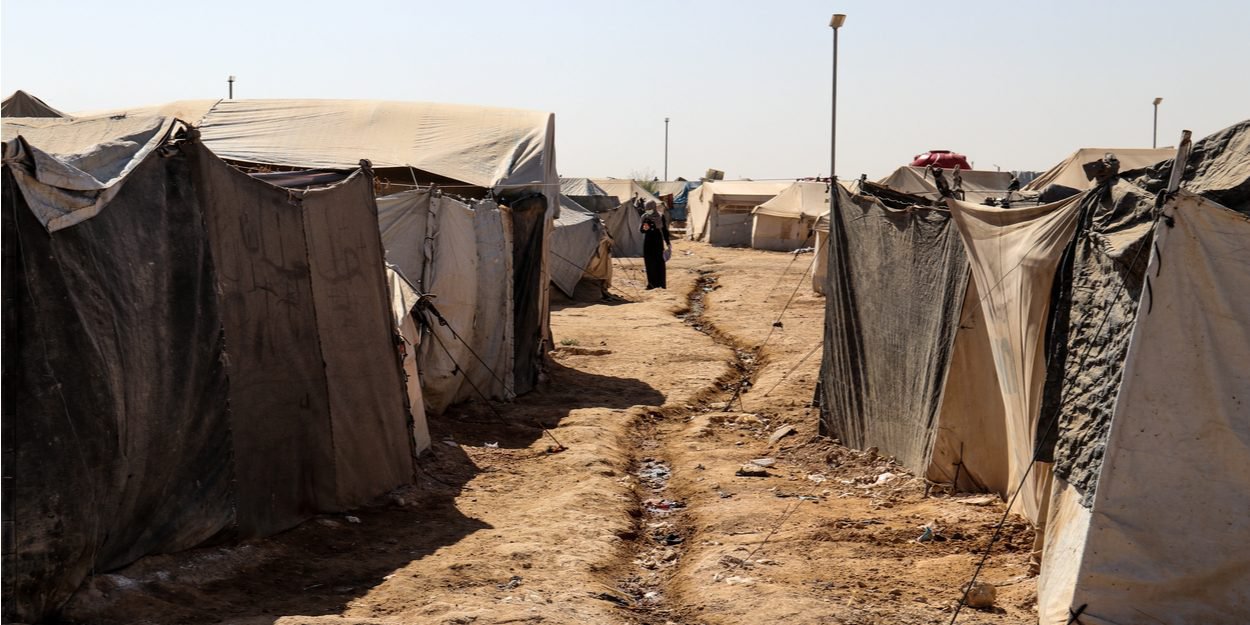 ---
France repatriated on Tuesday 35 minors and 16 mothers from camps for displaced people in Syria, including Emilie König, one of the best-known French jihadists, awakening the hope of NGOs and families to see an end to the "inhuman" policy of the "case per case".
The French Ministry of Foreign Affairs announced these returns on Tuesday, a few hours after the formation of a new government, specifying that these children and these women had until then been in the camps in north-eastern Syria held by the forces. Kurds.
This is the first massive repatriation of children and their mothers since the fall in 2019 of the "caliphate" of the Islamic State (IS) group, from which the deadly attacks of November 13, 2015 in France had been planned. Until then, only a few children had been repatriated by the French authorities on a "case by case" basis.
According to a press release from the French National Anti-Terrorist Prosecutor's Office (PNAT), seven of the 35 minors are unaccompanied children.
As for the women, aged 22 to 39, "four had already consented to the return of their children in recent months" and "12 returned with their children". They have French nationality "except for two of them who, on the other hand, have French children".
Eight were placed in police custody "in execution of a search warrant", according to the PNAT, and seven others "subject to an arrest warrant" were indicted for criminal association with criminal terrorists. and imprisoned, according to a source familiar with the matter.
Custody
Among these seven women is Emilie König, 37, from Lorient (western France), who left for Syria in 2012 and is suspected of having acted as a recruiter for IS. She was placed in pre-trial detention after being indicted by an anti-terrorism judge, AFP noted during a hearing before the judge of freedoms and detention (JLD).
"She intends to cooperate fully with French justice," her lawyer Emmanuel Daoud told AFP.
The eighth woman targeted by an arrest warrant will be presented to an examining magistrate on Wednesday for her indictment, having been the subject of medical treatment on Tuesday, according to a source familiar with the matter. Suffering from colon cancer, she has already undergone two ablations in Syria.
His four children were also repatriated. "It was time," commented Me Daoud, who also defends her.
A 17-year-old minor was also taken into custody at the DGSI (internal security), according to a source familiar with the matter.
"The intelligence services came to the Roj camps yesterday morning with lists and photos of the families they intended to repatriate", testified on condition of anonymity the uncle of two children still there.
"I know how much the French children left in the camps suffer from not having been taken with their friends and their mothers", underlined Me Marie Dosé, family council still on the spot. "There are more than 150 children and their mothers left", according to the lawyer, who calls for "a repatriation of all as soon as possible".
"Great relief" for families
"It's a great relief, we will no longer have to worry day and night for their lives," testified to AFP the aunt of a minor who returned with his mother.
These 35 children, taken care of by Childhood Social Assistance in the Yvelines department, join the 126 minors who have already returned since 2016 from territories taken over from IS.
In 2019, nearly seven out of ten French people were opposed to the return of the children of jihadists, according to an Odoxa-Dentsu Consulting poll for France Info and Le Figaro.
The question remains nagging today in the political debate in France where lawyers, parliamentarians, NGOs and independent bodies regularly urge the authorities to follow the example of European neighbors.
Germany and, more recently, Belgium have recovered a large part of their nationals detained in the Syrian camps which bring together displaced persons and relatives of jihadists.
"We will continue their repatriation as long as necessary to protect them", assured Tuesday the French Secretary of State for Children Charlotte Caubel on Twitter.
The "Collective of United Families" for its part indicated in a press release "hope" that this repatriation "signs the end of this abject policy of + case by case + which amounts to sorting children, separating siblings and tearing children away. to their mothers.
Defender of Rights Claire Hédon stressed the "urgency" to repatriate them, describing "the appalling living conditions, with nutrition problems, health problems, lack of access to school".
The Editorial Board (with AFP)
Image credit: Shutterstock.com/Trent Inness