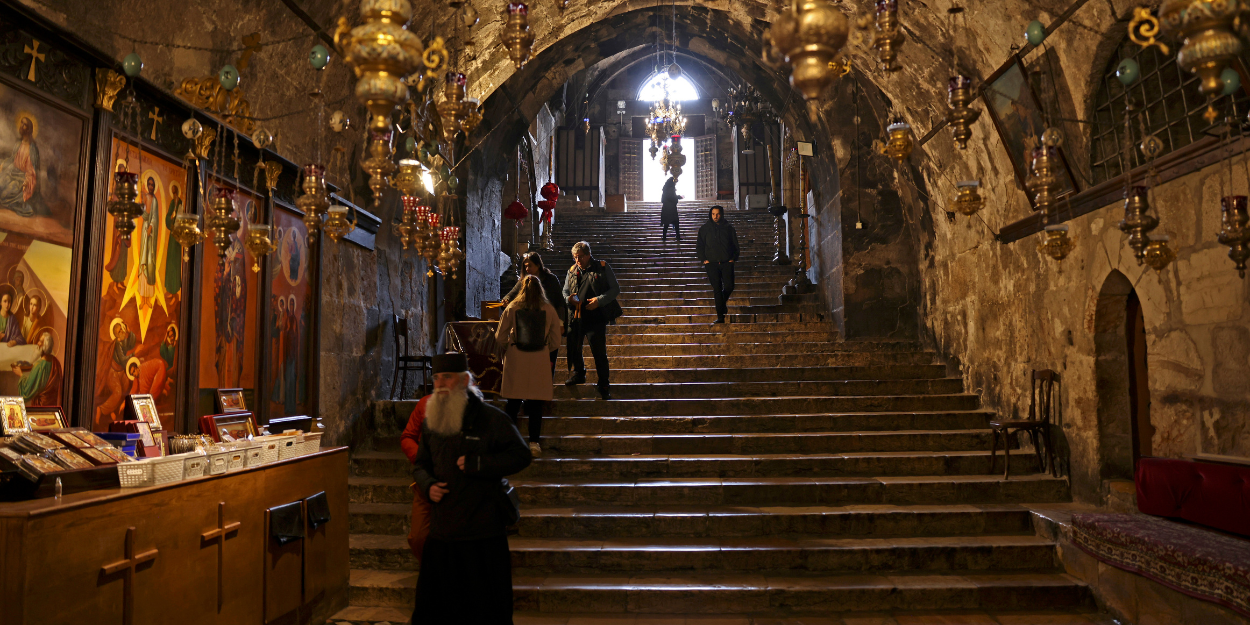 ---
The Greek Orthodox Church on Sunday denounced as a "heinous attack" an attack during Sunday mass, in the middle of Lent, at the Tomb of the Virgin, one of the most important Christian holy sites in Jerusalem.
In a press release published around 10:15 a.m. (8:15 GMT) and referring to this incident, the Israeli police indicated that they had intervened in East Jerusalem, part of the Holy City annexed by Israel, and had arrested "a suspect (aged 27 and living in southern Israel) for his involvement in a violent incident in the church," without further details of his identity.
According to Bilal Abou Nab, a vendor who runs a shop next to the shrine and who claims to have witnessed the incident, the assault was committed by two Jews, one wearing a yarmulke and the other "pants with fringes hanging down the sides" (the "tsitsit" worn by many observant Jews).
Calling for "international protection of the holy places", the Greek Orthodox Patriarchate of Jerusalem, co-owner of the Tomb of the Virgin (the final resting place of the mother of Jesus, according to a Christian tradition), published a press release mentioning " an attempt to physically harm [an] archbishop [who was officiating] and assault a priest".
The police statement mentions only one assailant, "entering the church [by] shouting and threatening those present with an iron bar".
"There were no injuries," adds the text.
Mr. Abou Nab affirms that "a religious was wounded in the forehead", that one of the attackers shouted and uttered "insults and the second held an iron bar and hit" the faithful.
"We called the police, but they arrived on the scene after more than half an hour," he adds. In the meantime, he said, one of the attackers had been subdued, but the other had fled.
"Terrorist attacks by radical Israeli groups targeting Christian churches, cemeteries and properties, in addition to physical and verbal assaults on Christian clergy have become almost daily and their intensity increases evidently around Christian holidays," deplores the patriarchy.
In January, an Episcopalian cemetery in Jerusalem was desecrated, and in February, a statue of Christ vandalized in a Franciscan chapel in the Old City.
Holy city for the three monotheisms, Jerusalem is at the heart of the tensions of the Israeli-Palestinian conflict. In December 2021, local church leaders claimed that Christians had "become the target of repeated attacks by radical and marginal groups" in Jerusalem and elsewhere in the Holy Land and denounced the inaction of the Israeli authorities.
The Editorial Board (with AFP)
Image credit: AFP/ Hazem Bader