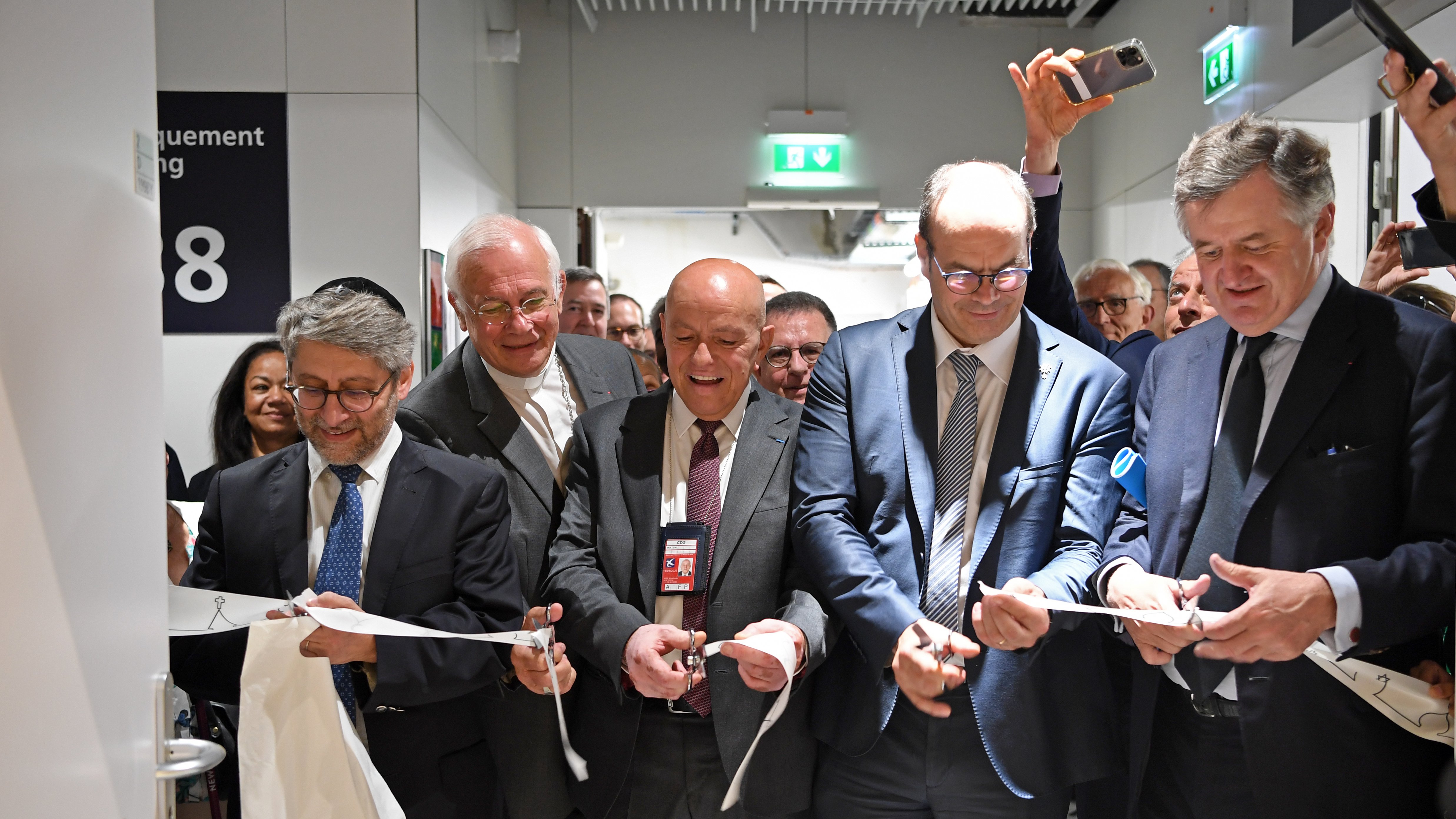 ---
50 years after its construction, Terminal 1 at Charles de Gaulle airport has had a facelift. As part of this renovation, a new prayer space was inaugurated on June 27. A look back at this event with Pierre de Mareuil, Paris airport chaplain.
"The question of fitting out the prayer area came up very quickly in the discussions on the renovation of the Terminal", says Pierre, chaplain for ten years in the airports. It was the CEO of Groupe ADP, Augustin de Romanet, who insisted that art be present in these prayer spaces, a desire in line with the support he provides to chaplains and places of prayer in the airport since taking office.
"The prayer space is decorated with magnificent non-figurative stained glass and comprises three spaces. A very elaborate mosque space with particular care taken to make it a place as close as possible to what a mosque is, a synagogue space that the rabbis wanted as neutral as possible to also make it a place of welcome for all religions: Hindu, Buddhist…"
For the space of the chapel, the challenge was to find an agreement between all the churches: Catholics, Orthodox and Protestants indeed share this place.
"We wanted to do something more than just find the lowest common denominator. The challenge was to find an agreement so that this place would be welcoming for everyone".
The result of the compromise is a chapel with three elements: an empty cross, two icons and a tabernacle.
"An empty cross but designed in such a way that everyone can project their faith onto it: a Catholic can project the body of the crucified or a Baptist can see in it a representation of the diversity of the Church, as a friend told me. Icons are essential for the Orthodox, these, offered by the Copts, are also a way of honoring our persecuted brothers and sisters and finally Catholics are sensitive to the presence of the tabernacle".

A place inaugurated on Tuesday June 27 in the presence of the CEO of ADP and religious dignitaries: Mgr Lalane, Bishop of Pontoise and responsible for airport chaplaincies, Christian Krieger, President of the Protestant Federation of France, the Chief Rabbi of France and the former Muslim army chaplain currently imam at Charles de Gaulle.
"A moment of communion and meditation illustrating the specificities of each to inaugurate this magnificent prayer space, at the height of the renovated Terminal! »
Herveline Urcun
Image credit: Groupe ADP