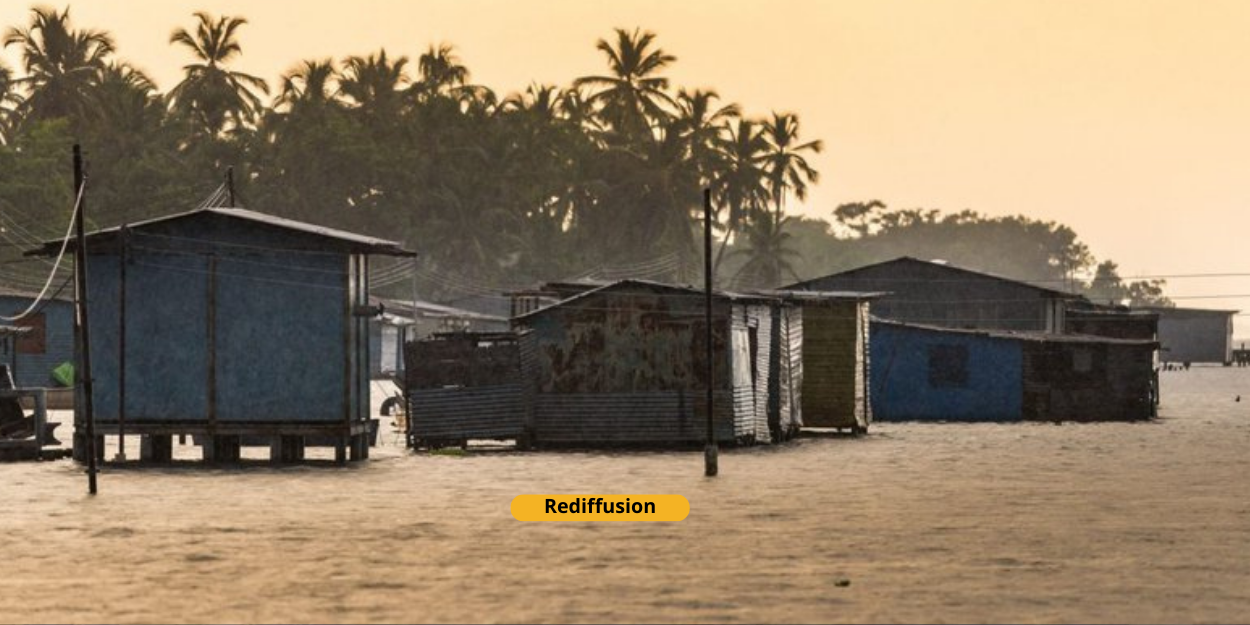 ---
During the summer, we invite you to find articles distributed this year on the site. Today an article originally published on 13/10/2022.
"As the social action arm of the Catholic Church, we are activating our fronts to arrive without delay to serve, and witness the consequences left in their wake by the intense rains that are still falling on the national territory."
56 people disappeared in the landslide that occurred Saturday in Las Tejerias in Venezuela and considered the worst natural disaster in the country since the beginning of the century. The hope of finding survivors is now almost nil.
#LAST MINUTE terrible situation survived anoche in #knitting product of the torrenciales lluvias. Les pido que seamos solidarios con nuestra gente. #Solidarity pic.twitter.com/CYkTRuzX8a

— EL FOTÓGRAFO (@angelgodoy3) October 9, 2022
Forty-three bodies have been found and "there is still a significant number of missing people: 56 missing people. We reach almost a hundred victims who have died in this tragedy, this natural disaster", said Venezuelan President Nicolas Maduro on state television VTV on Tuesday night.
The Venezuelan army posted on Twitter images of the airdrops of food, indicating that "people are receiving food and water in the most remote places through helicopter drops".
FANB en operations aerotransportadas de abastecimiento logístico en las montañas de Las Tejerías. #LasTejeriasRenacerará pic.twitter.com/vfNeAYjVpV

- GJ. Domingo Hernández Lárez (@dhernandezlarez) October 12, 2022
Maria Romero waits in an elementary school that serves as a shelter. She has lost everything and is waiting to be rehoused. "It's not Tejerias anymore, it's a disaster", sums up this 60-year-old housewife who took refuge here with her family - seven people in total. This is a first step before their transfer to other reception centers in neighboring towns. "We were quiet at home (...) and when we went to see, it was too late, the water was there," she told AFP on Wednesday.
The family got out of the house as best they could. The current was so strong that they clung to a tree trunk wedged between two walls of a nearby hardware store. Her husband began to bring up the three children, one by one, then the adults. Maria remembers being paralyzed with panic and unable to get up. "My granddaughter was screaming, my granddaughter was saying 'Save us neighbours,' but how could the neighbors have saved us? They were worse off than us," she continued. "I had never seen such a big river, only in the movies".
On site, the Church is trying to help the victims. "Collapsed roads, overflowing rivers, fallen trees, landslides and rockslides are aggravating the conditions of vulnerability for the already fragile Venezuelan family," reads a statement. communicated of Caritas Venezuela.
#LasTejerias 🤝♥️🇻🇪 pic.twitter.com/ec2sfFII5Q

— Angelo Rangel (@angeloranfer) October 11, 2022
"As the social action arm of the Catholic Church", the bishops specify in this press release, "we activate our fronts to arrive without delay to serve, and witness the consequences left in their wake by the intense rains which are still falling. on the national territory and which according to the country's Institute of Meteorology and Hydrology (Inameh) will remain in the next few hours".
Caritas provides basic necessities such as non-perishable food, hygiene products, medicines, first aid kits, as well as drinking water. Caritas will also provide shelter assistance for victims and psychological support for those who have lost their homes and loved ones.
"Also persevering on the premise that 'generosity makes its way through obstacles', the Caritas Solidarity Truck activates mobilization to transfer supplies and donations shared between groups and organizations wishing to unite."
"We join in prayer that no other human being loses their lives, as well as for the families who are going through times of anguish and tribulation amidst the chaos that the climatic situation leaves in its wake", concludes the communicated.
MC (with AFP)