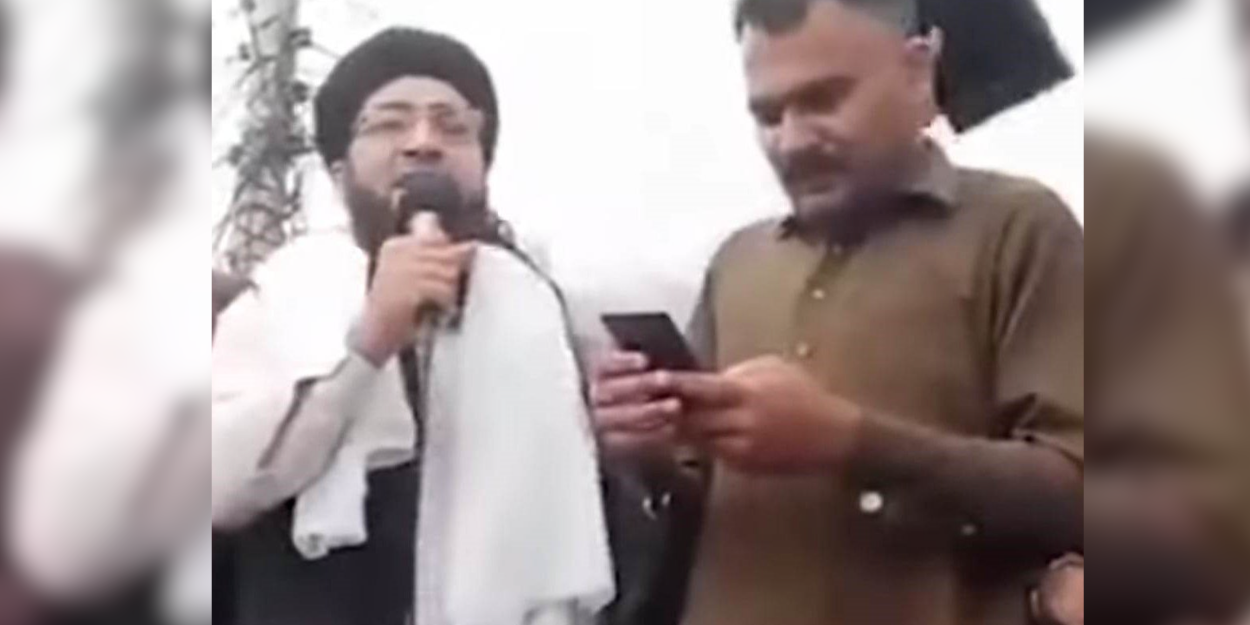 ---
In Pakistan, the slightest accusation of blasphemy exposes the alleged culprit to the risk of lynching to death. Recently, a Muslim religious leader was killed by an angry mob after he complimented a political candidate by comparing him to Muhammad.
Nigar Alam, a 40-year-old religious leader with the title of "maulana" (ulema), took part in a political meeting on May 6 in Sawaldher, a village near Peshawar in northern Pakistan. The cleric was called to go up on the platform to pray for the candidate Nazim Saeed whom he did not fail to compliment by comparing him to the Prophet Muhammad while defending himself against it. The mob did not take his point as expected and attacked him.
On various recordings, we can see the monk making remarks that end up embarrassing the candidate, also his cousin. Alam claims not to place the latter and Muhammad on the same moral plane while doing so, overwhelmed by his enthusiasm, while Saeed tries in vain to make him understand that he must be silent:
"Now, I can't tell you anything else and I won't compare him [Saeed] to the prophet, but for us, this man who is here is not inferior to the prophet. We don't give him that rank...we don't give him that rank. But for you, he is a very respectable personality, and with him you should start."
Propaganda against Imran Khan! Here is the entire speech of Maulana Nigar Alam in Pashto in Mardan, in which this cursed person said: The local leader Nazim Saeed is not less than the level of the prophet of God for our region. Nazim Saeed stopped him on this. After the speech pic.twitter.com/YUxiw7WMa2

— Rizwan Khan (@realrizwankhaan) May 7, 2023
His cousin ended up taking the microphone back from him, but it was too late. The police evacuated Alam and locked themselves in a shop with him, according to witnesses, but the mob forced their way into the store and grabbed him. The cleric was beaten with sticks and trampled to death.
Lynching for blasphemy by the mob, a social fact
Juliet Chowdhry, administrator of the British Asian Christian Association, notes that the slightest misinterpreted statement can lead to a person being lynched:
"The increasing violence associated with Islamic extremism in Pakistan is appalling. It doesn't take much to stimulate a killing urge and crowds swarm in seconds. This recent extrajudicial execution shows how quickly a mob can form: no sooner had the cleric uttered offensive words than he was killed a minute later."
The crowd did not wish to let justice examine the case, taking the decision to judge the religious itself as in so many other cases where the slightest accusation of blasphemy is enough to provoke group violence.
Minorities are particularly exposed to it, the case of Asia Bibi, this mother accused in 2009 of having blasphemed, is the best known case. She had been sentenced to death before being acquitted in 2018, but had to be secretly evacuated from Pakistan after her release in 2019 because Islamists had promised to kill her.
In 2014, a young Christian couple were burned alive in an oven after being falsely accused of blasphemy.
The danger is increased, according to Juliet Chowdhry, by the fact that school textbooks contain content hostile to Christians and other minorities, which makes it even more difficult to protect this part of the population:
"There is no way to control such instant hatred. Many innocent people will be killed if hateful Islamic speech is not removed from the country's mosques. Additionally, the Pakistani government must now remove all hateful elements from its national school curriculum."
Jean Sarpedon
Image credit: ROOF