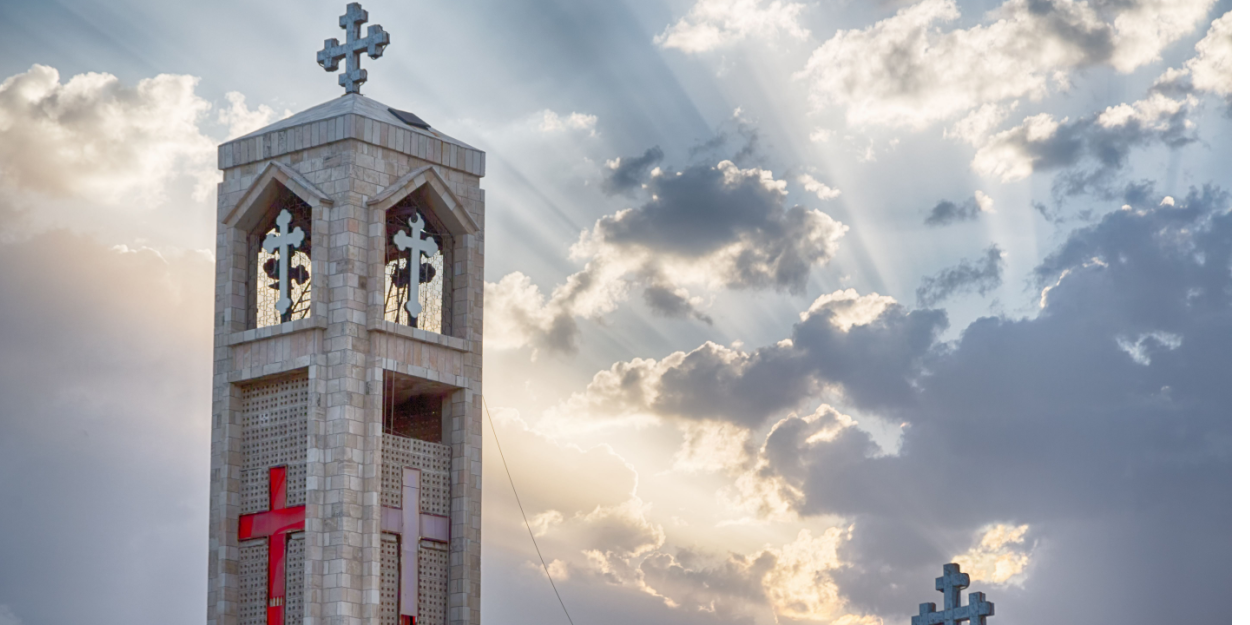 ---
In a church in Amman, an Iraqi refugee is working on making a shirt for a solidarity project, which helps dozens of women earn a living and erase the trauma of war.
Among them, several fled the abuses of the Islamic State (IS) group which reigned terror in Iraq and Syria before being defeated in 2019. They thus found themselves in Jordan, without work and left to their own devices. .
"Here, life is very, very difficult. If we don't work, we can't live," says this 25-year-old Christian from the Iraqi city of Qaraqosh (north), who joined the "Rafedin" sewing project. two years ago.
The project was born in 2016 under the impetus of the Italian priest Mario Cornioli, assisted by Italian designers and tailors. It is set in the Catholic Church of St. Joseph, in Amman.
Products of dresses, jackets, belts and ties are sold in Amman and Italy. Access to the labor market is generally closed to refugees, and this project allows them to supplement the aid they receive from the United Nations High Commissioner for Refugees (UNHCR).
"It's a safe place," breathes Sarah Nael, who learned to make fabric and leather clothes, while her brother works in the church kitchen. "We are Iraqis, we are forbidden to work elsewhere," as asylum seekers, she says.
"Survive"
Since the launch of "Rafedin", more than 120 women have benefited from this initiative.
"We try to help them with dignity," said priest Mario Cornioli, head of the Habibi Valtiberina association, an Italian charity. "Many of them are the only workers in their families," he adds.
Rolls of colorful fabric are neatly laid out on tables in the church, ready to be cut.
Father Cornioli hopes that the brand "Rafedin", which means "The two rivers", in reference to the two historical rivers of Iraq, the Tigris and the Euphrates, will find its place on the market.
Despite the defeat of IS in Iraq, many refugees fear returning home. And many are waiting for their asylum applications to other countries to be processed.
"This project allows them to survive during this phase", explains the Italian priest, but "they are only waiting for one thing: to leave."
Sarah Nael and her family returned home after the defeat of the ultra-radical group, but had to leave again after receiving anonymous threats, eventually finding refuge in Amman after their asylum claims in Australia were rejected.
"The opportunity to learn"
"My father is old and my mother has cancer", says this refugee, adding that a return to Iraq was not an option: "we left nothing there to (be able to) return there".
Diana Nabil, 29, was an accountant in Iraq before fleeing with her parents and aunt to Jordan in 2017, hoping to join her sister in Australia. The doors have closed and the family is now stuck in Amman.
To survive, this trained accountant learned to sew. "Some of our relatives help us financially, and sometimes the United Nations helps us a little," says the one who "is doing" despite everything thanks to modest but regular income.
The Italian priest, meanwhile, boasts of a project that offers "the opportunity to learn something", highlighting the "success stories" of women who left Jordan to work in Australia, Canada or the United States.
Wael Souleiman, head of the Catholic humanitarian organization Caritas in Jordan, estimates that there are around 13.000 Iraqi Christian refugees in the country.
"They hope to obtain asylum and be welcomed in another country (...) but the doors seem to be closing for them", he says.
"They are afraid of the future, and no one can blame them for that."
The Editorial Board (with AFP)
Image credit: Shutterstock/lkpro