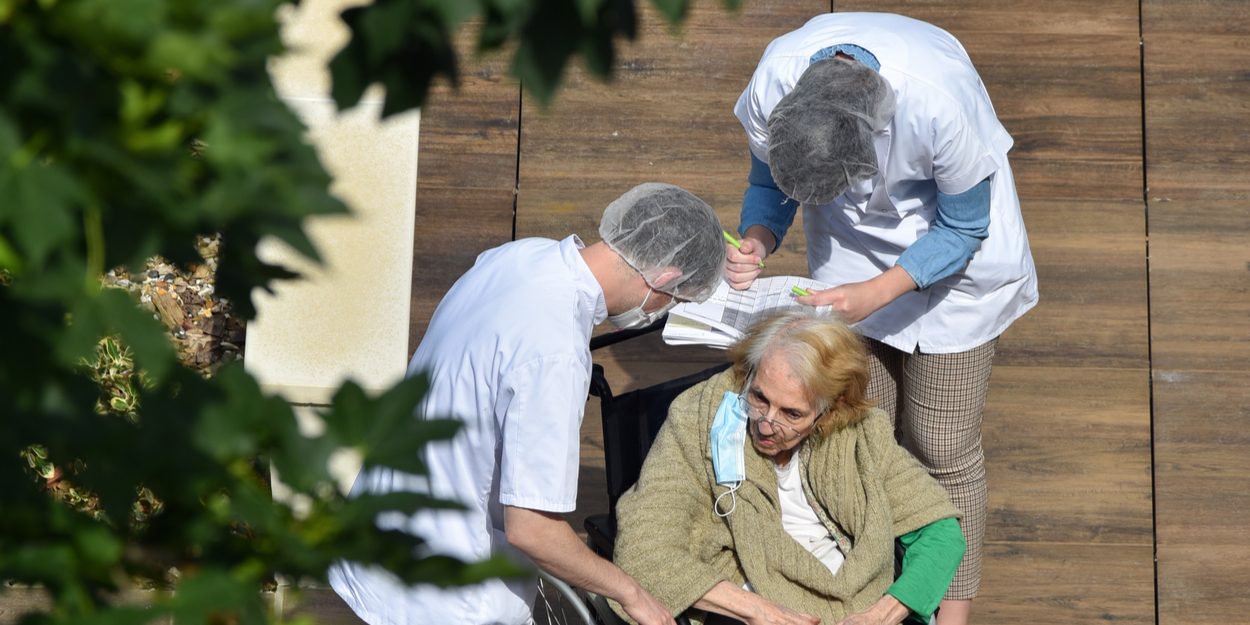 ---
At present, in France, more than 700 very dependent elderly people are accommodated in nursing homes (accommodation establishments for dependent elderly people). Given the aging of the population, the number of residents of these structures will increase in the years to come: in 000, 35% of French people will be over 65, which will result in an increase in the rate of aging with dependencies. Current projections foresee a shortage of 100 places in nursing homes to accommodate the elderly people concerned.
Added to this structural problem is the fact that the vast majority of people surveyed say they prefer to stay at home rather than go to an nursing home. (83% according to a 2016 CSA survey), 85% according to the IFOP in 2019, 90% according to Opinion Way in 2012). There is no doubt that the publication, in January 2022, of the book "The Gravediggers", who cast a harsh light on "significant malfunctions […] to the detriment of the care of residents" of the Orpea group, world number one in the Ehpad sector, did not help matters.
This strong citizen voice cannot be ignored, and it is therefore necessary to propose other models of reception and accommodation for the very elderly whose dependencies no longer allow them to remain in their homes.
Fortunately, entering a geriatric institution is not the only possible accommodation solution. There are various alternatives available today that vary in availability, pricing, advantages and disadvantages. Knowing them allows you to better anticipate, for yourself or your loved ones, this moment of change between home and institutionalization. A brief overview of existing solutions, accompanied by an estimate of their costs and their limits.
Stay at home
This is the most popular solution. To be able to implement it, there is already a network of outpatient personal services:
However, despite the aid (personalized autonomy allowance (APA) ou personalized housing assistance (APL)), this solution can be very expensive. Depending on the dependencies to be taken care of, it takes an average of 2 euros per month (compared to an average of 200 euros per month in nursing homes), and the rest to be paid for (protection, car costs in day care, etc.) is on average 1200 euros per month.
What is more, the private home quickly becomes a public home, medicalized and impersonal, and most often unsuitable. Finally, it is a choice that can become exhausting for caregivers.
Moreover, this solution does not remedy the isolation and loneliness of the elderly, as demonstrated in 2021 by the report of the Little Brothers of the Poor.
Autonomy residences (or former residential homes)
These structures offer senior housing, halfway between home and nursing home. They consist of rooms or non-medical apartments offered for rent. Access to the equipment and services offered is optional.
Autonomous residences are designed to accommodate autonomous elderly people who can no longer - or no longer have - the desire to live at home, due to a drop in income, difficulties in accessing shops or of a feeling of isolation. People must be at least 60 years old and able-bodied and independent (GIR 5 or 6 – iso-resources group, which corresponds to the level of loss of autonomy of an elderly person)
Another alternative for people who are still autonomous: mixed senior residence – nursing home accommodation. In principle, senior residences are aimed at autonomous audiences, but some senior residence brands have designed mixed sites offering both a nursing home and a senior service residence allowing for more gradual institutionalization. Elderly people can move from one environment to another, depending on their level of dependency and their needs, which avoids the trauma very often associated with entering an institution.
Residents of the senior residence and residents of the Ehpad share most of the common areas. They eat some meals together. Only the bedrooms are in separate wings. The main limitation is financial, as these residences are not eligible for social assistance. When the loss of autonomy sets in, there are other anticipatory solutions.
Shared housing
This solution is developed on the same "basis" as participatory housing. A group of elderly or disabled adults live together in accommodation that includes private spaces (bedroom, apartment, bathroom) and collective spaces (living room, dining room, garden, courtyard, terrace, games room, etc. .). They are generally organized in colocations. Supported shared housing belongs to the organization that operates it. The latter sublets a private space and access to common areas to dependent tenants.
This mode of housing is aimed at disabled or dependent people. Each supported shared habitat is created to accommodate a certain type of resident. The house of Thil, in Beauvais, for example, welcomes Alzheimer's patients.
The problem is that this alternative to nursing homes currently has very few structures (they represent less than 5 housing units). Moreover, currently it is currently impossible to pool the APA to improve the service of carers.
It is to remedy this low representation that entrepreneurs developing shared and supported housing have launched the collective 150 in 000, which aims to encourage public authorities to facilitate the creation of 150 housing units by 000.
Small living units
These structures are also very interesting, because on a human scale. Appeared in the early 80s, they were aimed at people who could no longer, or no longer wanted, to stay alone at home. Today there are about a thousand in France.
The term "Small Living Unit" (PUV) includes all small alternative accommodation structures to nursing homes or retirement homes. Thus, the Homes and residences for autonomy (MARPA) and the Centers of natural activities drawn from useful occupations (CANTOU) are considered as PUVs.
PUVs generally have fewer than 25 spaces. Each resident has private accommodation including a small kitchen and a bathroom. A staff present 24 hours a day ensures the security of the residents, which is generally reinforced by a remote alarm system. The premises are perfectly adapted to people with reduced mobility; the movement of wheelchairs is facilitated.
The objectives of the PUV are to maintain and strengthen the autonomy of the elderly by involving them in community life. The common spaces allow for the creation of social ties, which are important for maintaining autonomy. A hostess gives cohesion to this life project.
Care is provided on demand, with the intervention of external medical professionals such as nurses, physiotherapists or occupational therapists, or the resident's attending physician.
Intergenerational roommates
By encouraging the sharing of a roof between a student and a senior, the Elan law of 2018 paved the way for an additional alternative to nursing homes. The idea was to respond to the housing crisis among young people and to break the isolation of older people.
The intergenerational cohabitations consist of accommodating different generations under one roof. Generally, one or more elderly people welcome another person, whether student, employee (or other), free of charge (or for a moderate rent), in return for various services rendered. This involves, for example, offering a presence or a listening ear, helping with meals, gardening or small jobs.
Last alternative solution to the Ehpad: live with family, even if it is not your own family.
The welcoming family
This person (single or couple) welcomes an elderly person or a disabled adult into their home. She is paid for this service., and must have received an approval issued by the services of the department. The latter organize the control of the host and the follow-up of the person received.
Foster care can be temporary or sequential, part-time or full, or even permanent. This system is for older people and adults with disabilities who want to live with their family, even if they do not live with their own family. The parties formalize their relationship in an over-the-counter contract (a contract whose terms are freely negotiated between the parties).
The minimum remuneration for the service is set by a departmental scale. It depends on the level of loss of autonomy of the accommodated senior (depending on his MAKES). On average, accommodation in a family home costs 1800 euros including charges each month. For beneficiaries of the APA, theAAH (Allowance for disabled adults) or APL, this cost can be reduced to 1000 euros.
This is a good solution, especially in rural areas, but it will not suit everyone, because living with a family also has constraints. Finally, there is no national or even departmental directory of family carers. Each territory has its own organization, and research can be complex.
Although the vast majority of elderly people, even with dependencies, want to stay at home for as long as possible, this is not always possible. However, anticipating this moment of changeover which goes from home to institutionalization can only be done if one is duly informed, informed and still able to express and make choices for oneself.
In conclusion, alternatives to the Ehpad exist for the elderly, even with dependencies, who wish to stay as long as possible at home or to integrate structures of a more modest size. They can constitute solutions for respecting the fundamental rights of consent, freedom to come and go and individual life choices. They are still few in number and unevenly distributed across France, but knowing them is important. This can help to project oneself without apprehension towards another life, as beautiful in humanity, even if the great dependence is emerging.
Veronique Lefebvre des Noettes, Psychiatrist for the elderly, associate researcher at the Interdisciplinary Laboratory for the Study of Politics Hannah Arendt (Paris-Est Créteil University), co-director of the Biomedical Ethics Research Department at the Collège des Bernardins, College of Bernardine
This article is republished from The Conversation under Creative Commons license. Read theoriginal article.
Image credit: Shutterstock.com/Tommy Larey